Extracellular-Signal Regulated Kinase: A Central Molecule Driving Epithelial–Mesenchymal Transition in Cancer
1
Laboratorio de Biología Celular del Cáncer, Facultad de Ciencias Químico Biológicas, Universidad Autónoma de Guerrero, Av. Lázaro Cárdenas s/n Chilpancingo, Gro. 39090, Mexico
2
Laboratorio de Biomedicina Molecular, Facultad de Ciencias Químico Biológicas, Universidad Autónoma de Guerrero, Av. Lázaro Cárdenas s/n Chilpancingo, Gro. 39090, Mexico
3
Department of Biochemistry and Molecular Pharmacology, University of Massachusetts Medical School, 364 Plantation Street, Worcester, MA 01605, USA
*
Authors to whom correspondence should be addressed.
Received: 28 May 2019 / Revised: 9 June 2019 / Accepted: 11 June 2019 / Published: 13 June 2019
Abstract
Epithelial–mesenchymal transition (EMT) is a reversible cellular process, characterized by changes in gene expression and activation of proteins, favoring the trans-differentiation of the epithelial phenotype to a mesenchymal phenotype. This process increases cell migration and invasion of tumor cells, progression of the cell cycle, and resistance to apoptosis and chemotherapy, all of which support tumor progression. One of the signaling pathways involved in tumor progression is the MAPK pathway. Within this family, the ERK subfamily of proteins is known for its contributions to EMT. The ERK subfamily is divided into typical (ERK 1/2/5), and atypical (ERK 3/4/7/8) members. These kinases are overexpressed and hyperactive in various types of cancer. They regulate diverse cellular processes such as proliferation, migration, metastasis, resistance to chemotherapy, and EMT. In this context, in vitro and in vivo assays, as well as studies in human patients, have shown that ERK favors the expression, function, and subcellular relocalization of various proteins that regulate EMT, thus promoting tumor progression. In this review, we discuss the mechanistic roles of the ERK subfamily members in EMT and tumor progression in diverse biological systems.
View Full-Text
►

▼

Figures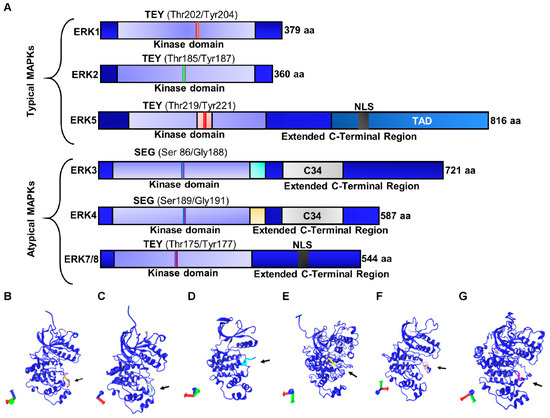 Figure 1
This is an open access article distributed under the
Creative Commons Attribution License
which permits unrestricted use, distribution, and reproduction in any medium, provided the original work is properly cited (CC BY 4.0).

Share & Cite This Article
MDPI and ACS Style
Olea-Flores, M.; Zuñiga-Eulogio, M.D.; Mendoza-Catalán, M.A.; Rodríguez-Ruiz, H.A.; Castañeda-Saucedo, E.; Ortuño-Pineda, C.; Padilla-Benavides, T.; Navarro-Tito, N. Extracellular-Signal Regulated Kinase: A Central Molecule Driving Epithelial–Mesenchymal Transition in Cancer. Int. J. Mol. Sci. 2019, 20, 2885.
Note that from the first issue of 2016, MDPI journals use article numbers instead of page numbers. See further details here.
Related Articles
Comments
[Return to top]