Single Crystal FLIM Characterization of Clofazimine Loaded in Silica-Based Mesoporous Materials and Zeolites
Departamento de Química Física, Facultad de Ciencias Ambientales y Bioquímica, and INAMOL, Universidad de Castilla-La Mancha, Avenida Carlos III, S/N, 45071 Toledo, Spain
*
Authors to whom correspondence should be addressed.
Received: 20 April 2019 / Revised: 6 June 2019 / Accepted: 10 June 2019 / Published: 12 June 2019
Abstract
Clofazimine (CLZ) is an effective antibiotic used against a wide spectrum of Gram-positive bacteria and leprosy. One of its main drawbacks is its poor solubility in water. Silica based materials are used as drug delivery carriers that can increase the solubility of different hydrophobic drugs. Here, we studied how the properties of the silica framework of the mesoporous materials SBA-15, MCM-41, Al-MCM-41, and zeolites NaX, NaY, and HY affect the loading, stability, and distribution of encapsulated CLZ. Time-correlated single-photon counting (TCSPC) and fluorescence lifetime imaging microscopy (FLIM) experiments show the presence of neutral and protonated CLZ (1.3–3.8 ns) and weakly interacting aggregates (0.4–0.9 ns), along with H- and J-type aggregates (<0.1 ns). For the mesoporous and HY zeolite composites, the relative contribution to the overall emission spectra from H-type aggregates is low (<10%), while for the J-type aggregates it becomes higher (~30%). For NaX and NaY the former increased whereas the latter decreased. Although the
[email protected]
composites show higher loading compared to the
[email protected]
ones, the behavior of CLZ is not uniform and its dynamics are more heterogeneous across different single mesoporous particles. These results may have implication in the design of silica-based drug carriers for better loading and release mechanisms of hydrophobic drugs.
View Full-Text
►

▼

Figures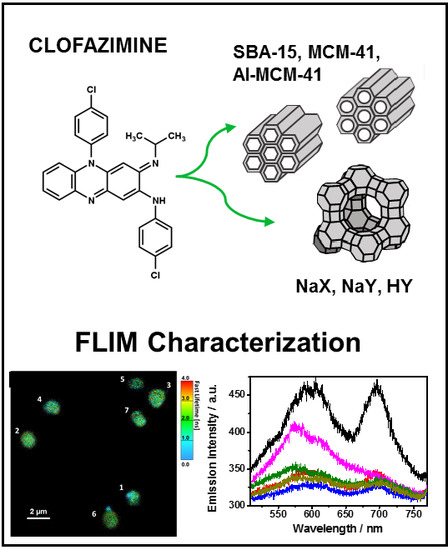 Graphical abstract
This is an open access article distributed under the
Creative Commons Attribution License
which permits unrestricted use, distribution, and reproduction in any medium, provided the original work is properly cited (CC BY 4.0).

Share & Cite This Article
MDPI and ACS Style
Angiolini, L.; Cohen, B.; Douhal, A. Single Crystal FLIM Characterization of Clofazimine Loaded in Silica-Based Mesoporous Materials and Zeolites. Int. J. Mol. Sci. 2019, 20, 2859.
Note that from the first issue of 2016, MDPI journals use article numbers instead of page numbers. See further details here.
Related Articles
Comments
[Return to top]