Sphingomyelin Synthase 2 Promotes Endothelial Dysfunction by Inducing Endoplasmic Reticulum Stress
1
Department of Biochemistry and Molecular Biology, School of Basic Medical Science, Nanchang University, Nanchang 330006, Jiangxi, China
2
School of Basic Medical Experiments Center, Nanchang University, Nanchang 330006, Jiangxi, China
*
Author to whom correspondence should be addressed.
†
These authors contributed equally to this work.
Received: 14 April 2019 / Revised: 30 May 2019 / Accepted: 4 June 2019 / Published: 12 June 2019
Abstract
Endothelial dysfunction (ED) is an important contributor to atherosclerotic cardiovascular disease. Our previous study demonstrated that sphingomyelin synthase 2 (SMS2) promotes ED. Moreover, endoplasmic reticulum (ER) stress can lead to ED. However, whether there is a correlation between SMS2 and ER stress is unclear. To examine their correlation and determine the detailed mechanism of this process, we constructed a human umbilical vein endothelial cell (HUVEC) model with SMS2 overexpression. These cells were treated with 4-PBA or simvastatin and with LiCl and salinomycin alone. The results showed that SMS2 can promote the phosphorylation of lipoprotein receptor-related protein 6 (LRP6) and activate the Wnt/β-catenin pathway and that activation or inhibition of the Wnt/β-catenin pathway can induce or block ER stress, respectively. However, inhibition of ER stress by 4-PBA can decrease ER stress and ED. Furthermore, when the biosynthesis of cholesterol is inhibited by simvastatin, the reduction in intracellular cholesterol coincides with a decrease in ER stress and ED. Collectively, our results demonstrate that SMS2 can activate the Wnt/β-catenin pathway and promote intracellular cholesterol accumulation, both of which can contribute to the induction of ER stress and finally lead to ED.
View Full-Text
►

▼

Figures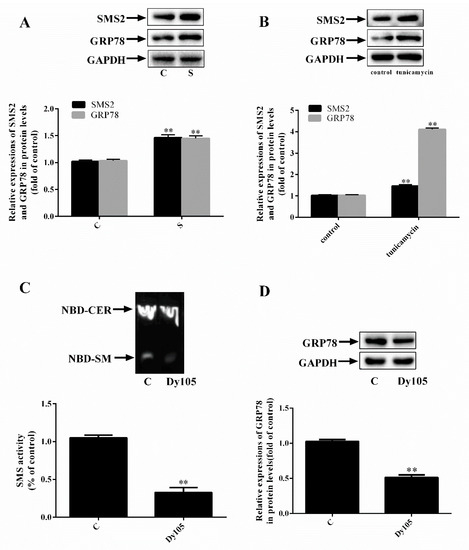 Figure 1
This is an open access article distributed under the
Creative Commons Attribution License
which permits unrestricted use, distribution, and reproduction in any medium, provided the original work is properly cited (CC BY 4.0).

Share & Cite This Article
MDPI and ACS Style
Hua, L.; Wu, N.; Zhao, R.; He, X.; Liu, Q.; Li, X.; He, Z.; Yu, L.; Yan, N. Sphingomyelin Synthase 2 Promotes Endothelial Dysfunction by Inducing Endoplasmic Reticulum Stress. Int. J. Mol. Sci. 2019, 20, 2861.
Note that from the first issue of 2016, MDPI journals use article numbers instead of page numbers. See further details here.
Related Articles
Comments
[Return to top]