Open Access This article is
freely available
re-usable
Review
Targeting Mitochondria for Treatment of Chemoresistant Ovarian Cancer
1
Masonic Cancer Center and Department of Obstetrics, Gynecology and Women's Heath, University of Minnesota, Minneapolis, MN 55455, USA
2
Department of Obstetrics and Gynecology, University of Virginia, Charlottesville, VA 22908, USA
3
Cancer Center Karolinska, Department of Oncology and Pathology, Karolinska Institute, S-171 76 Stockholm, Sweden
4
Department of Medical Health Sciences (IMH), Linköping University, S-751 85 Linköping, Sweden
*
Authors to whom correspondence should be addressed.
Received: 26 November 2018 / Accepted: 23 December 2018 / Published: 8 January 2019
Abstract
:
Ovarian cancer is the leading cause of death from gynecologic malignancy in the Western world. This is due, in part, to the fact that despite standard treatment of surgery and platinum/paclitaxel most patients recur with ultimately chemoresistant disease. Ovarian cancer is a unique form of solid tumor that develops, metastasizes and recurs in the same space, the abdominal cavity, which becomes a unique microenvironment characterized by ascites, hypoxia and low glucose levels. It is under these conditions that cancer cells adapt and switch to mitochondrial respiration, which becomes crucial to their survival, and therefore an ideal metabolic target for chemoresistant ovarian cancer. Importantly, independent of microenvironmental factors, mitochondria spatial redistribution has been associated to both tumor metastasis and chemoresistance in ovarian cancer while specific sets of genetic mutations have been shown to cause aberrant dependence on mitochondrial pathways in the most aggressive ovarian cancer subtypes. In this review we summarize on targeting mitochondria for treatment of chemoresistant ovarian cancer and current state of understanding of the role of mitochondria respiration in ovarian cancer. We feel this is an important and timely topic given that ovarian cancer remains the deadliest of the gynecological diseases, and that the mitochondrial pathway has recently emerged as critical in sustaining solid tumor progression.
Keywords:
ascites; OXPHOS; mitochondrial inhibitor; chemoresistant ovarian cancer; SWI/SNF complex
Author Contributions
Conception and literature review: E.E., S.M., Z.C., C.N.L.J., S.L., and M.B. Writing of the manuscript: E.E., C.N.L.J., S.L., and M.B.
Funding
This work was supported by Department of Defense Ovarian Cancer Research Program Grant OC160377, the Minnesota Ovarian Cancer Alliance and the Randy Shaver Cancer Research Funds to Martina Bazzaro.
Conflicts of Interest
The authors declare no conflict of interest.

Figure 1. Ovarian cancer metastasis throughout the abdominal cavity. Proliferative ovarian cancer cells are indicated in dark blue. Adherent ovarian tumors (primary and metastatic) are irregularly vascularized, which results in cell populations that are deprived of necessary nutrients (indicated in light blue). These cells become quiescent making them resistant to chemotherapy. Ovarian tumors shed cells into the ascites fluid in the form of single cells or small cell clusters. Suspended ovarian cancer cells can aggregate and compact to form dense spheroids. Spheroids are proliferative on the surface, but contain a large population of quiescent cells within. Spheroids can invade surface tissues, such as the omentum, to access more nutrients and form metastatic tumors.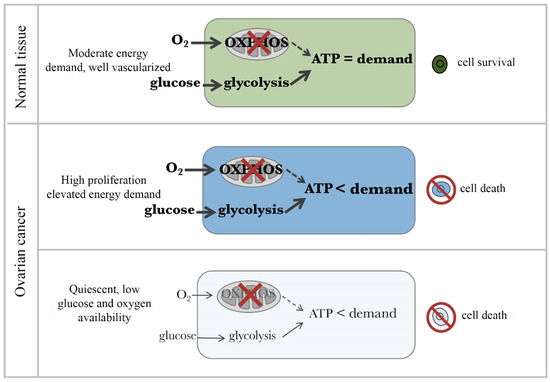 Figure 2.
Therapeutic window for cancer cells in the presence of an OXPHOS inhibitor. (
Top
) Normal body cells have moderate ATP demand and adequate levels of oxygen and glucose. Thus, they survive in presence of OXPHOS inhibitors by upregulating glycolysis to meet their ATP demands.
Middle panel.
Highly proliferating cancer cells have extraordinarily high ATP demand and adequate levels of oxygen and glucose. Despite glycolytic pathway upregulation, OXPHOS inhibition causes cancer cells not to be able to meet their ATP demand and die. (
Bottom
) Quiescent cancer cells have low ATP demand but live in a highly compromised microenvironments characterized by low glucose and hypoxia. For these cells, inhibition of OXPHOS is lethal as there is not sufficient glucose to compensate for the loss of ATP production. Thicker arrows indicate relatively greater activity. Bold text indicates a relatively higher abundance of the item.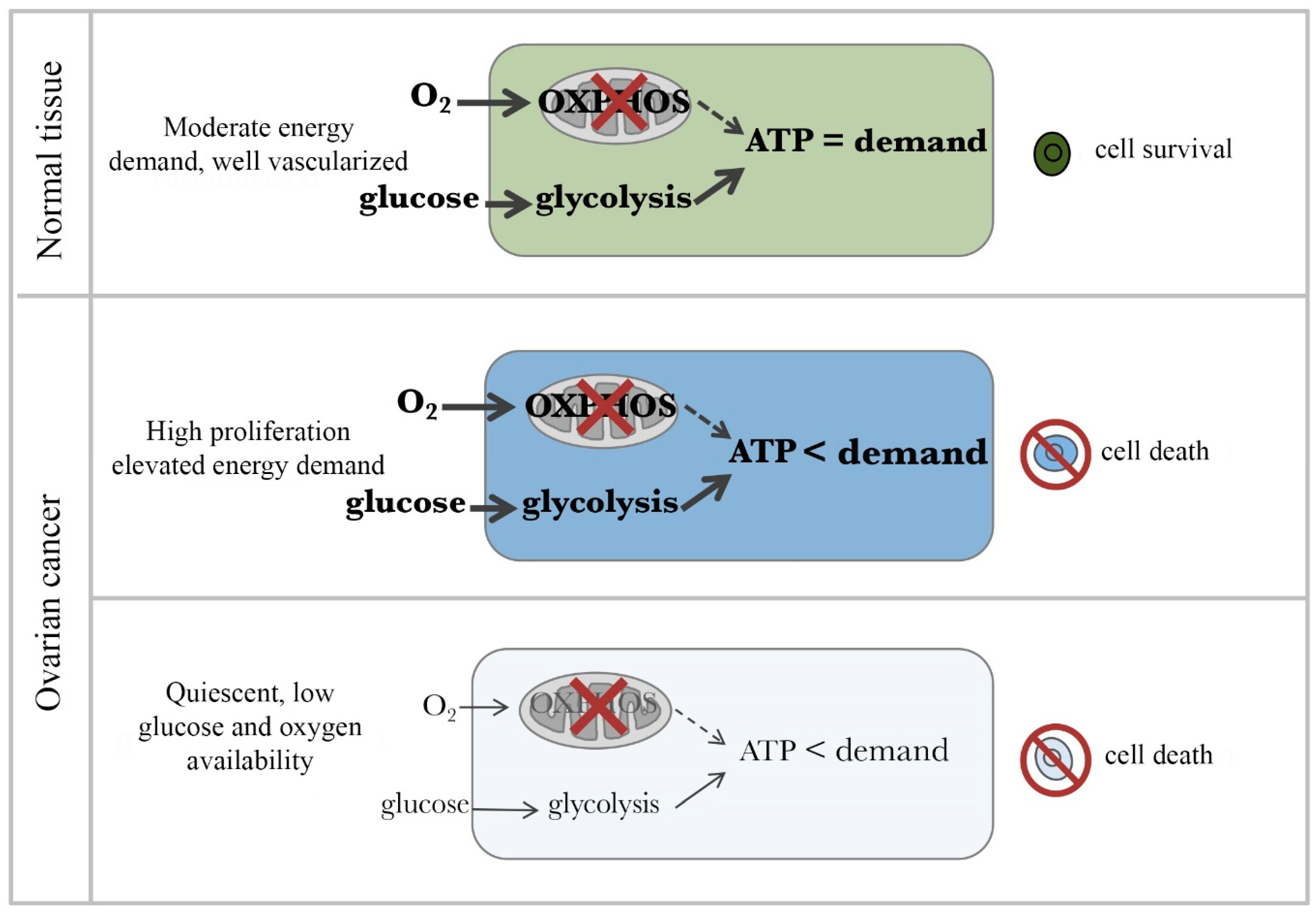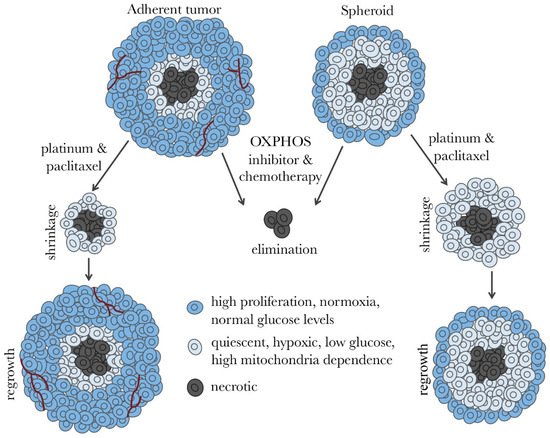 Figure 3. Hypothesis of how standard chemotherapy in combination with OXPHOS inhibitors could be a promising strategy for ovarian cancer elimination and the prevention of reoccurrence. In ovarian tumors and spheroids, standard chemotherapy treatment is very effective at killing highly proliferative cells (dark blue). However, populations of quiescent cells (light blue) survive causing tumor regeneration and cancer reoccurrence. OXPHOS inhibitors are effective at eliminating quiescent ovarian cancer cells in metabolically compromised microenvironments.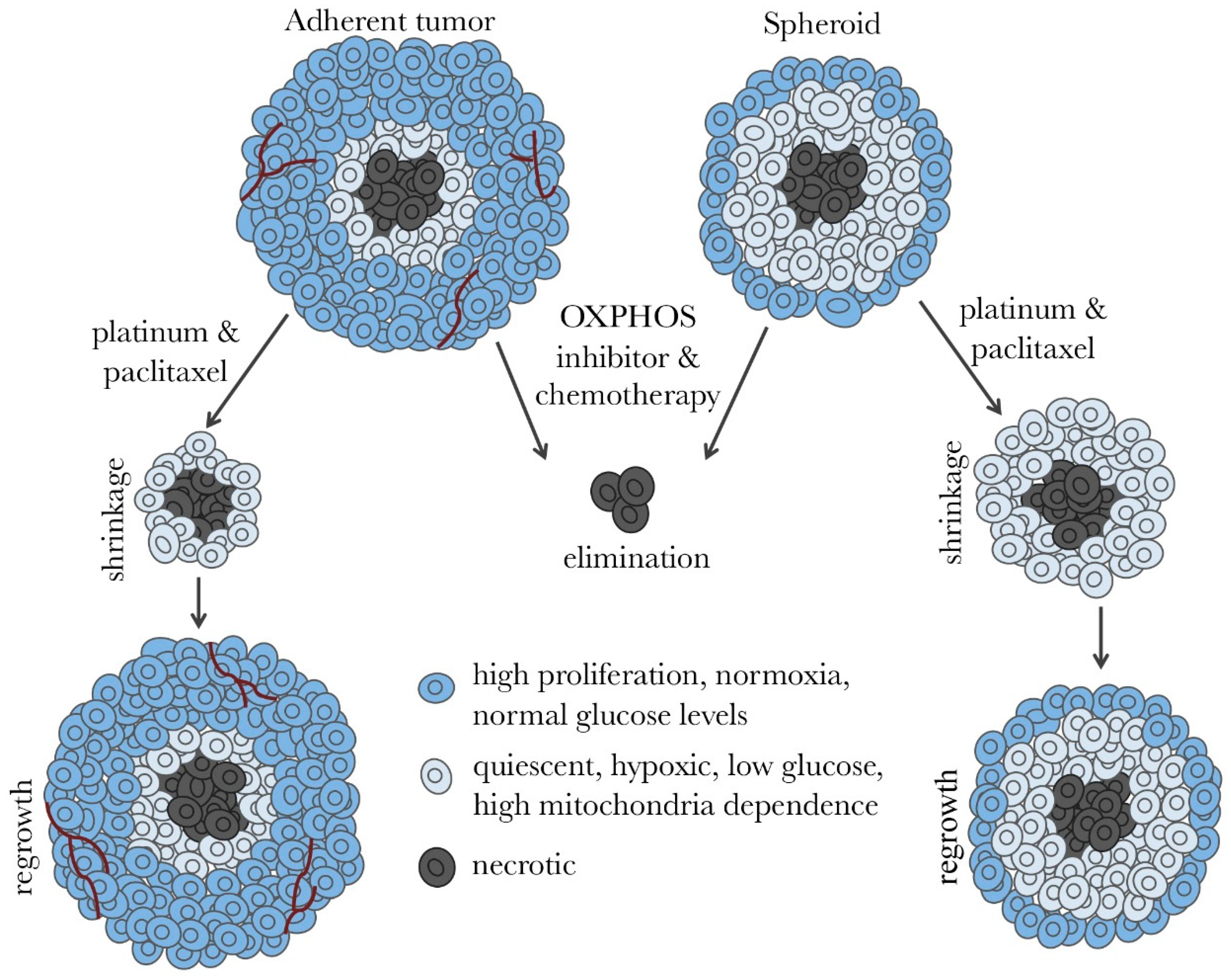 Target
Effect in Tumor Model
References
Salinomycin
Mitochondrial K+/H+ Exchange [93]
Colon cancer
[94]
Pancreas cancer, combination
[95]
Ovarian cancer
[96]
Nasopharyngeal carcinoma
[97]
Colon cancer
[98]
Nitazoxanide
Uncoupler [76]
Colon cancer, combination
[76]
Breast cancer
[99]
Niclosamide
Uncoupler [100]
Colon cancer metastasis model
[100]
Radiotherapy-resistant breast cancer
[101]
Adrenocortical carcinoma
[102]
Breast cancer
[103]
Bedaquiline
OXPHOS [85]
Lung cancer
[84]
VLX600
OXPHOS [77]
Colon cancer
[77]
Gastrointestinal stromal tumor
[104]
Pyrvinium
OXPHOS [79]
Pancreas cancer
[105]
Metformin
OXPHOS [106]
Ovarian cancer
[89]
Ovarian cancer
[90]
Ovarian cancer
[91]
Glioblastoma
[107]
Colon cancer
[108]
BAY 87-2243
Complex I [109]
Melanoma
[110]
Atovaquone
Complex III [111]
Head-neck cancer, radiation enhancement
[111]
Azithromycin
Mitochondrial protein synthesis [79]
Lung cancer
[112]
Doxycycline
Mitochondrial protein synthesis [79]
Ovarian cancer, peritoneal
[80]
Breast cancer bone metastasis
[113]
Tigecycline
Mitochondrial protein synthesis [114]
Lung cancer
[115]
Hepatocellular carcinoma
[116]
Mitochondrial protein synthesis [114]
Lung cancer
[115]
Hepatocellular carcinoma
[116]

© 2019 by the authors. Licensee MDPI, Basel, Switzerland. This article is an open access article distributed under the terms and conditions of the Creative Commons Attribution (CC BY) license (http://creativecommons.org/licenses/by/4.0/).