Therapeutic Peptide Amphiphile as a Drug Carrier with ATP-Triggered Release for Synergistic Effect, Improved Therapeutic Index, and Penetration of 3D Cancer Cell Spheroids
1
Department of Chemical Engineering and Waterloo Institute for Nanotechnology, University of Waterloo, Waterloo, ON N2L 3G1, Canada
2
Faculty of Science, University of Waterloo, Waterloo, ON N2L 3G1, Canada
3
College of Nano Science and Technology, Soochow University, Suzhou 215123, Jiangsu Province, China
†
These authors are contributed equally.
*
Author to whom correspondence should be addressed.
Received: 26 July 2018 / Revised: 10 September 2018 / Accepted: 12 September 2018 / Published: 14 September 2018
Abstract
Despite the great progress in the field of drug delivery systems for cancer treatment over the last decade, many challenges still lie ahead, such as low drug loading, deep penetration of tumors, side effects, and the development of drug resistance. A class of cationic membrane lytic peptides has shown potential as an anticancer agent by inducing cancer cell death via membrane disruption; meanwhile, their intrinsic selectivity renders them as having low cytotoxicity towards noncancerous cells. Here, we report the use of a cationic peptide amphiphile (PA), named PAH6, to load doxorubicin (Dox) that is intercalated in an ATP-binding aptamer-incorporated DNA scaffold. The PA contains a cationic lytic sequence, (KLAKLAK)
2
, a polyhistidine segment for the "proton sponge" effect, and a hydrophobic alkyl tail to drive the self-assembly. Dox-loaded DNA was found to form a spherical nanocomplex (NC) with PAH6 with particle sizes below 100 nm at various ratios. Since the carrier PAH6 is also a therapeutic agent, the drug loadings of the NC reached up to ~86% within the ratios we tested, and Dox was released from the NC in an ATP-rich environment. In vitro studies indicate that the presence of PAH6 could permeabilize cell membranes and kill cells through fast membrane disruption and depolarization of mitochondrial membranes. The cytotoxicity tests were conducted using A549 nonsmall cell lung cancer cells and NIH-3T3 fibroblast cells. PAH6 showed selectivity towards A549 cells. Significantly, the Dox-DNA/PAH6 NC exhibited a synergistic effect against A549 cells, with the IC50 decreased up to ~90% for Dox and ~69% for PAH6 when compared to the IC50 values of the two components, respectively. Furthermore, the selectivity of PAH6 conferred to the complex an improved therapeutic index between A549 and NIH-3T3 cells. A 3D-cultured A549 spheroid model was adopted to test the capability of Dox-DNA/PAH6 for tumor penetration. The PAH6 or Dox-DNA/PAH6 complex was found to break the spheroids into pieces, while Dox-treated spheroids maintained their shapes. In summary, this work provides a new strategy for constructing nanomedicines using therapeutic agents to meet the features required by anticancer treatment.
View Full-Text
►

▼

Figures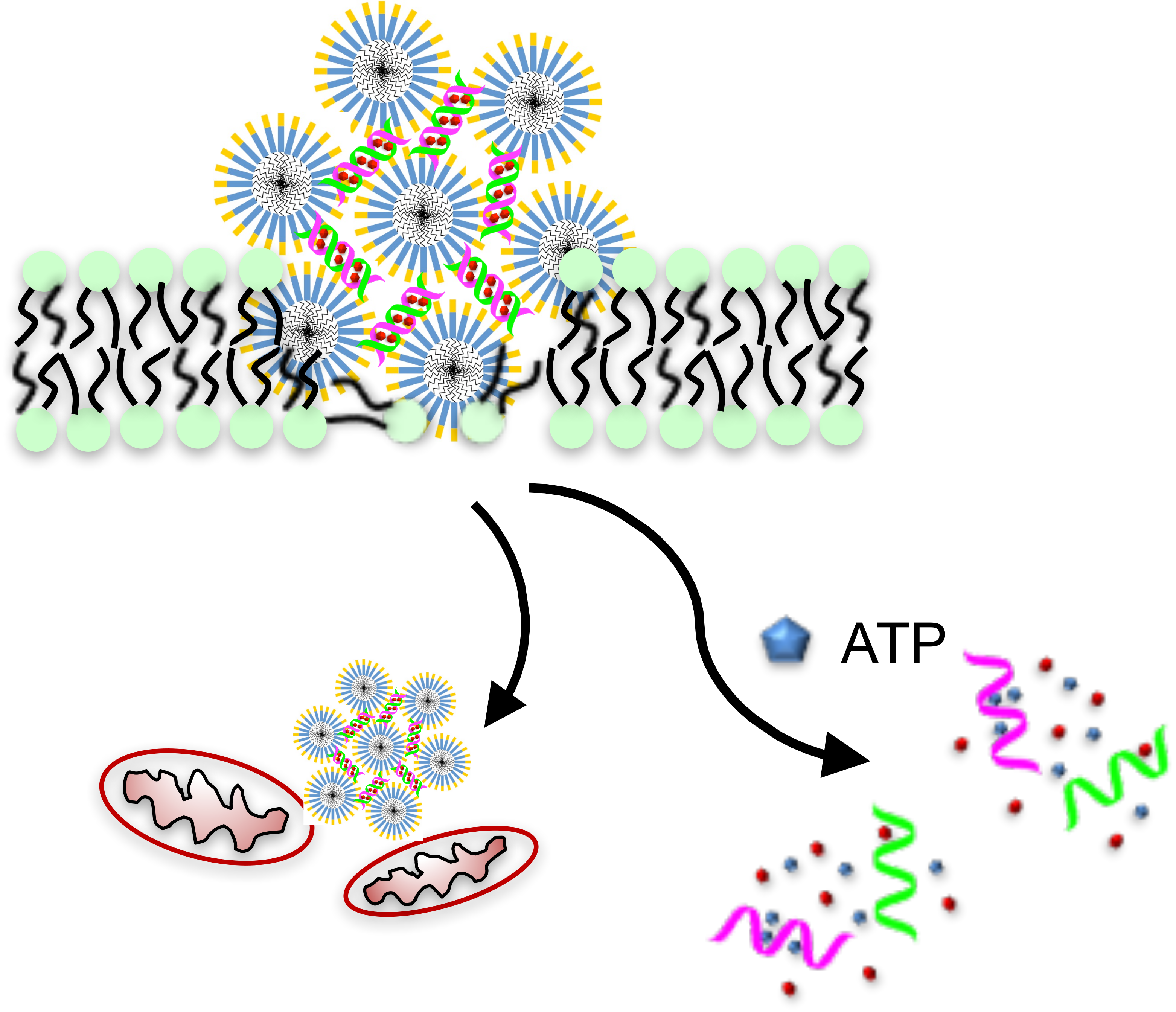 Graphical abstract
This is an open access article distributed under the
Creative Commons Attribution License
which permits unrestricted use, distribution, and reproduction in any medium, provided the original work is properly cited (CC BY 4.0).

Share & Cite This Article
MDPI and ACS Style
Lu, S.; Zhao, F.; Zhang, Q.; Chen, P. Therapeutic Peptide Amphiphile as a Drug Carrier with ATP-Triggered Release for Synergistic Effect, Improved Therapeutic Index, and Penetration of 3D Cancer Cell Spheroids. Int. J. Mol. Sci. 2018, 19, 2773.
Note that from the first issue of 2016, MDPI journals use article numbers instead of page numbers. See further details here.
Related Articles
Comments
[Return to top]