A Dairy-Derived Ghrelinergic Hydrolysate Modulates Food Intake In Vivo
1
Department of Anatomy and Neuroscience, University College Cork, Cork T12 YT20, Ireland
2
School of Pharmacy, University College Cork, Cork T12 YT20, Ireland
3
Food for Health Ireland, University College Cork, Cork T12 YT20, Ireland
4
Alimentary Pharmabiotic Centre (APC) Microbiome Ireland, University College Cork, Cork T12 YT20, Ireland
5
Moorepark Food Research Centre, Teagasc, Fermoy, Co. Cork P61 C966, Ireland
6
Department of Food & Nutritional Sciences, University College Cork, Cork T12 YT20, Ireland
*
Author to whom correspondence should be addressed.
Received: 20 August 2018 / Revised: 10 September 2018 / Accepted: 12 September 2018 / Published: 15 September 2018
Abstract
Recent times have seen an increasing move towards harnessing the health-promoting benefits of food and dietary constituents while providing scientific evidence to substantiate their claims. In particular, the potential for bioactive protein hydrolysates and peptides to enhance health in conjunction with conventional pharmaceutical therapy is being investigated. Dairy-derived proteins have been shown to contain bioactive peptide sequences with various purported health benefits, with effects ranging from the digestive system to cardiovascular circulation, the immune system and the central nervous system. Interestingly, the ability of dairy proteins to modulate metabolism and appetite has recently been reported. The ghrelin receptor (GHSR-1a) is a G-protein coupled receptor which plays a key role in the regulation of food intake. Pharmacological manipulation of the growth hormone secretagogue receptor-type 1a (GHSR-1a) receptor has therefore received a lot of attention as a strategy to combat disorders of appetite and body weight, including age-related malnutrition and the progressive muscle wasting syndrome known as cachexia. In this study, a milk protein-derivative is shown to increase GHSR-1a-mediated intracellular calcium signalling in a concentration-dependent manner in vitro. Significant increases in calcium mobilisation were also observed in a cultured neuronal cell line heterologously expressing the GHS-R1a. In addition, both additive and synergistic effects were observed following co-exposure of GHSR-1a to both the hydrolysate and ghrelin. Subsequent in vivo studies monitored standard chow intake in healthy male and female Sprague-Dawley rats after dosing with the casein hydrolysate (CasHyd). Furthermore, the provision of gastro-protected oral delivery to the bioactive in vivo may aid in the progression of in vitro efficacy to in vivo functionality. In summary, this study reports a ghrelin-stimulating bioactive peptide mixture (CasHyd) with potent effects in vitro. It also provides novel and valuable translational data supporting the potential role of CasHyd as an appetite-enhancing bioactive. Further mechanistic studies are required in order to confirm efficacy as a ghrelinergic bioactive in susceptible population groups.
View Full-Text
►

▼

Figures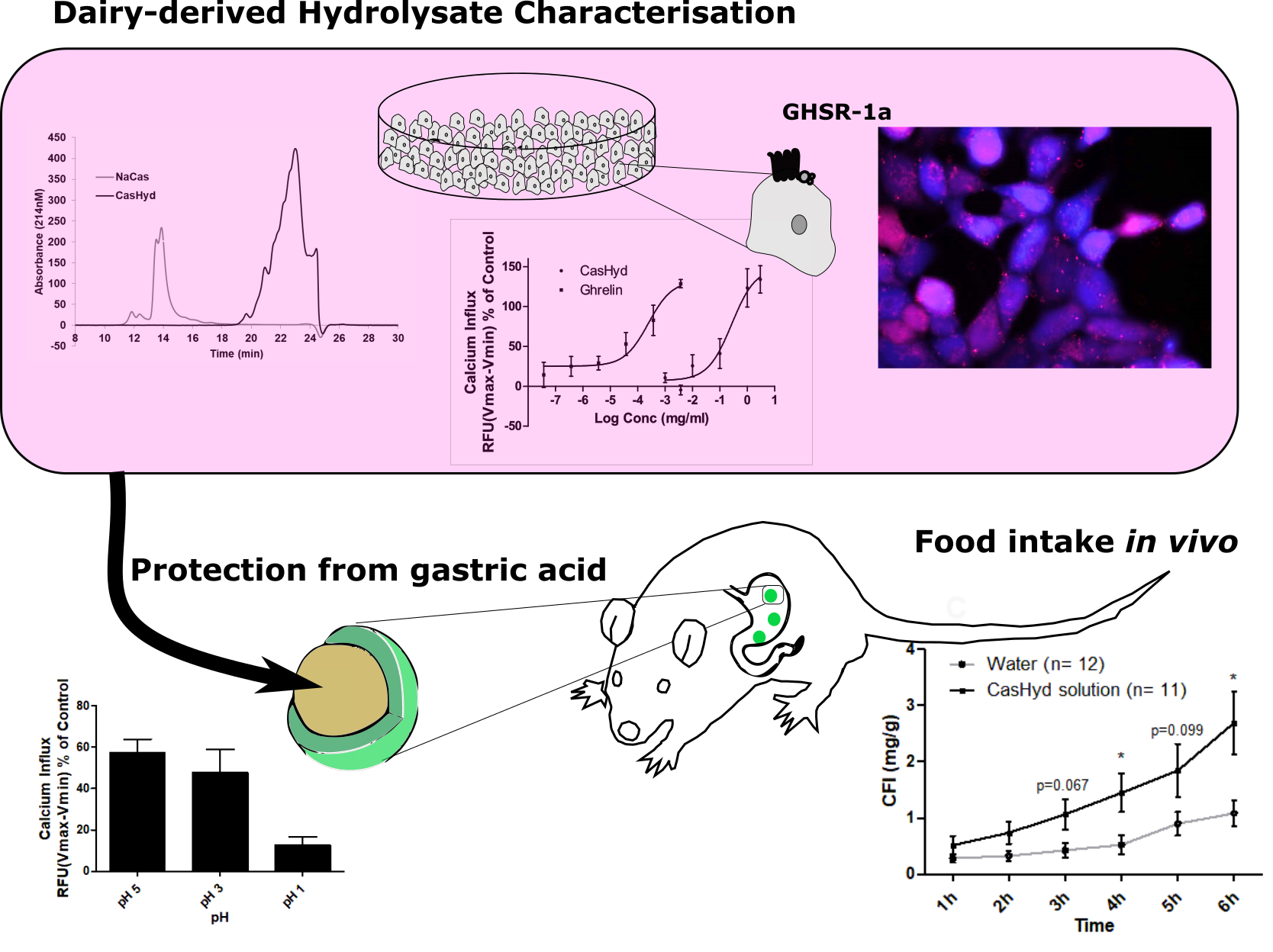 Graphical abstract
This is an open access article distributed under the
Creative Commons Attribution License
which permits unrestricted use, distribution, and reproduction in any medium, provided the original work is properly cited (CC BY 4.0).

Share & Cite This Article
MDPI and ACS Style
Howick, K.; Wallace-Fitzsimons, S.E.; Kandil, D.; Chruścicka, B.; Calis, M.; Murphy, E.; Murray, B.A.; Fernandez, A.; Barry, K.M.; Kelly, P.M.; Ryan, A.M.; Cryan, J.F.; Griffin, B.T.; Schellekens, H. A Dairy-Derived Ghrelinergic Hydrolysate Modulates Food Intake In Vivo. Int. J. Mol. Sci. 2018, 19, 2780.
Note that from the first issue of 2016, MDPI journals use article numbers instead of page numbers. See further details here.
Related Articles
Comments
[Return to top]