Open Access This article is
freely available
re-usable
Article
A Recombinant Affinity Reagent Specific for a Phosphoepitope of Akt1
Department of Biological Sciences, University of Illinois at Chicago, Chicago, IL 60607, USA
*
Author to whom correspondence should be addressed.
Received: 17 August 2018 / Accepted: 16 October 2018 / Published: 24 October 2018
Abstract
:
The serine/threonine-protein kinase, Akt1, plays an important part in mammalian cell growth, proliferation, migration and angiogenesis, and becomes activated through phosphorylation. To monitor phosphorylation of threonine 308 in Akt1, we developed a recombinant phosphothreonine-binding domain (pTBD) that is highly selective for the Akt1 phosphopeptide. A phage-display library of variants of the Forkhead-associated 1 (FHA1) domain of yeast Rad53p was screened by affinity selection to the phosphopeptide, 301-KDGATMKpTFCGTPEY-315, and yielded 12 binding clones. The strongest binders have equilibrium dissociation constants of 160–180 nanomolar and are phosphothreonine-specific in binding. The specificity of one Akt1-pTBD was compared to commercially available polyclonal antibodies (pAbs) generated against the same phosphopeptide. The Akt1-pTBD was either equal to or better than three pAbs in detecting the Akt1 pT308 phosphopeptide in ELISAs.
Keywords:
affinity selection; alanine-scanning; Forkhead Associated (FHA) domain; phosphopeptide; phage-display; surface plasmon resonance (SPR)
1. Introduction
The serine/threonine-protein kinase, Akt1, is responsible for regulating a range of biochemical pathways involved in cell proliferation and survival. It contains an N-terminal pleckstrin homology (PH) domain, a serine/threonine kinase catalytic domain, and a C-terminal regulatory domain [
1
,
2
]. Activation of Akt1 is dependent on recruitment of the protein, through its PH domain [
3
], to the inner side of the plasma membrane, which causes a conformational change [
4
], allowing PDK1 to phosphorylate threonine 308 (T308) in Akt1's catalytic domain and mTORC2 to phosphorylate serine 473 (S473) in Akt1's regulatory domain [
5
,
6
]. Once these two residues are phosphorylated, Akt1 is fully active and phosphorylates a range of intracellular proteins involved in cell survival, growth, proliferation, cell migration and angiogenesis [
7
].
Given the critical roles that Akt1 serves in the cell, biologists are extremely interested in understanding its involvement in cancer. Mass spectrometry and phospho-specific antibodies have been essential tools in pursuing this question by tracking Akt1's phosphorylation state and levels in cells and tissues [
8
,
9
]. Such methods have shown a strong link between the hyperactivation of Akt1 through increased phosphorylation levels in breast, prostate [
10
], ovarian [
11
], and pancreatic cancer [
12
]. Additionally, studying phosphorylation of specific residues within a protein can provide valuable information as some diseases are marked by the excessive phosphorylation of only one or a few of these residues. For example, the phosphorylation of T308, but not of S473, has been characterized as a marker of lung cancer [
13
]. Thus, antibodies that recognize specific phosphorylated residues as part of their epitopes serve as valuable diagnostic tools to distinguish between diseases caused by Akt1 deregulation.
Unfortunately, mass spectrometry is not well suited to monitoring protein phosphorylation at the cytological level, and antibodies are often poorly validated, unsequenced, and not amenable to protein engineering [
14
]. To circumvent these limitations, current efforts have been focused on generating engineered protein scaffolds that recognize phosphoepitopes, such as the 10th fibronectin type III domain (10FnIII) [
15
], designed ankyrin repeat proteins (DARPins) [
16
], the Src Homology 2 domain (SH2) [
17
], single chain variable fragments (scFv) [
18
], antigen binding fragments (Fab) [
19
], and the Forkhead-associated (FHA) domain [
20
]. Unlike other scaffolds and most antibodies, FHA domains are selective for phosphothreonine (pT)-containing targets due to a pocket on the domain that interacts with phosphate and γ-methyl group of phosphothreonine (pT) [
21
,
22
]. Because of this unique characteristic, a phage library displaying FHA1 variants randomized at residues 82–84 in the β4-β5 loop and residues 133–139 in the β10-β11 loop have been employed to generate affinity reagents to a variety of targets [
20
,
21
,
23
]. Here, we describe the isolation and characterization of Akt1 phosphothreonine 308 (pT308)-binding reagents. We show that these reagents are pT-dependent, bind with high affinity, and recognize the phosphopeptide with comparable or better specificity than commercially made antibodies.
2. Results and Discussion
Directed evolution of the FHA1 domain yielded variants that recognize an Akt1 phosphopeptide.
An isolated FHA variant recognizes the Akt1 phosphopeptide with unique specificity.
4. Conclusions
Herein, we demonstrate the directed evolution of the FHA domain to bind a phosphorylated peptide that corresponds to a segment of the phosphorylated, oncoprotein, Akt1. The work represented in this paper bolsters the utility of the recombinant FHA domain as pTBD that can serve as an alternative to traditional antibodies for detecting phosphothreonine in peptide sequences. Among the 12 variants isolated from a phage-display FHA domain library, we discovered two that bind the Akt1 phosphopeptide, KDGATMKpTFCGTPEY, with 160–180 nM affinity. This is the strongest interaction between a peptide target and pTBD isolated from our library to date.
While our FHA variants have yet to be employed as binding reagents against full length protein targets, this FHA probe has the potential to detect phosphorylated Akt1 protein in vivo and/or in vitro due to this high affinity. Thus, we have achieved an early milestone in our goal to replace anti-phosphothreonine antibodies with engineered recombinant pTBDs. Further work to optimize assay detection methods will prove this pTBD's potential as a detection and diagnostic reagent.
Author Contributions
J.E.M., L.A.V., and H.L. conducted the experiments, J.E.M., L.A.V., and B.K.K. wrote the manuscript, and J.E.M. managed the submission process.
Funding
This work was supported in part by a grant from the Chicago Biomedical Consortium (CBC), which is supported from the Searle Funds at The Chicago Community Trust and the National Institutes of Health (U54 DK093444).
Acknowledgments
We would like to thank Alex Zilinskas for performing preliminary molecular dynamic simulations.
Conflicts of Interest
The authors declare no conflict of interest.

Figure 1. Primary structure of the Akt1 protein. The kinase consists of an N-terminal pleckstrin homology (PH) domain (blue), a serine/threonine kinase catalytic domain (yellow), and a C-terminal regulatory domain (pink). The amino acid sequence from residues 301 to 314, including pT308, was used in peptide form for affinity selection experiments.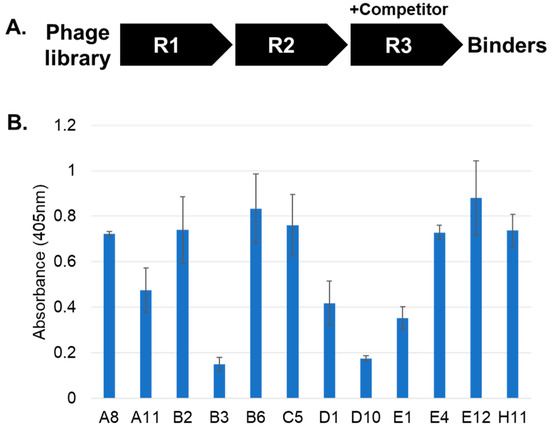 Figure 2. Affinity selection process and ELISA of 12 output clones. (A). An M13 bacteriophage library, displaying variants of a thermostable Forkhead-associated 1 (FHA1) H domain, was screened through three rounds (R1–R3) of affinity selection. During R3, excess phosphopeptide was added for off-rate competition, and recovered clones were examined for binding (B). Biotinylated Akt1-pT308 peptide was captured on a neutravidin-coated plate and probed with FHA variants that were detected by an M2-HRP conjugated antibody. Error bars represent standard deviation of triplicate measurements.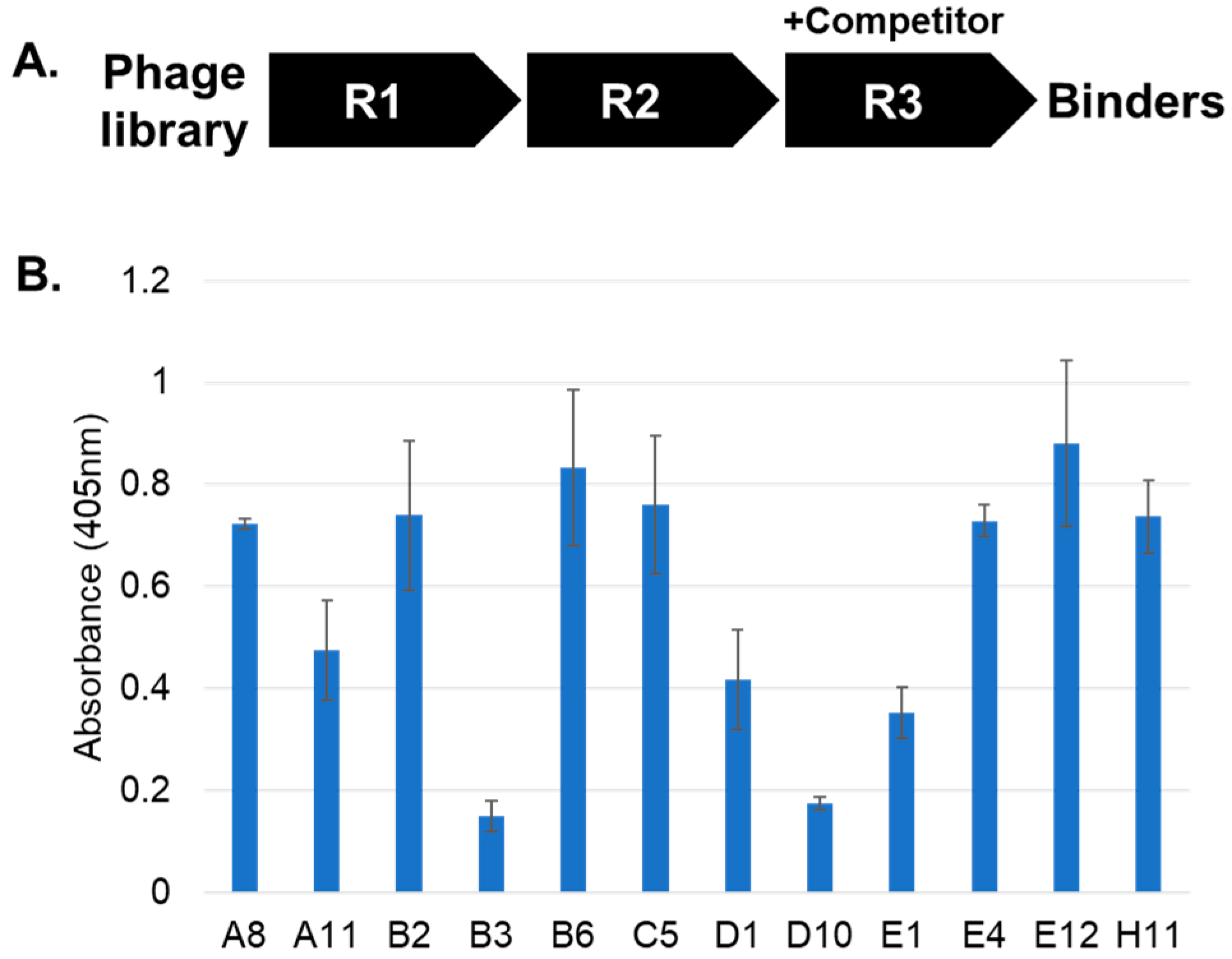 Figure 3. Amino acid sequence analysis of two loops randomized in the phage-displayed scaffold. (A) Primary sequences of the wild-type (WT) form of the scaffold and 12 variants that bind the Akt1 phosphopeptide. Three and seven residues in the β4-β5 or β10-β11 loops, respectively, were randomized with NNK codons, where N is an equimolar mixture of A, C, G and T and K is an equimolar mixture of G and T. Residues that differ from the wild-type sequences are show in red. (B) WebLogo plots of the frequency of particular residues at each position (82–84 or 133–139). The height of a residue refers to probability of the residue at the given position. Hydrophobic, polar, and charged residues are shown in black, green, and blue, respectively.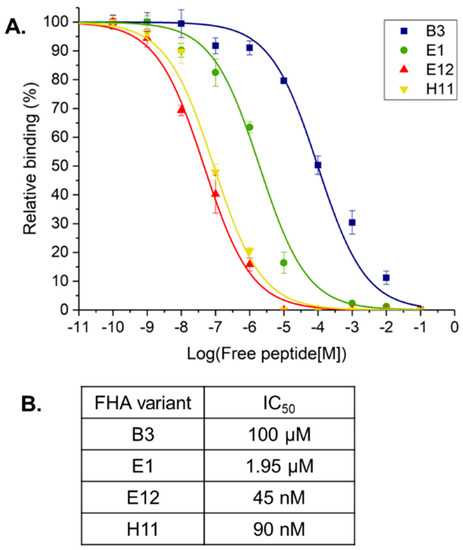 Figure 4. Comparing the relative affinity of four clones. (A) Competition binding of clone B3, E1, H11 and E12 to immobilized phosphorylated Akt1 peptide in the presence of free phosphorylated peptide. Error bars represent standard deviation of triplicate measurements. (B) IC50 values for each clone to the Akt1 phosphorylated peptide.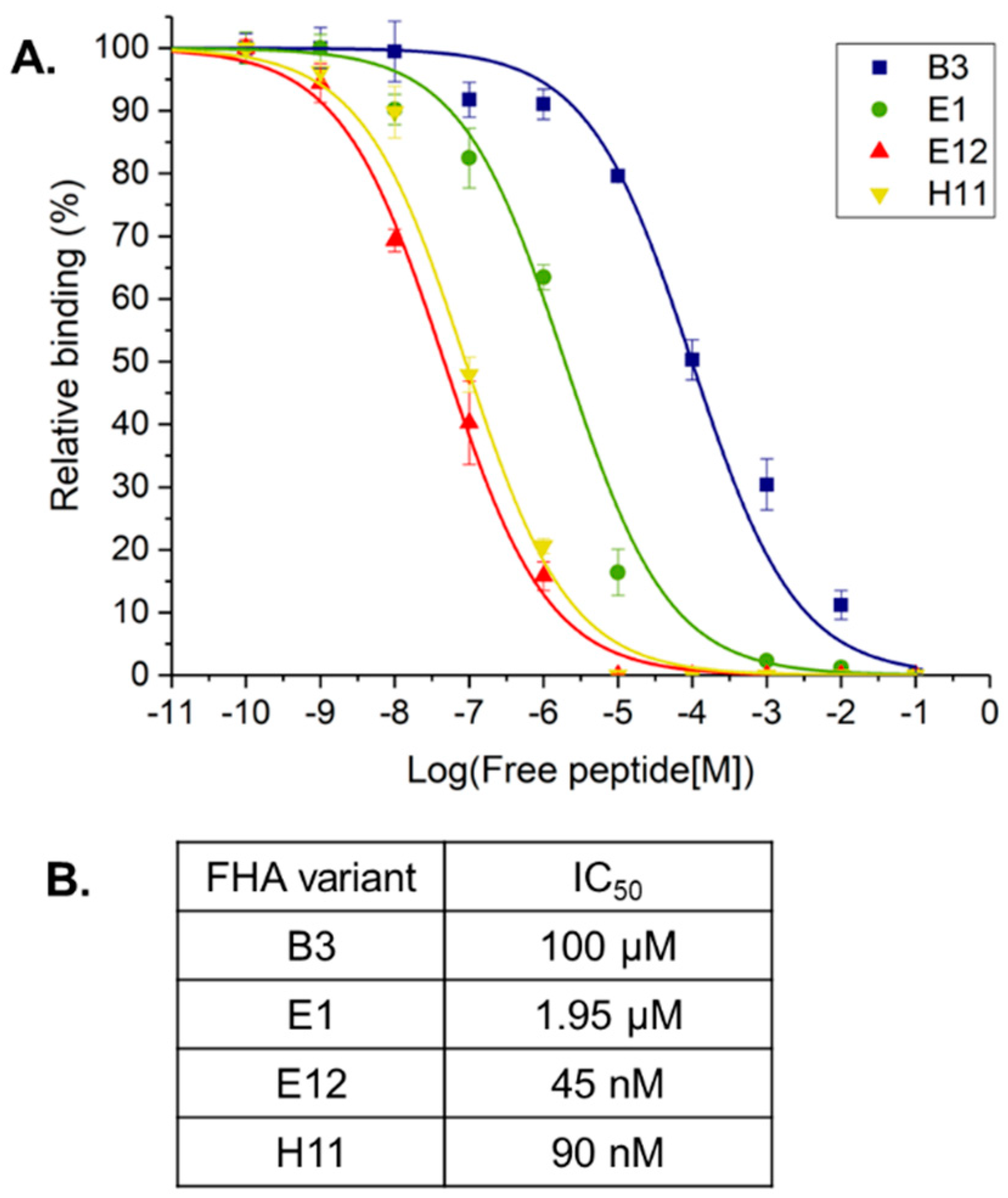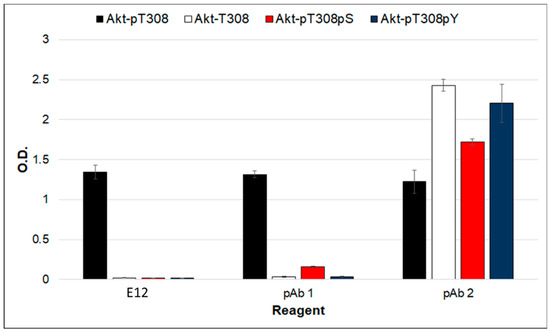 Figure 5. Binding of an Akt1-pTBD to a set of related peptides. A set of biotinylated phosphopeptides containing the Akt1 sequence were synthesized with threonine (Akt-T308), pS (Akt-pS308) or pY (Akt-pY308) substituted at the pT position and immobilized by neutravidin. Binding of the E12 variant and two commercially produced polyclonal antibodies were determined by an ELISA. Error bars represent standard deviation of triplicate measurements.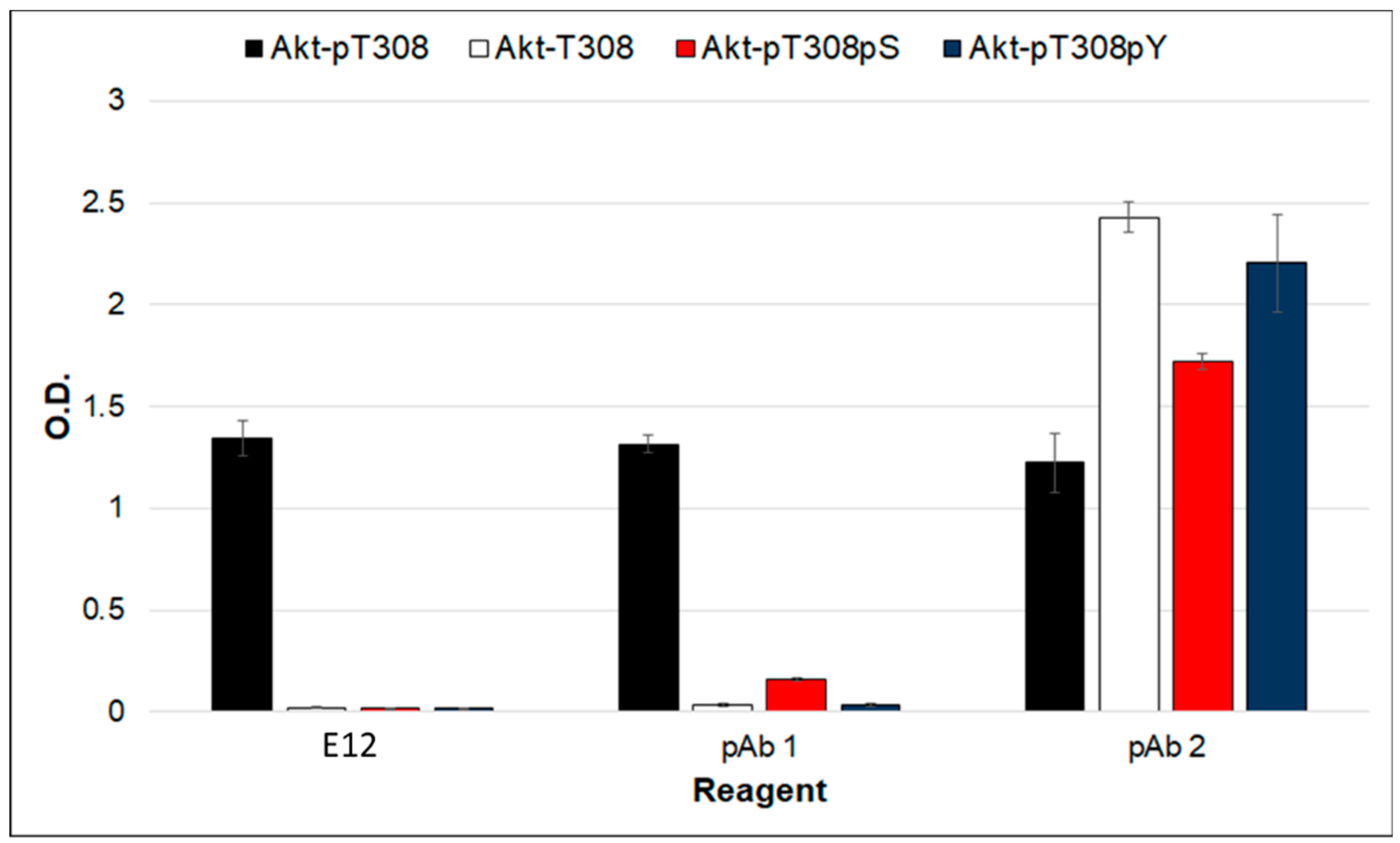 Figure 6. Identification of important residues on the peptide by alanine scanning. Alanine (A) was substituted one at a time at the −3, −2, −1, +1, +2, +3 and +4 positions of the Akt1 peptide sequence. Binding of the E12 variant and a polyclonal antibody (pAb) to the wild type Akt1 peptide target was set to 100%, and the phosphopeptide variants were normalized against it in an ELISA. Error bars represent standard deviation of triplicate measurements.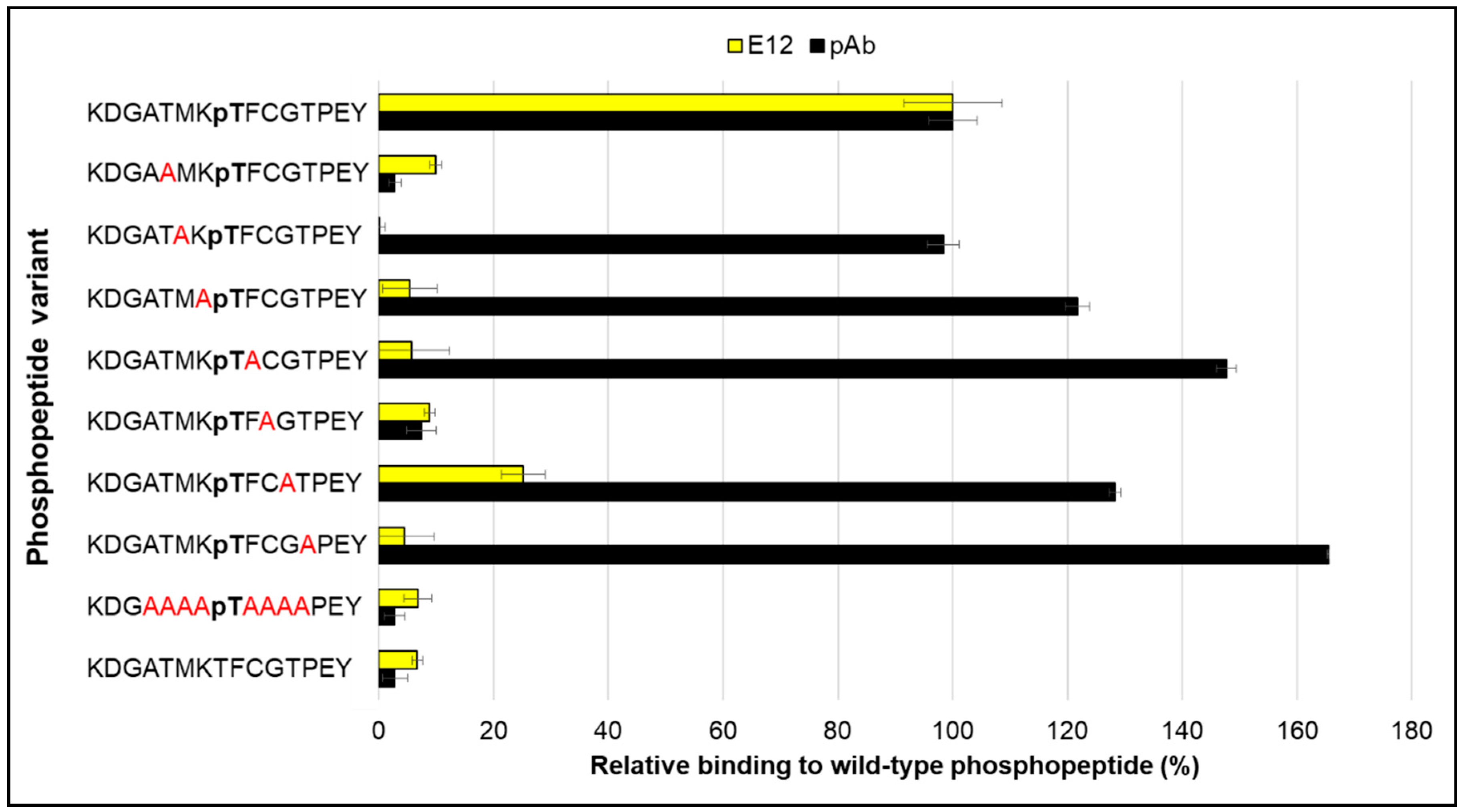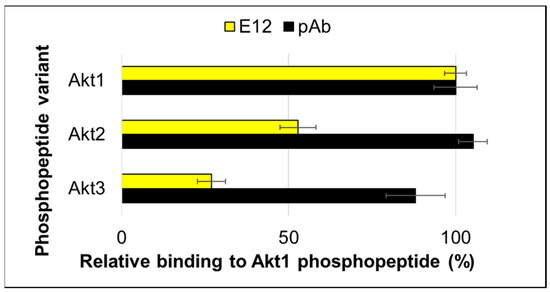 Figure 7. Binding of an Akt1-pTBD to corresponding peptides from Akt2 and Akt3. A set of biotinylated phosphopeptides containing the Akt1 sequence, the Akt2 corresponding sequence (SDGATMKpTFCGTPE) and the Akt3 corresponding sequence (TDAATMKpTFCGTPE) were immobilized by neutravidin. Binding of the E12 variant and a commercially produced polyclonal antibody (pAb) were determined by an ELISA. Error bars represent standard deviation of triplicate measurements.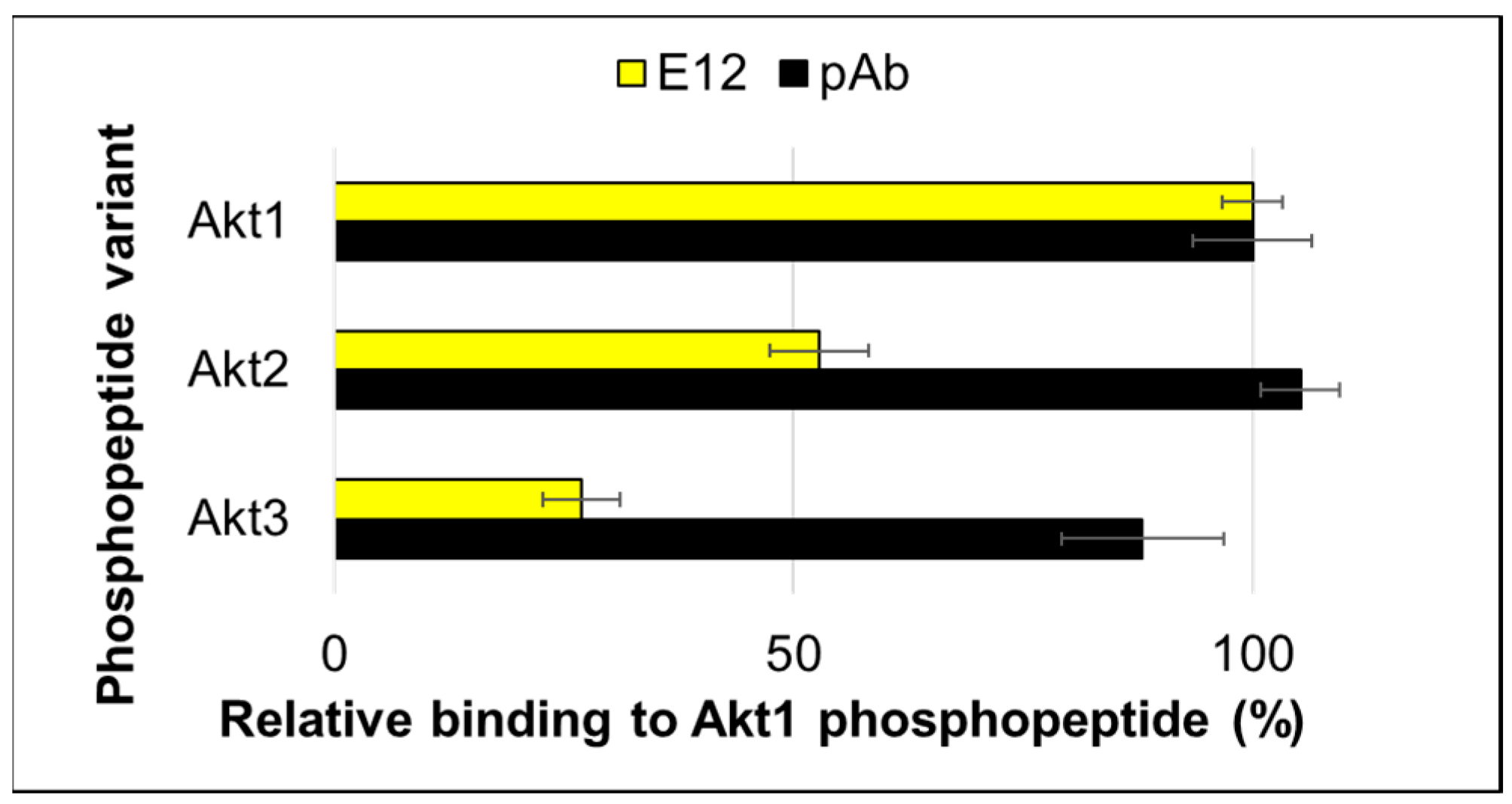 Table 1. Affinity measurements of FHA clone E12 and H11 to the phosphorylated (Akt1-pT308) and unphosphorylated (Akt1-T308) peptides.
FHA Variant
E12
H11
Peptide Target
Ka (M−1 s−1)
Kd (s−1)
KD (nM)
Ka (M−1 s−1)
Kd (s−1)
KD (nM)
Akt1-pT308
4.830 × 104
7.821 × 10−3
162 ± 12
4.157 × 104
7.401 × 10−3
178 ± 8
Akt1-T308
2.302
2.144 × 10−3
9.31 × 105
2.165
1.0108 × 10−2
5.002 × 106

© 2018 by the authors. Licensee MDPI, Basel, Switzerland. This article is an open access article distributed under the terms and conditions of the Creative Commons Attribution (CC BY) license (http://creativecommons.org/licenses/by/4.0/).