A Novel Peroxidase Mimics and Ameliorates Alzheimer's Disease-Related Pathology and Cognitive Decline in Mice
1
School of Life Sciences, Jilin University, Changchun 130012, China
2
Engineering Laboratory for AIDS Vaccine, Jilin University, Changchun 130012, China
3
Key Laboratory for Molecular Enzymology and Engineering, the Ministry of Education, Jilin Universtiy, Changchun 130012, China
*
Author to whom correspondence should be addressed.
Received: 22 September 2018 / Revised: 14 October 2018 / Accepted: 19 October 2018 / Published: 24 October 2018
Abstract
Alzheimer's disease (AD) is the most common neurodegenerative disorder in the elderly, which is characterized by the accumulation of amyloid β (Aβ) plaques, oxidative stress, and neuronal loss. Therefore, clearing Aβ aggregates and reducing oxidative stress could be an effective therapeutic strategy for AD. Deuterohemin-AlaHisThrValGluLys (DhHP-6), a novel deuterohemin-containing peptide mimetic of the natural microperoxidase-11 (MP-11), shows higher antioxidant activity and stability compared to the natural microperoxidases. DhHP-6 possesses the ability of extending lifespan and alleviating paralysis in the Aβ1-42 transgenic
Caenorhabditis elegans
CL4176 model of AD, as shown in our previous study. Therefore, this study was aimed at exploring the neuroprotective effect of DhHP-6 in the APPswe/PSEN1dE9 transgenic mouse model of AD. DhHP-6 reduced the diameter and fiber structure of Aβ1-42 aggregation in vitro, as shown by dynamic light scattering and transmission electron microscope. DhHP-6 exerted its neuroprotective effect by inhibiting Aβ aggregation and plaque formation, and by reducing Aβ1-42 oligomers-induced neurotoxicity on HT22 (mouse hippocampal neuronal) and SH-SY5Y (human neuroblastoma) cells. In the AD mouse model, DhHP-6 significantly ameliorated cognitive decline and improved spatial learning ability in behavioral tests including the Morris water maze, Y-maze, novel object recognition, open field, and nest-building test. Moreover, DhHP-6 reduced the deposition of Aβ plaques in the cerebral cortex and hippocampus. More importantly, DhHP-6 restored the morphology of astrocytes and microglia, and significantly reduced the levels of pro-inflammatory cytokines. Our findings provide a basis for considering the non-toxic, peroxidase mimetic DhHP-6 as a new candidate drug against AD.
View Full-Text
►

▼

Figures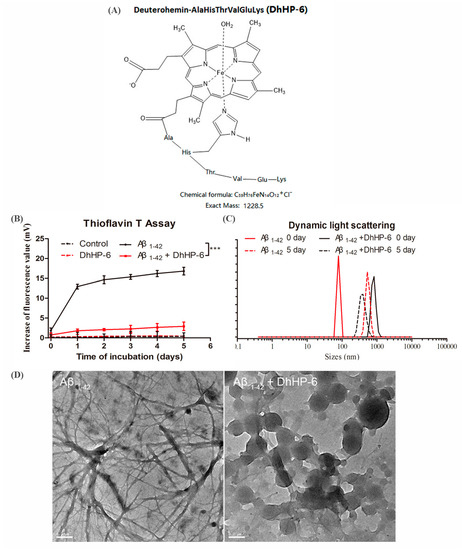 Figure 1
This is an open access article distributed under the
Creative Commons Attribution License
which permits unrestricted use, distribution, and reproduction in any medium, provided the original work is properly cited (CC BY 4.0).

Share & Cite This Article
MDPI and ACS Style
Xu, J.; Wang, K.; Yuan, Y.; Li, H.; Zhang, R.; Guan, S.; Wang, L. A Novel Peroxidase Mimics and Ameliorates Alzheimer's Disease-Related Pathology and Cognitive Decline in Mice. Int. J. Mol. Sci. 2018, 19, 3304.
Note that from the first issue of 2016, MDPI journals use article numbers instead of page numbers. See further details here.
Related Articles
Comments
[Return to top]