Down's Syndrome and Triple Negative Breast Cancer: A Rare Occurrence of Distinctive Clinical Relationship
1
Center for Precision Oncology, Department of Molecular and Experimental Medicine, Avera Cancer Institute, Sioux Falls, SD 57105, USA
2
Departmental of Internal Medicine, Sanford School of Medicine, University of South Dakota, Sioux Falls, SD 57105, USA
*
Author to whom correspondence should be addressed.
Academic Editor: Terrence Piva
Received: 17 April 2017 / Revised: 31 May 2017 / Accepted: 5 June 2017 / Published: 7 June 2017
Abstract
Down's syndrome (DS), the most common genetic cause of significant intellectual disability in children and adults is caused by the trisomy of either all or a part of human chromosome 21 (HSA21). Patients with DS mostly suffer from characteristic tumor types. Although individual patients of DS are at a higher risk for acute leukemia and testicular cancers, other types of solid tumors including breast cancers are mostly uncommon and have significantly lower-than-expected age-adjusted incidence rates. Except for an increased risk of retinoblastomas, and lymphomas, the risk of developing solid tumors has been found to be lower in both children and adults, and breast cancer was found to be almost absent (Hasle H., The Lancet Oncology, 2001). A study conducted in the United States found only one death when 11.65 were expected (Scholl T et al., Dev Med Child Neurol. 1982). A recent study examined mammogram reports of women with DS treated in the largest medical facility specifically serving adults with DS in the United States. It was found that only 0.7% women with DS had been diagnosed with breast cancers (Chicoine B et al., Intellect Dev Disabil. 2015). Here we describe a case of breast cancer in a 25-year-old patient with DS. The disease was presented as lymph node positive carcinoma with alterations of tumor suppressor genes characteristic to the triple negative breast cancer subtype. Comprehensive Genomic Profiling (CGP) revealed a wild-type status for
BRCA1
. The CGP report showed a frameshift mutation, A359fs*10 of the tumor suppressor gene
INPP4B
and another frameshift mutation, R282fs*63 of tumor suppressor gene
TP53
in the tumor biopsy as characteristically found in triple-negative breast cancers. The VUS (Variance of Unknown Significance) alteration(s) were identified in
ASXL1
(L1395V),
NTRK1
(G18E),
DDR2
(I159T),
RUNX1
(amplification),
ERG
(amplification),
SOX2
(T26A),
FAM123B
(G1031D), and
HNF1A
(A301T). Bonafide cancer-related genes of chromosome 21 amplified in the patient's tumor are
RUNX1
and
ERG
genes. After the completion of the radiation, the patient was placed on everolimus which was based on the result of her CGP report. Thus, post-mastectomy radiation therapy was completed with a recommendation for everolimus for one year. During the time of writing of this report, no metastatic lesions were identified. The patient currently has no evidence of disease.
View Full-Text
►

▼

Figures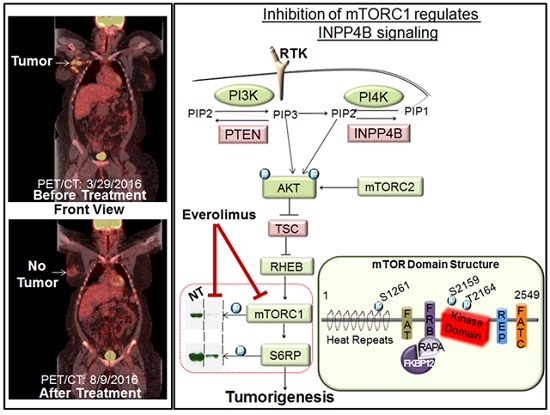 Graphical abstract
This is an open access article distributed under the
Creative Commons Attribution License
which permits unrestricted use, distribution, and reproduction in any medium, provided the original work is properly cited (CC BY 4.0).

Share & Cite This Article
MDPI and ACS Style
Dey, N.; Krie, A.; Klein, J.; Williams, K.; McMillan, A.; Elsey, R.; Sun, Y.; Williams, C.; De, P.; Leyland-Jones, B. Down's Syndrome and Triple Negative Breast Cancer: A Rare Occurrence of Distinctive Clinical Relationship. Int. J. Mol. Sci. 2017, 18, 1218.
Note that from the first issue of 2016, MDPI journals use article numbers instead of page numbers. See further details here.
Related Articles
Comments
[Return to top]