Dose and Radioadaptive Response Analysis of Micronucleus Induction in Mouse Bone Marrow
Canadian Nuclear Laboratories, Radiobiology and Health, Chalk River, ON K0J1J0, Canada
*
Author to whom correspondence should be addressed.
Academic Editor: Terrence Piva
Received: 4 August 2016 / Revised: 1 September 2016 / Accepted: 5 September 2016 / Published: 13 September 2016
Abstract
Enhanced cellular DNA repair efficiency and suppression of genomic instability have been proposed as mechanisms underlying radio-adaptive responses following low-dose radiation exposures. We previously showed that low-dose γ irradiation does not generate radio-adaptation by lowering radiation-induced cytogenetic damage in mouse spleen. Since radiation may exert tissue-specific effects, we extended these results here by examining the effects of γ radiation on cytogenetic damage and proliferative index in bone marrow erythrocytes of C57BL/6 and BALB/c mice. In C57BL/6 mice, the induction of micronuclei in polychromatic erythrocytes (MN-PCE) was observed at radiation doses of 100 mGy and greater, and suppression of erythroblast maturation occurred at doses of >500 mGy. A linear dose–response relationship for MN-PCE frequencies in C57BL/6 mice was established for radiation doses between 100 mGy and 1 Gy, with departure from linearity at doses of >1 Gy. BALB/c mice exhibited increased MN-PCE frequencies above baseline following a 20 mGy radiation exposure but did not exhibit radio-sensitivity relative to C57BL/6 mice following 2 Gy exposure. Radio-adaptation of bone marrow erythrocytes was not observed in either strain of mice exposed to low-dose priming γ irradiation (single doses of 20 mGy or 100 mGy or multiple 20 mGy doses) administered at various times prior to acute 2 Gy irradiation, confirming the lack of radio-adaptive response for induction of cytogenetic damage or suppression or erythrocyte proliferation/maturation in bone marrow of these mouse strains.
View Full-Text
►

▼

Figures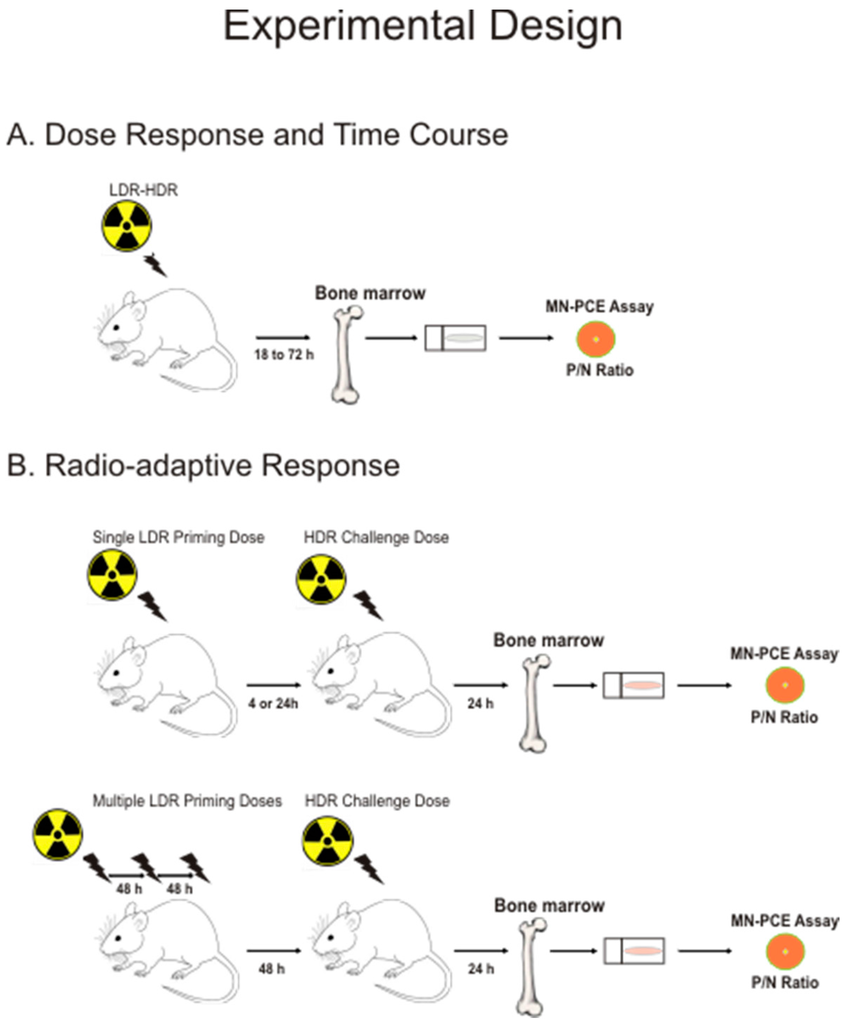 Figure 1
This is an open access article distributed under the
Creative Commons Attribution License
which permits unrestricted use, distribution, and reproduction in any medium, provided the original work is properly cited (CC BY 4.0).

Share & Cite This Article
MDPI and ACS Style
Bannister, L.A.; Mantha, R.R.; Devantier, Y.; Petoukhov, E.S.; Brideau, C.L.A.; Serran, M.L.; Klokov, D.Y. Dose and Radioadaptive Response Analysis of Micronucleus Induction in Mouse Bone Marrow. Int. J. Mol. Sci. 2016, 17, 1548.
Note that from the first issue of 2016, MDPI journals use article numbers instead of page numbers. See further details here.
Related Articles
Comments
[Return to top]