Role of Lipids in the Onset, Progression and Treatment of Periodontal Disease. A Systematic Review of Studies in Humans
1
Department of Physiology, Institute of Nutrition and Food Technology "Jose Mataix", University of Granada, Biomedical Research Center, Avda. Conocimiento s/n, 18100 Armilla, Spain
2
Dipartimento di Scienze Cliniche Specialistiche ed Odontostomatologiche (DISCO)-Sez. Biochimica, Facoltà di Medicina, Università Politecnica delle Marche, 60131 Ancona, Italy
3
Department of Stomalogy, Dental School, University of Sevilla, C/Avicena s/n, 41009 Sevilla, Spain
*
Author to whom correspondence should be addressed.
Academic Editor: Vito Verardo
Received: 1 June 2016 / Revised: 8 July 2016 / Accepted: 20 July 2016 / Published: 25 July 2016
Abstract
The risk of different oral problems (root caries, tooth mobility, and tooth loss) can be increased by the presence of periodontal disease, which has also been associated with a growing list of systemic diseases. The presence of some bacteria is the primary etiology of this disease; a susceptible host is also necessary for disease initiation. In this respect, the progression of periodontal disease and healing of the periodontal tissues can be modulated by nutritional status. To clarify the role of lipids in the establishment, progression, and/or treatment of this pathology, a systematic review was conducted of English-written literature in PubMed until May 2016, which included research on the relationship of these dietary components with the onset and progression of periodontal disease. According to publication type, randomized-controlled trials, cohort, case-control and cross-sectional studies were included. Among all the analyzed components, those that have any effect on oxidative stress and/or inflammation seem to be the most interesting according to current evidence. On one hand, there is quite a lot of information in favor of a positive role of n-3 fatty acids, due to their antioxidant and immunomodulatory effects. On the other hand, saturated fat-rich diets increase oxidative stress as well the as intensity and duration of inflammatory processes, so they must be avoided.
View Full-Text
►

▼

Figures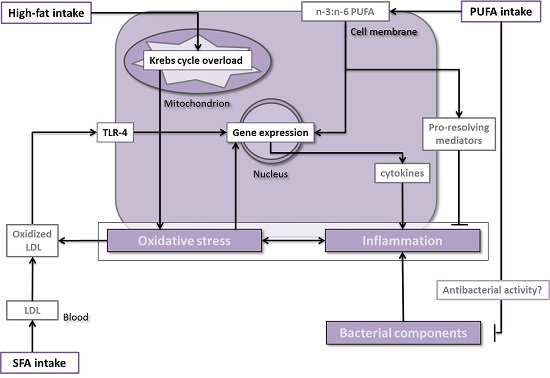 Graphical abstract
This is an open access article distributed under the
Creative Commons Attribution License
which permits unrestricted use, distribution, and reproduction in any medium, provided the original work is properly cited (CC BY 4.0).

Share & Cite This Article
MDPI and ACS Style
Varela-López, A.; Giampieri, F.; Bullón, P.; Battino, M.; Quiles, J.L. Role of Lipids in the Onset, Progression and Treatment of Periodontal Disease. A Systematic Review of Studies in Humans. Int. J. Mol. Sci. 2016, 17, 1202.
Note that from the first issue of 2016, MDPI journals use article numbers instead of page numbers. See further details here.
Related Articles
Comments
[Return to top]