Moracin C, A Phenolic Compound Isolated from
Artocarpus heterophyllus

, Suppresses Lipopolysaccharide-Activated Inflammatory Responses in Murine Raw264.7 Macrophages

1

Shanghai Key Laboratory of New Drug Design, School of Pharmacy, East China University of Science and Technology, 130 Mei Long Road, Shanghai 200237, China

2

Shanghai Key Laboratory of Regulatory Biology, Institute of Biomedical Sciences and School of Life Sciences, East China Normal University, 500 Dongchuan Road, Shanghai 200241, China

*

Authors to whom correspondence should be addressed.

†

These authors contributed equally to this manuscript.

Academic Editors: Gopinadhan Paliyath and Maurizio Battino

Received: 4 May 2016 / Revised: 13 July 2016 / Accepted: 18 July 2016 / Published: 25 July 2016
Abstract
Artocarpus heterophyllus
, a popular tropical fruit commonly known as the jackfruit tree, is normally planted in subtropical or tropical areas. Since a variety of phytochemicals isolated from
A. heterophyllus
have been found to possess potently anti-inflammatory, antiviral and antimalarial activities, researchers have devoted much interest to its potential pharmaceutical value. However, the exact mechanism underlying its anti-inflammatory activity is not well characterized. In this study, seven natural products isolated from
A. heterophyllus
, including 25-Hydroxycycloart-23-en-3-one (
HY
), Artocarpin (
AR
), Dadahol A (
DA
), Morachalcone A (
MA
), Artoheterophyllin B (
AB
), Cycloheterophyllin (
CY
) and Moracin C (
MC
) were collected. Lipopolysaccharide (LPS)-stimulated inflammatory response in RAW264.7 macrophages were used in this study. Among these compounds,
MC
significantly inhibited LPS-activated reactive oxygen species (ROS) and nitric oxide (NO) release without marked cytotoxicity. Furthermore,
MC
effectively reduced LPS stimulated up-regulation of mRNA and protein expression of inducible nitric oxide synthase (iNOS), cyclooxygenase-2 (COX-2), and serval pro-inflammatory cytokines (interleukin-1β (IL-1β), interleukin-6 (IL-6) and tumor necrosis factor α (TNF-α)). Mechanistic studies revealed that the anti-inflammatory effect of
MC
was associated with the activation of the mitogen activated protein kinases (MAPKs) (including p38, ERK and JNK) and nuclear factor-κB (NF-κB) pathways, especially reducing the nuclear translocation of NF-κB p65 subunit as revealed by nuclear separation experiment and confocal microscopy.
View Full-Text
►

▼

Figures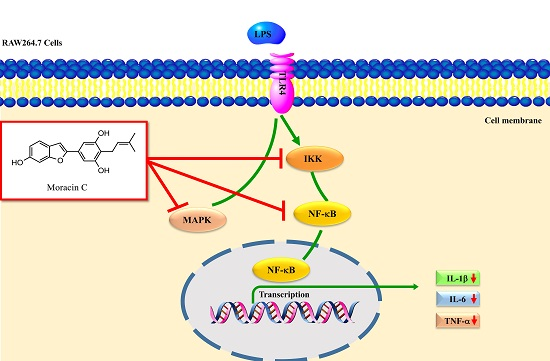 Graphical abstract
This is an open access article distributed under the
Creative Commons Attribution License
which permits unrestricted use, distribution, and reproduction in any medium, provided the original work is properly cited (CC BY 4.0).

Share & Cite This Article
MDPI and ACS Style
Yao, X.; Wu, D.; Dong, N.; Ouyang, P.; Pu, J.; Hu, Q.; Wang, J.; Lu, W.; Huang, J. Moracin C, A Phenolic Compound Isolated from Artocarpus heterophyllus, Suppresses Lipopolysaccharide-Activated Inflammatory Responses in Murine Raw264.7 Macrophages. Int. J. Mol. Sci. 2016, 17, 1199.
Note that from the first issue of 2016, MDPI journals use article numbers instead of page numbers. See further details here.
Related Articles
Comments
[Return to top]