Non-Ligand-Induced Dimerization is Sufficient to Initiate the Signalling and Endocytosis of EGF Receptor
Department of Medical Genetics and Signal Transduction Research Group, Faculty of Medicine and Dentistry, University of Alberta, Edmonton, AB T6G 2H7, Canada
*
Author to whom correspondence should be addressed.
†
These authors contributed equally to this work.
Academic Editor: Ritva Tikkanen
Received: 6 June 2016 / Revised: 13 July 2016 / Accepted: 19 July 2016 / Published: 25 July 2016
Abstract
The binding of epidermal growth factor (EGF) to EGF receptor (EGFR) stimulates cell mitogenesis and survival through various signalling cascades. EGF also stimulates rapid EGFR endocytosis and its eventual degradation in lysosomes. The immediate events induced by ligand binding include receptor dimerization, activation of intrinsic tyrosine kinase and autophosphorylation. However, in spite of intensified efforts, the results regarding the roles of these events in EGFR signalling and internalization is still very controversial. In this study, we constructed a chimeric EGFR by replacing its extracellular domain with leucine zipper (LZ) and tagged a green fluorescent protein (GFP) at its C-terminus. We showed that the chimeric LZ-EGFR-GFP was constitutively dimerized. The LZ-EGFR-GFP dimer autophosphorylated each of its five well-defined C-terminal tyrosine residues as the ligand-induced EGFR dimer does. Phosphorylated LZ-EGFR-GFP was localized to both the plasma membrane and endosomes, suggesting it is capable of endocytosis. We also showed that LZ-EGFR-GFP activated major signalling proteins including Src homology collagen-like (Shc), extracellular signal-regulated kinase (ERK) and Akt. Moreover, LZ-EGFR-GFP was able to stimulate cell proliferation. These results indicate that non-ligand induced dimerization is sufficient to activate EGFR and initiate cell signalling and EGFR endocytosis. We conclude that receptor dimerization is a critical event in EGF-induced cell signalling and EGFR endocytosis.
View Full-Text
►

▼

Figures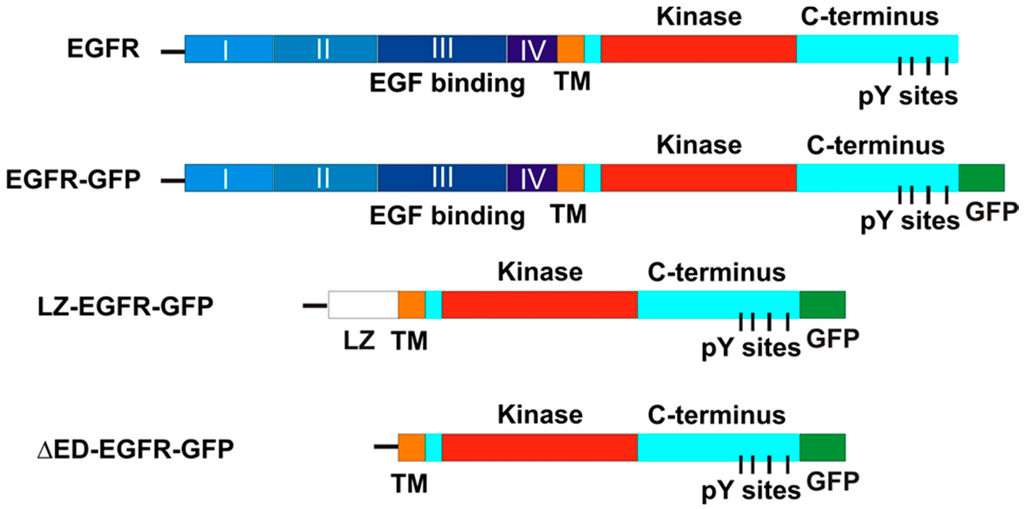 Figure 1
This is an open access article distributed under the
Creative Commons Attribution License
which permits unrestricted use, distribution, and reproduction in any medium, provided the original work is properly cited (CC BY 4.0).

Share & Cite This Article
MDPI and ACS Style
Kourouniotis, G.; Wang, Y.; Pennock, S.; Chen, X.; Wang, Z. Non-Ligand-Induced Dimerization is Sufficient to Initiate the Signalling and Endocytosis of EGF Receptor. Int. J. Mol. Sci. 2016, 17, 1200.
Note that from the first issue of 2016, MDPI journals use article numbers instead of page numbers. See further details here.
Related Articles
Comments
[Return to top]