Open Access This article is
freely available
re-usable
Review
Genome Editing in
C. elegans
and Other Nematode Species
1
PRESTO, Japan Science and Technology Agency, Kawaguchi 332-0012, Japan
2
Institute for Integrated Cell-Material Sciences (WPI-iCeMS), Kyoto University, Yoshida-Honmachi, Sakyo-ku, Kyoto 606-8501, Japan
Academic Editor: Izuho Hatada
Received: 17 August 2015 / Accepted: 15 February 2016 / Published: 26 February 2016
Abstract
:
Caenorhabditis elegans
, a 1 mm long free-living nematode, is a popular model animal that has been widely utilized for genetic investigations of various biological processes. Characteristic features that make
C. elegans
a powerful model of choice for eukaryotic genetic studies include its rapid life cycle (development from egg to adult in 3.5 days at 20 °C), well-annotated genome, simple morphology (comprising only 959 somatic cells in the hermaphrodite), and transparency (which facilitates non-invasive fluorescence observations). However, early approaches to introducing mutations in the
C. elegans
genome, such as chemical mutagenesis and imprecise excision of transposons, have required large-scale mutagenesis screens. To avoid this laborious and time-consuming procedure, genome editing technologies have been increasingly used in nematodes including
C. briggsae
and
Pristionchus pacificus
, thereby facilitating their genetic analyses. Here, I review the recent progress in genome editing technologies using zinc-finger nucleases (ZFNs), transcriptional activator-like nucleases (TALENs), and clustered regularly interspaced short palindromic repeats (CRISPR)/Cas9 in nematodes and offer perspectives on their use in the future.
Keywords:
nematode;
C. elegans
; transposon; TALEN; CRISPR/Cas9; cell-specific analysis
1. Introduction
The nematode
C. elegans
became a powerful model organism just over 50 years ago [
1
]. This tiny animal has greatly contributed to investigations of the functions of genes in development and cellular biology. One advantage of using
C. elegans
as a model animal is its simple morphology; the adult hermaphrodite is composed of only 959 somatic cells, including 302 neurons, and cell number does not vary among individuals. Researchers have tracked the fate of every cell, from fertilization to adulthood, in live animals and have generated a complete cell lineage [
2
]. This insight into cell lineage has contributed enormously to research in the field of developmental biology. The wiring and connectivity of neurons in
C. elegans
have been completely reconstructed from electron micrographs [
3
]. Therefore, this well-defined nervous system simplifies investigations of the neural circuitry underlying behavioral plasticity. Features that make the nematode highly amenable to laboratory research also include its small size, short life cycle and ability to survive long-term freezing for storage. These advantageous features have allowed
C. elegans
researchers to uncover novel biological mechanisms, such as apoptosis, and develop novel techniques, such as green fluorescent protein (GFP) tagging, in the life sciences research field.
C. elegans
is a genetically tractable model system, for which many genetic resources and tools have been developed. There are approximately 20,359 protein-coding genes in
C. elegans
(WormBase referential freeze WS250, November 2015). In OrthoList, a compendium of
C. elegans
genes with human orthologs, 7663 protein-coding genes are predicted to have human orthologs, corresponding to approximately 38% of the
C. elegans
genome [
4
]. Furthermore, 60%–80% of human genes are represented by an ortholog in the
C. elegans
genome [
5
]. More importantly, 40% of genes known to be associated with human diseases are represented by orthologs in the
C. elegans
genome [
6
].
To clarify functional roles of
C. elegans
genes, various genetic methods have been developed and adapted before emergence of recent genome engineering techniques. In forward genetic screening, worms are treated with mutagens such as ethyl methane sulfonate (EMS) to induce DNA lesions and mutants with a target phenotype. Subsequent gene mapping and detailed analyses of the mutant phenotype allow elucidation of the gene's function. As a complement to forward genetics, reverse genetics offers opportunities to examine the function of a gene by analyzing the phenotypic effects of targeted gene sequence alteration. RNA interference (RNAi) has served as a powerful reverse genetic tool for large-scale genetic screening and to study gene function by examining the consequences of targeted gene knock-down. However, RNAi fails to completely suppress gene expression and provides only temporally inhibition of gene function only temporally. Screening of worms with deletions of specific target DNA by the
C. elegans
Gene Knockout Consortium and the Japan National Bioresource Project has offered opportunities to examine the phenotypic effects of a targeted gene knock-out. However, these resources do not completely include mutants with deletions in a desired genomic region. Therefore, it has been needed to establish a strategy for inducing targeted gene knock-out at will.
In compatible with forward and reverse genetic screening, microinjection of a gene of interest has been an indispensable genetic technique to study gene functions in
C. elegans
. The microinjection of genes including fluorescent protein-coding genes into the gonad of the adult hermaphrodite results in the formation of semi-stable extrachromosomal arrays that are comprised of many copies of the injected DNA [
7
]. The microinjection under the control of a cell-specific promoter has been used for an extrachromosomal rescue experiment that enables identification of a cell-specific role of the transgene. The transgenes, which are typically overexpressed in somatic tissues and silenced in the germline and early embryo, can be integrated into the genome by UV (ultraviolet) irradiation or microparticle bombardment [
8
,
9
]. These integration methods have allowed the generation of low-copy transgenes, which are expressed at closer to endogenous levels [
10
]. However, this experiment is less efficient, time-consuming, and not easily able to control genomic location for gene insertion. Thus, a strategy for inducing a stable gene knock-in at a desired genomic location has been required in the nematode research field.
Due to these requirements for targeted genome editing,
C. elegans
geneticists have developed methods based on the
Mos1
transposon system [
11
,
12
]. Then, zinc-finger nucleases (ZFNs) [
13
], transcription activator-like effector (TALE) nucleases (TALENs) [
14
,
15
], and RNA-guided clustered regulatory interspaced short palindromic repeats (CRISPR)/Cas9 endonuclease systems have emerged as the revolutionized techniques adapted for creating locus-specific mutations in nematodes [
15
,
16
,
17
,
18
,
19
,
20
,
21
,
22
]. In this review, I provide a historical overview of this research field and discuss recent implementations of genome editing techniques in nematodes.
2. Development of Gene Editing Protocols for Nematodes
2.1. Site-Restricted Editing by Mos1
Before the revolution of the current genome editing technologies, methods based on the
Mos1
transposon system allowed for targeted genome editing in
C. elegans
[
11
,
12
]. Robert and Bessereau reported that the
Drosophila
element
Mos1
can also be used to produce double strand breaks (DSBs) and initiate gene editing [
11
]. In the experiments described in that paper, a repair template was constructed by preparing a transgene containing sequences homologous to the target genome region. The repair template was co-injected into the germline of a
Mos1
-insertion mutant with a vector enabling the expression of the
Mos
transposase using the heat-shock promoter
hsp-16.48
. Heat-shock treatment triggered DSBs at the target site, which were repaired by transgene-mediated gene conversion. This process allowed for mutations in the transgene to be copied at a specific locus at frequencies ranging from 10
−5
to 10
−4
events per F1 progeny. The mutations were successfully inherited by offspring. Frøkjær-Jensen
et al.
developed methods for
Mos1
-mediated single-copy insertion (MosSCI) that enables the insertion of single copies of transgenes into well-defined genomic loci [
12
] and optimized the efficiency of insertion [
23
]. The prerequisite for these techniques was the insertion of the
Mos1
element into the target genomic region. Although efforts to generate a comprehensive
Mos1
-inserted mutant library are in progress, the ability to modify the genome with this technique is limited to genetic loci near transposons.
2.2. Universal Editing with ZFNs, TALENs and CRISPRs
In brief, current ZFN, TALEN and CRIPSR systems have made possible important advances, but each has advantages and disadvantages in genome editing. In Zinc fingers, the context-dependency of the binding preference is that Zinc fingers exhibit context-dependent binding effects because of interactions between adjacent modules assembled into a larger array. In addition, assembly of functional ZFNs with the desired DNA-binding specificity remains a laborious process that requires extensive cell-based screening. In contrast, because TALE repeat domains exhibits fewer context-dependent preferences, researchers can simply assemble them in a modular fashion using a simple one-to-one code between individual repeats and the four possible DNA nucleotides. Frequency of off-target effects of TALENs is relatively low because of the length of the target sequence (15–19 bp), the higher specificity of the TALE DNA-binding domain, and the need of FokI dimerization to reconstitute endonuclease activity. On the other hand, despite these advantages over ZFNs, construction of novel TALE arrays still remains labor-intensive partly due to their repetitive sequences. In terms of target design simplicity, sgRNAs can be designed readily and cheaply to target nearly any genomic sequence specifically. Furthermore, the efficiency of the CRISPR system is high compared with the TALEN system. However, multiple mismatches between the guide RNA and its complementary target DNA sequence can be tolerated, thereby causing undesired off-target mutagenesis. Recent studies have demonstrated in other organisms that the use of dual nickases for Cas9 could reduce the potential off-target mutagenesis. Therefore, application of this strategy further revolutionizes the genome editing technology in the nematodes.
2.3. Imprecise and Precise Repair Using ssOligo and dsDNA
3. Optimization of the CRISPR System
4. Use of Genome Editing Tools to Create New Methods for
C. elegans
5. Important Results Achieved Using Genome Editing Techniques
6. Conclusions
In nematode species, as with other model organisms, genome editing technologies have been used as indispensable tools for investigating biological systems. The previously available methods to generate mutations, such as chemical mutagenesis, use laborious procedures that require at least one month for large-scale mutagenesis screening, with unpredictable results. In contrast, recently developed genome editing techniques allow researchers to produce specific knock-out mutants or missense mutants in two to three weeks. Furthermore, they can conditionally create the targeted mutations with a cell-specific promoter. This technique provides an alternative avenue to investigate the role of a gene of interest in a cell-specific manner, avoiding the embryonic lethality caused by some mutations.
In other model organisms, TALE and Cas9 can be altered into a transcriptional regulator when they are fused to the transcriptional activator VP16/VP64 [
65
,
66
] or to an epigenetic factor such as LSD1 histone demethylase [
67
]. Moreover, as an alternative to fluorescence
in situ
hybridization (FISH) methods, fluorescently tagged Cas9 labeling of specific DNA loci has been developed as a powerful live-cell imaging strategy [
68
]. These techniques should be highly compatible with
C. elegans
genetic methods, in which genes are expressed in only a target cell with a cell-specific promoter. Considering this remarkable feature, the causal roles of a gene expression change and its associated chromatin state at the single cell level can be studied in diverse biological processes including development, learning and memory, and disease. In summary, further promising techniques and novel biological concepts should emerge from the combination of genome editing technology and nematode cell-specific genetics.
Acknowledgments
The writing of this review was made possible in part by a grant from the Japan Society for the Promotion of Science, the Japan Science and Technology Agency under Precursory Research for Embryonic Science and Technology (PRESTO), and the Sumitomo Foundation.
Author Contributions
Takuma Sugi wrote this review.
Conflicts of Interest
The author declares no conflict of interest.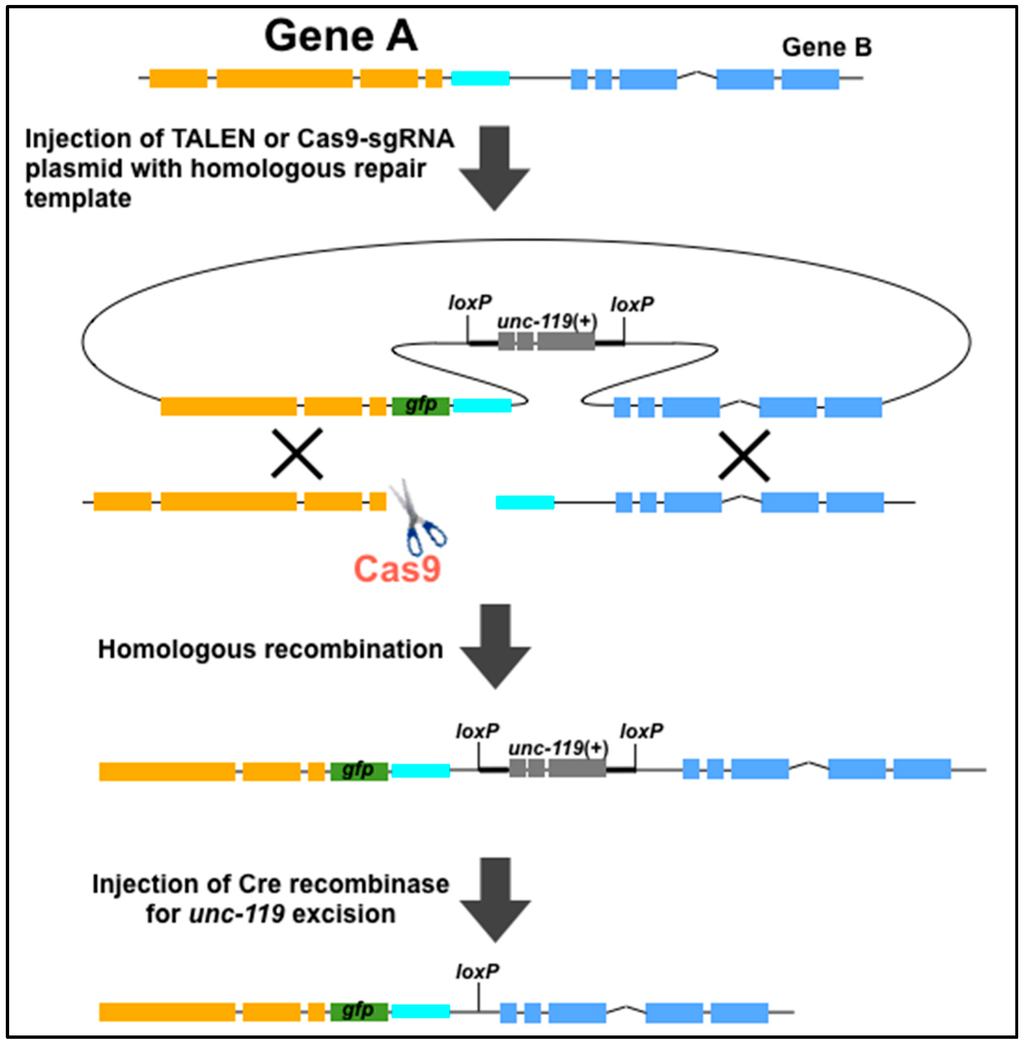 Figure 1.
Schematic of homologous recombination-mediated
gfp
insertion using TALENs or Cas9. The
unc-119(+)
selection marker in the resulting
gfp
-inserted worms can be excised by injecting Cre recombinase. The orange, blue, and cyan genomic regions are gene A, the 3' UTR of gene A, and gene B, respectively. The figure was adapted from Dickinson
et al.
[
40
].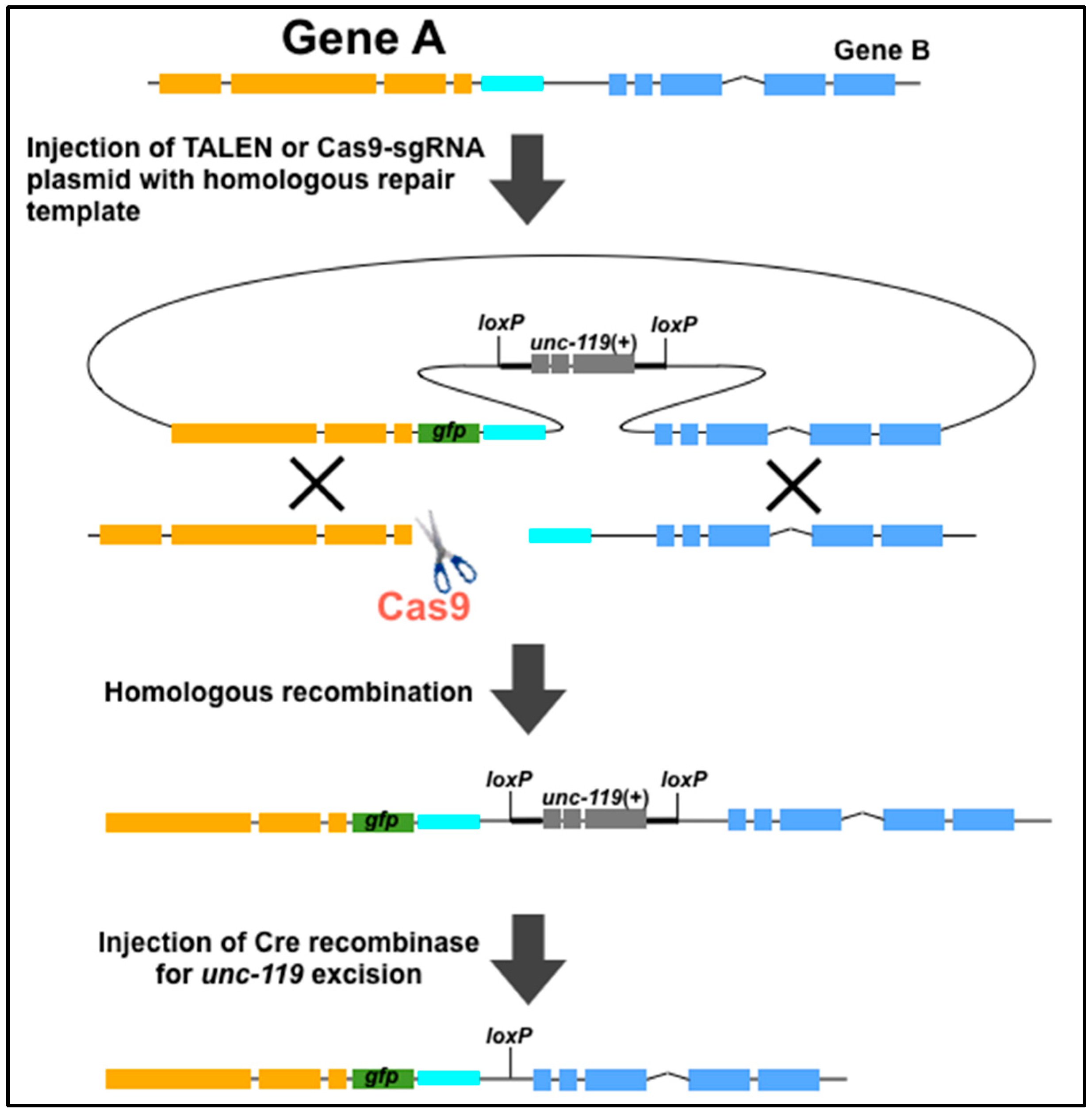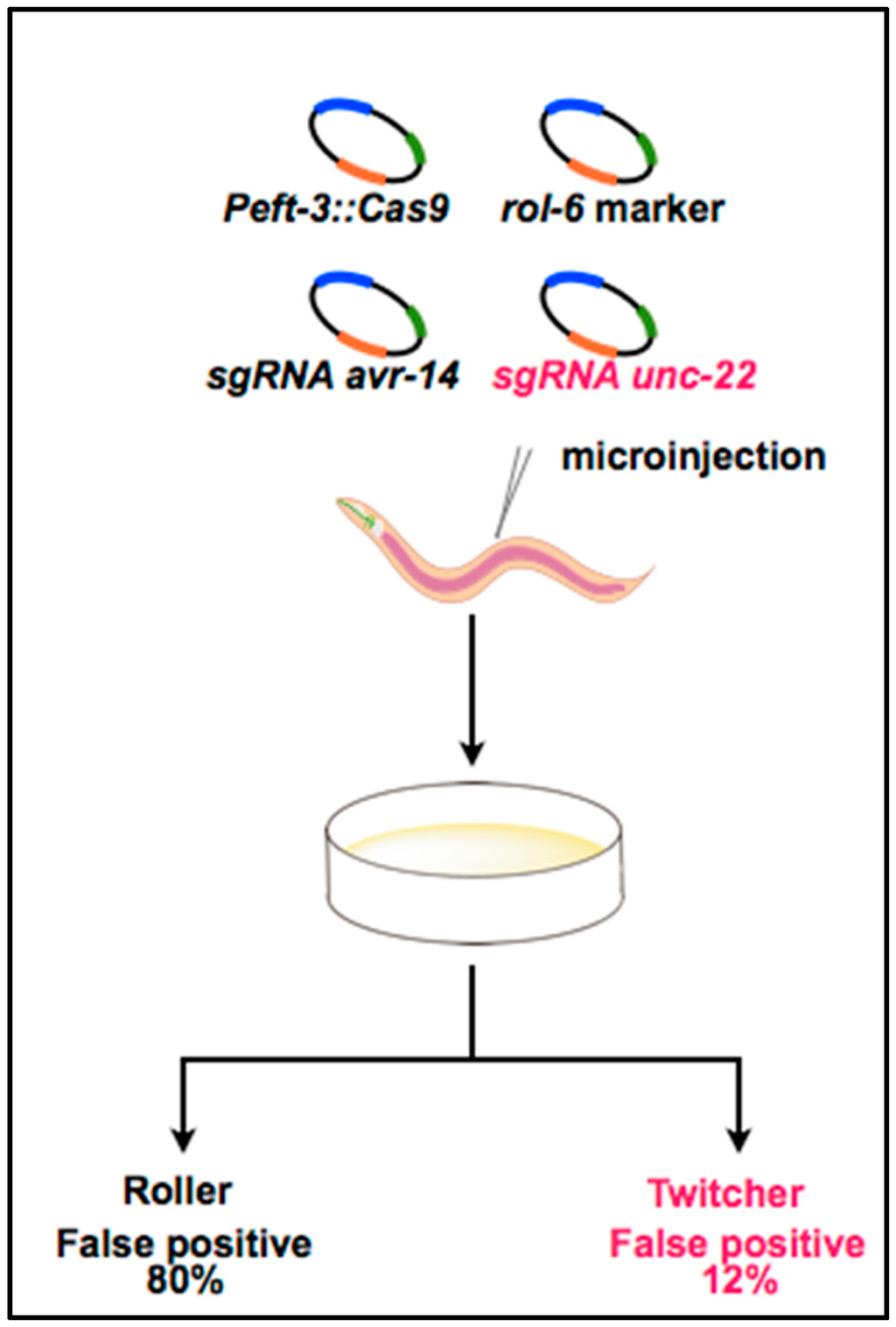 Figure 2.
Overview of the co-CRISPR strategy for efficiently identifying functional sgRNAs targeting
avr
genes. sgRNA targeting
unc-22
, a gene associated with the twitcher phenotype, was co-injected with sgRNAs targeting
avr-14
and
avr-15
, the Cas9 expression vector, and the
rol-6
transformation marker. The co-injection of a functional
unc-22
sgRNA reduced the false-positive rate in the identification of mutants.
Figure 2
was adapted from Kim
et al.
[
46
].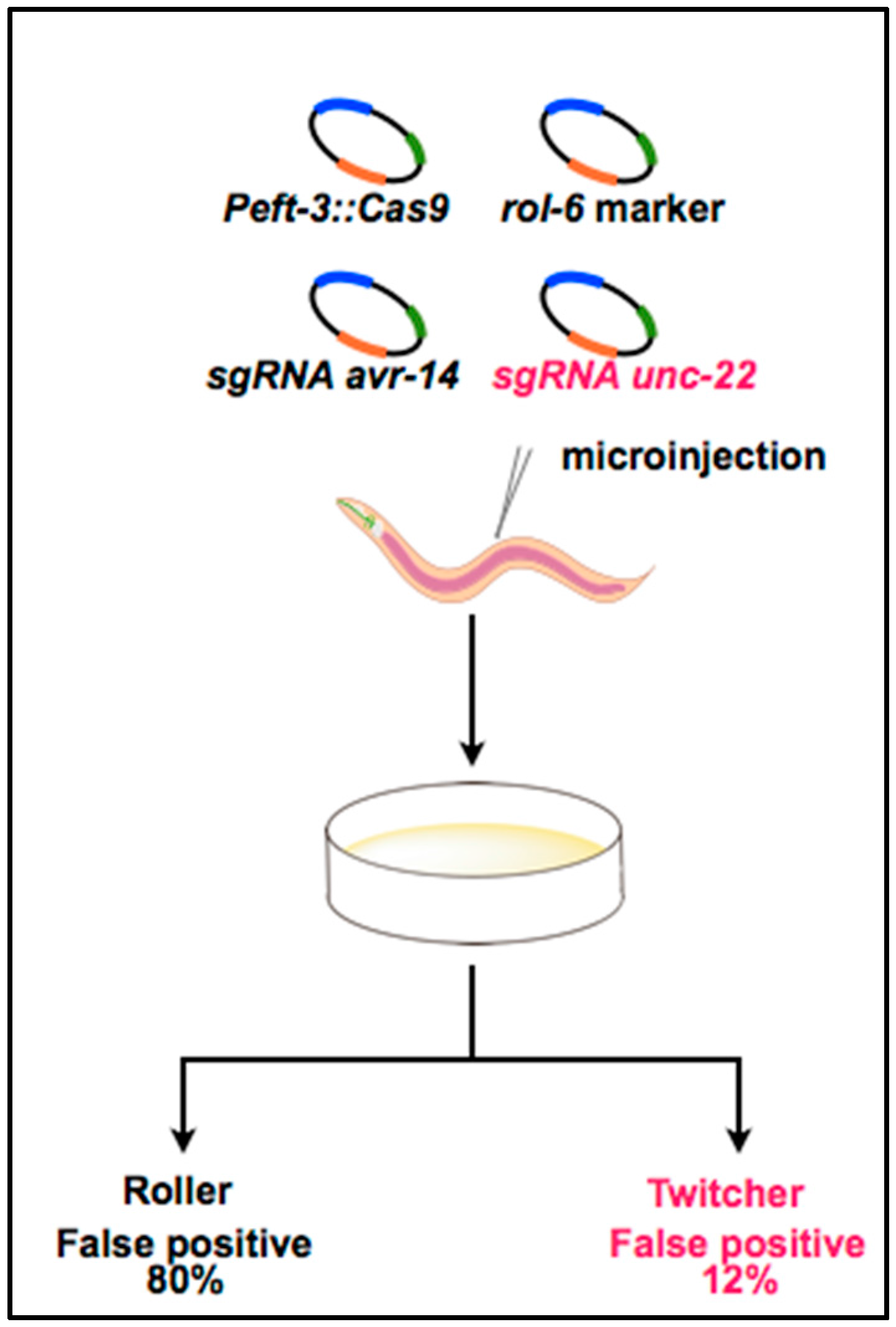 © 2016 by the author; licensee MDPI, Basel, Switzerland. This article is an open access article distributed under the terms and conditions of the Creative Commons by Attribution (CC-BY) license (http://creativecommons.org/licenses/by/4.0/).