Interaction of Dihydrocitrinone with Native and Chemically Modified Cyclodextrins
1
Department of Pharmacology, Faculty of Pharmacy, University of Pécs, Szigeti út 12, 7624 Pécs, Hungary
2
János Szentágothai Research Center, University of Pécs, Ifjúság útja 20, 7624 Pécs, Hungary
3
Department of Pharmaceutical Chemistry, Faculty of Pharmacy, University of Pécs, Rókus u. 2, 7624 Pécs, Hungary
4
Institute of Organic and Medicinal Chemistry, Medical School, University of Pécs, Szigeti út 12, H-7624 Pécs, Hungary
5
CycloLab Cyclodextrin Research & Development Laboratory, Ltd., Illatos út 7, 1097 Budapest, Hungary
6
Institute of Food Chemistry, Westfälische Wilhelms-Universität Münster, Corrensstr. 45, 48149 Münster, Germany
*
Author to whom correspondence should be addressed.
Academic Editors: Chiara Dall'Asta and Luca Dellafiora
Received: 13 March 2019 / Revised: 29 March 2019 / Accepted: 1 April 2019 / Published: 4 April 2019
(This article belongs to the Special Issue
Mycotoxins
)
Abstract
Citrinin (CIT) is a nephrotoxic mycotoxin produced by
Aspergillus
,
Penicillium
, and
Monascus
genera. It appears as a contaminant in grains, fruits, and spices. After oral exposure to CIT, its major urinary metabolite, dihydrocitrinone (DHC) is formed, which can be detected in human urine and blood samples. Cyclodextrins (CDs) are ring-shaped molecules built up from glucose units. CDs can form host-guest type complexes with several compounds, including mycotoxins. In this study, the complex formation of DHC with native and chemically modified beta- and gamma-cyclodextrins was tested at a wide pH range, employing steady-state fluorescence spectroscopic and modeling studies. The weakly acidic environment favors the formation of DHC-CD complexes. Among the CDs tested, the quaternary-ammonium-γ-cyclodextrin (QAGCD) formed the most stable complexes with DHC. However, the quaternary-ammonium-β-cyclodextrin (QABCD) induced the strongest enhancement in the fluorescence signal of DHC. Our results show that some of the chemically modified CDs are able to form stable complexes with DHC (log
K
= 3.2–3.4) and the complex formation can produce even a 20-fold increase in the fluorescence signal of DHC. Considering the above-listed observations, CD technology may be a promising tool to increase the sensitivity of the fluorescence detection of DHC.
View Full-Text
►

▼

Figures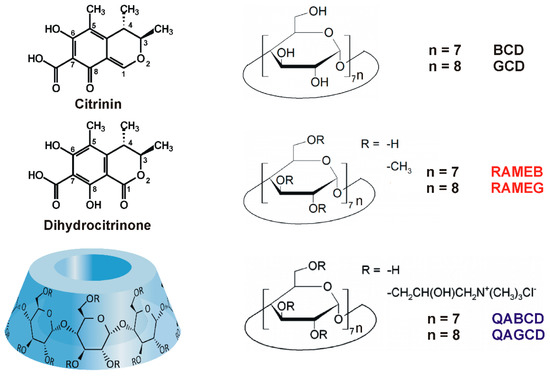 Figure 1
This is an open access article distributed under the
Creative Commons Attribution License
which permits unrestricted use, distribution, and reproduction in any medium, provided the original work is properly cited (CC BY 4.0).

Share & Cite This Article
MDPI and ACS Style
Faisal, Z.; Kunsági-Máté, S.; Lemli, B.; Szente, L.; Bergmann, D.; Humpf, H.-U.; Poór, M. Interaction of Dihydrocitrinone with Native and Chemically Modified Cyclodextrins. Molecules 2019, 24, 1328.
Note that from the first issue of 2016, MDPI journals use article numbers instead of page numbers. See further details here.
Related Articles
Comments
[Return to top]