Comparing Gly11/
d

Ala11-Replacement vs. the in-Situ Neprilysin-Inhibition Approach on the Tumor-targeting Efficacy of the 111In-SB3/111In-SB4 Radiotracer Pair

1

Molecular Radiopharmacy, INRASTES, NCSR "Demokritos", 15310 Athens, Greece

2

Department of Radiology, Erasmus MC, 3015 GD Rotterdam, The Netherlands

3

Cytrotron Rotterdam BV, Erasmus MC, 3015 GD Rotterdam, The Netherlands

*

Author to whom correspondence should be addressed.

Academic Editor: Licia Uccelli

Received: 31 January 2019 / Revised: 9 March 2019 / Accepted: 11 March 2019 / Published: 13 March 2019
Abstract
Background
: The GRPR-antagonist
68
Ga-SB3 visualized prostate cancer lesions in animal models and in patients. Switching radiometal from
68
Ga to
111
In impaired tumor targeting in mice, but coinjection of the neprilysin (NEP)-inhibitor phosphoramidon (PA) stabilized
111
In-SB3 in circulation and remarkably increased tumor uptake. We herein report on the biological profile of
111
In-SB4:
111
In-[
d
Ala
11
]SB3.
Methods
: The biological responses of
111
In-SB3/SB4 were compared in PC-3 cells and animal models.
Results
: Gly
11
/
d
Ala
11
-replacement deteriorated GRPR-affinity (SB4 IC
50
: 10.7 ± 0.9 nM vs. SB3 IC
50
: 4.6 ± 0.3 nM) and uptake in PC-3 cells (
111
In-SB4: 1.3 ± 0.4% vs.
111
In-SB3 16.2 ± 0.8% at 1 h).
111
In-SB4 was more stable than
111
In-SB3, but PA-coinjection stabilized both radiotracers in peripheral mice blood. Unmodified
111
In-SB3 showed higher uptake in PC-3 xenografts (8.8 ± 3.0%ID/g) vs.
111
In-SB4 (3.1 ± 1.1%ID/g) at 4 h pi. PA-coinjection improved tumor uptake, with
111
In-SB3 still showing superior tumor targeting (38.3 ± 7.9%ID/g vs. 7.4 ± 0.3%ID/g for
111
In-SB4).
Conclusions
: Replacement of Gly
11
by
d
Ala
11
improved in vivo stability, however, at the cost of GRPR-affinity and cell uptake, eventually translating into inferior tumor uptake of
111
In-SB4 vs. unmodified
111
In-SB3. On the other hand, in-situ NEP-inhibition turned out to be a more efficient and direct strategy to optimize the in vivo profile of
111
In-SB3, and potentially other peptide radiotracers.
View Full-Text
►

▼

Figures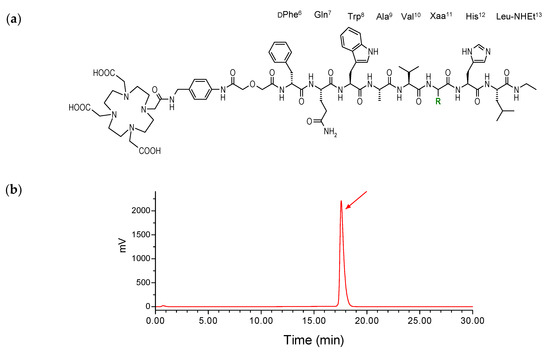 Figure 1
This is an open access article distributed under the
Creative Commons Attribution License
which permits unrestricted use, distribution, and reproduction in any medium, provided the original work is properly cited (CC BY 4.0).

Share & Cite This Article
MDPI and ACS Style
Lymperis, E.; Kaloudi, A.; Kanellopoulos, P.; de Jong, M.; Krenning, E.P.; Nock, B.A.; Maina, T. Comparing Gly11/dAla11-Replacement vs. the in-Situ Neprilysin-Inhibition Approach on the Tumor-targeting Efficacy of the 111In-SB3/111In-SB4 Radiotracer Pair. Molecules 2019, 24, 1015.
Note that from the first issue of 2016, MDPI journals use article numbers instead of page numbers. See further details here.
Related Articles
Comments
[Return to top]