Mori Ramulus (Chin.Ph.)—the Dried Twigs of
Morus alba

L./Part 1: Discovery of Two Novel Coumarin Glycosides from the Anti-Hyperuricemic Ethanol Extract

1

Zhejiang Provincial Key Laboratory of Traditional Chinese Medicine Pharmaceutical Technology, Hangzhou 310018, China

2

Zhejiang Institute of TCM and Natural Medicine, Hangzhou 310018, China

3

Clinic for Gastroenterology and Gastrointestinal Oncology, University Medical Center Göttingen, Robert-Koch-Str. 40, 37075 Göttingen, Germany

*

Author to whom correspondence should be addressed.

Academic Editor: Thomas Efferth

Received: 14 December 2018 / Revised: 9 January 2019 / Accepted: 12 January 2019 / Published: 11 February 2019
Abstract
In Traditional Chinese Medicine (TCM), Mori ramulus (Chin.Ph.)—the dried twigs of
Morus alba
L.—is extensively used as an antirheumatic agent and also finds additional use in asthma therapy. As a pathological high xanthine oxidase (XO, EC 1.1.3.22) activity is strongly correlated to hyperuricemy and gout, standard anti-hyperuremic therapy typically involves XO inhibitors like allopurinol, which often cause adverse effects by inhibiting other enzymes involved in purine metabolism. Mori ramulus may therefore be a promissing source for the development of new antirheumatic therapeutics with less side effects. Coumarins, one of the dominant groups of bioactive constituents of
M. alba
, have been demonstrated to possess anti-inflammatory, antiplatelet aggregation, antitumor, and acetylcholinesterase (AChE) inhibitory activities. The combination of HPLC (DAD) and Q-TOF technique could give excellent separating and good structural characterization abilities which make it suitable to analyze complex multi-herbal extracts in TCM. The aim of this study was to develop a HPLC (DAD)/ESI-Q-TOF-MS/MS method for the identification and profiling of pharmacologically active coumarin glycosides in Mori ramulus refined extracts for used in TCM. This HPLC (DAD)/ESI-Q-TOF-MS/MS method provided a rapid and accurate method for identification of coumarin glycosides—including new natural products described here for the first time—in the crude extract of
M. alba
L. In the course of this project, two novel natural products moriramulosid A (umbelliferone-6-β-
d
-apiofuranosyl-(1→6)-β-
d
-glucopyranoside) and moriramulosid B (6-[[6-
O
-(6-deoxy-α-
l
-mannopyranosyl)-β-
d
-glucopyranosyl]oxy]-2
H
-1-benzopyran-1-one) were newly discovered and the known natural product Scopolin was identified in
M. alba
L. for the first time.
View Full-Text
►

▼

Figures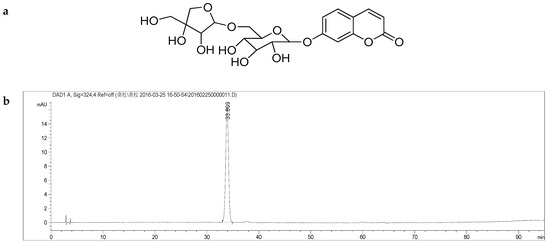 Figure 1
This is an open access article distributed under the
Creative Commons Attribution License
which permits unrestricted use, distribution, and reproduction in any medium, provided the original work is properly cited (CC BY 4.0).

Share & Cite This Article
MDPI and ACS Style
Yao, J.; He, H.; Xue, J.; Wang, J.; Jin, H.; Wu, J.; Hu, J.; Wang, R.; Kuchta, K. Mori Ramulus (Chin.Ph.)—the Dried Twigs of Morus alba L./Part 1: Discovery of Two Novel Coumarin Glycosides from the Anti-Hyperuricemic Ethanol Extract. Molecules 2019, 24, 629.
Note that from the first issue of 2016, MDPI journals use article numbers instead of page numbers. See further details here.
Related Articles
Comments
[Return to top]