Facile Preparation of
N

-Glycosylated 10-Piperazinyl Artemisinin Derivatives and Evaluation of Their Antimalarial and Cytotoxic Activities

1

Department of Chemistry, The Hong Kong University of Science and Technology, Clear Water Bay, Kowloon, Hong Kong, China

2

Department of Biomedical, Surgical and Dental Sciences (DiSBIOC), University of Milan, Via Pascal 36, 20133 Milan, Italy

3

Department of Pharmacological & Biomolecular Sciences (DiSFeB), University of Milan, Via Pascal 36, 20133 Milan, Italy

4

Center of Excellence for Pharmaceutical Sciences, Faculty of Health Sciences, North-West University, Potchefstroom 2520, South Africa

5

Inter University Center for Malaria Research, Italian Malaria Network, University of Perugia, 06100 Perugia, Italy

*

Authors to whom correspondence should be addressed.

†

These authors contributed equally to this work.

Received: 19 June 2018 / Revised: 6 July 2018 / Accepted: 10 July 2018 / Published: 13 July 2018
Abstract
According to the precepts that C-10 amino-artemisinins display optimum biological activities for the artemisinin drug class, and that attachment of a sugar enhances specificity of drug delivery, polarity and solubility so as to attenuate toxicity, we assessed the effects of attaching sugars to N-4 of the dihydroartemisinin (DHA)-piperazine derivative prepared in one step from DHA and piperazine.
N
-Glycosylated DHA-piperazine derivatives were obtained according to the Kotchetkov reaction by heating the DHA-piperazine with the sugar in a polar solvent. Structure of the D-glucose derivative is secured by X-ray crystallography. The D-galactose, L-rhamnose and D-xylose derivatives displayed IC
50
values of 0.58–0.87 nM against different strains of
Plasmodium falciparum
(
Pf
) and selectivity indices (SI) >195, on average, with respect to the mouse fibroblast WEHI-164 cell line. These activities are higher than those of the amino-artemisinin, artemisone (IC
50
0.9–1.1 nM). Notably, the D-glucose, D-maltose and D-ribose derivatives were the most active against the myelogenous leukemia K562 cell line with IC
50
values of 0.78–0.87 µM and SI > 380 with respect to the human dermal fibroblasts (HDF). In comparison, artemisone has an IC
50
of 0.26 µM, and a SI of 88 with the same cell lines. Overall, the
N
-glycosylated DHA-piperazine derivatives display antimalarial activities that are greatly superior to
O
-glycosides previously obtained from DHA.
View Full-Text
►

▼

Figures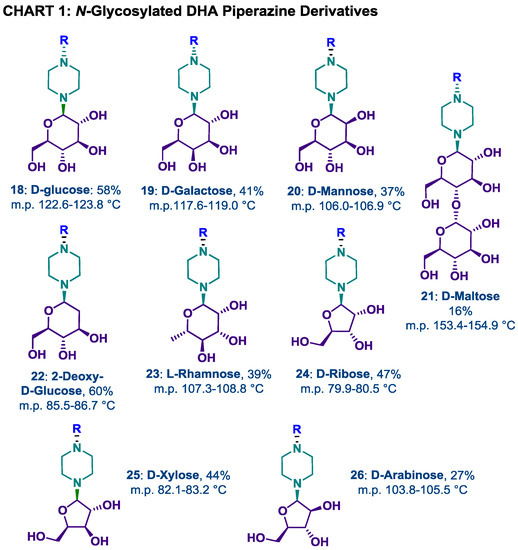 Chart 1
This is an open access article distributed under the
Creative Commons Attribution License
which permits unrestricted use, distribution, and reproduction in any medium, provided the original work is properly cited (CC BY 4.0).

Share & Cite This Article
MDPI and ACS Style
Wu, Y.; Parapini, S.; Williams, I.D.; Misiano, P.; Wong, H.N.; Taramelli, D.; Basilico, N.; Haynes, R.K. Facile Preparation of N-Glycosylated 10-Piperazinyl Artemisinin Derivatives and Evaluation of Their Antimalarial and Cytotoxic Activities. Molecules 2018, 23, 1713.
Note that from the first issue of 2016, MDPI journals use article numbers instead of page numbers. See further details here.
Related Articles
Comments
[Return to top]