Anticancer Profiling for Coumarins and Related
O

-Naphthoquinones from

Mansonia gagei

against Solid Tumor Cells In Vitro

1

Department of Biochemistry, Faculty of Science, King Abdulaziz University, Jeddah 21589, Saudi Arabia

2

Research Centre, King Faisal Specialist Hospital & Research Centre, Jeddah 21499, Saudi Arabia

3

Pharmacognosy Department, Faculty of Pharmacy, Cairo University, Cairo 11562, Egypt

4

Stem Cell Research Unit, King Fahad Medical Research Center, King Abdulaziz University, Jeddah 21589, Saudi Arabia

5

Ministry of Health, Jeddah 21484, Saudi Arabia

6

Department of Pharmacology, Medical Division, National Research Centre, Cairo 12622, Egypt

*

Author to whom correspondence should be addressed.

Received: 29 March 2018 / Revised: 17 April 2018 / Accepted: 21 April 2018 / Published: 26 April 2018
Abstract
Napthoquinones and coumarins are naturally occurring compounds with potential anticancer activity. In the current study, two
O
-naphthoquinons (mansonone-G and mansonone-N) and six coumarins (mansorin-A, mansorin-B, mansorin-C, mansorins-I, mansorin-II, and mansorin-III) were isolated from the heartwood of
Mansonia gagei
family Sterculariaceae. Isolated compounds were examined for their potential anticancer activity against breast (MCF-7), cervix (HeLa), colorectal (HCT-116) and liver (HepG2) cancer cells using Sulfarhodamine-B (SRB) assay. Mansorin-II and mansorin-III showed relatively promising cytotoxic profile in all cell lines under investigation with inhibitory concentrations (IC
50
s) in the range of 0.74 µM to 36 µM and 3.95 µM to 35.3 µM, respectively. In addition, mansorin-B, mansorin-C, mansorin-II and mansorin-III significantly increased cellular entrapment of the P-glycoprotein (P-gp) substrate, doxorubicin, in colorectal cancer cells expressing the P-gp pump. The inhibitory effect of the isolated compounds on P-gp pump was examined using human recombinant P-gp molecules attached to ATPase subunit. Mansorin-B and mansonone-G were found to inhibit the P-gp attached ATPase subunit. On the other hand, mansorin-C, mansorin-III and mansorin-II inhibited P-gp pump via dual action (P-gp related ATPase subunit inhibition and P-gp substrate binding site occupation). However, mansorin II was examined for its potential chemomodulatory effect to paclitaxel (PTX) against colorectal cancer cells (HCT-116 and CaCo-2). Mansorin-II significantly reduced the IC
50
of PTX in HCT-116 cells from 27.9 ± 10.2 nM to 5.1 ± 1.9 nM (synergism with combination index of 0.44). Additionally, Mansorin-II significantly reduced the IC
50
of PTX in CaCo-2 cells from 2.1 ± 0.8 µM to 0.13 ± 0.03 µM (synergism with combination index of 0.18). Furthermore, cell cycle analysis was studied after combination of mansorin-II with paclitaxel using DNA flow cytometry analysis. Synergism of mansorin-II and PTX was reflected in increasing apoptotic cell population in both HCT-116 and CaCo-2 cells compared to PTX treatment alone. Combination of mansorin-II with PTX in CaCo-2 cells significantly increased the cell population in G
2
/M phase (from 2.9 ± 0.3% to 7.7 ± 0.8%) with reciprocal decrease in G
0
/G1 cell fraction from 52.1 ± 1.1% to 45.5 ± 1.0%. Similarly in HCT-116 cells, mansorin-II with PTX significantly increased the cell population in G
2
/M phase (from 33.4 ± 2.8% to 37.6 ± 1.3%) with reciprocal decrease in the S-phase cell population from 22.8 ± 1.7% to 20.2 ± 0.8%. In conclusion, mansorin-II synergizes the anticancer effect of paclitaxel in colorectal cancer cells, which might be partially attributed to enhancing its cellular entrapment via inhibiting P-gp efflux pump.
View Full-Text
►

▼

Figures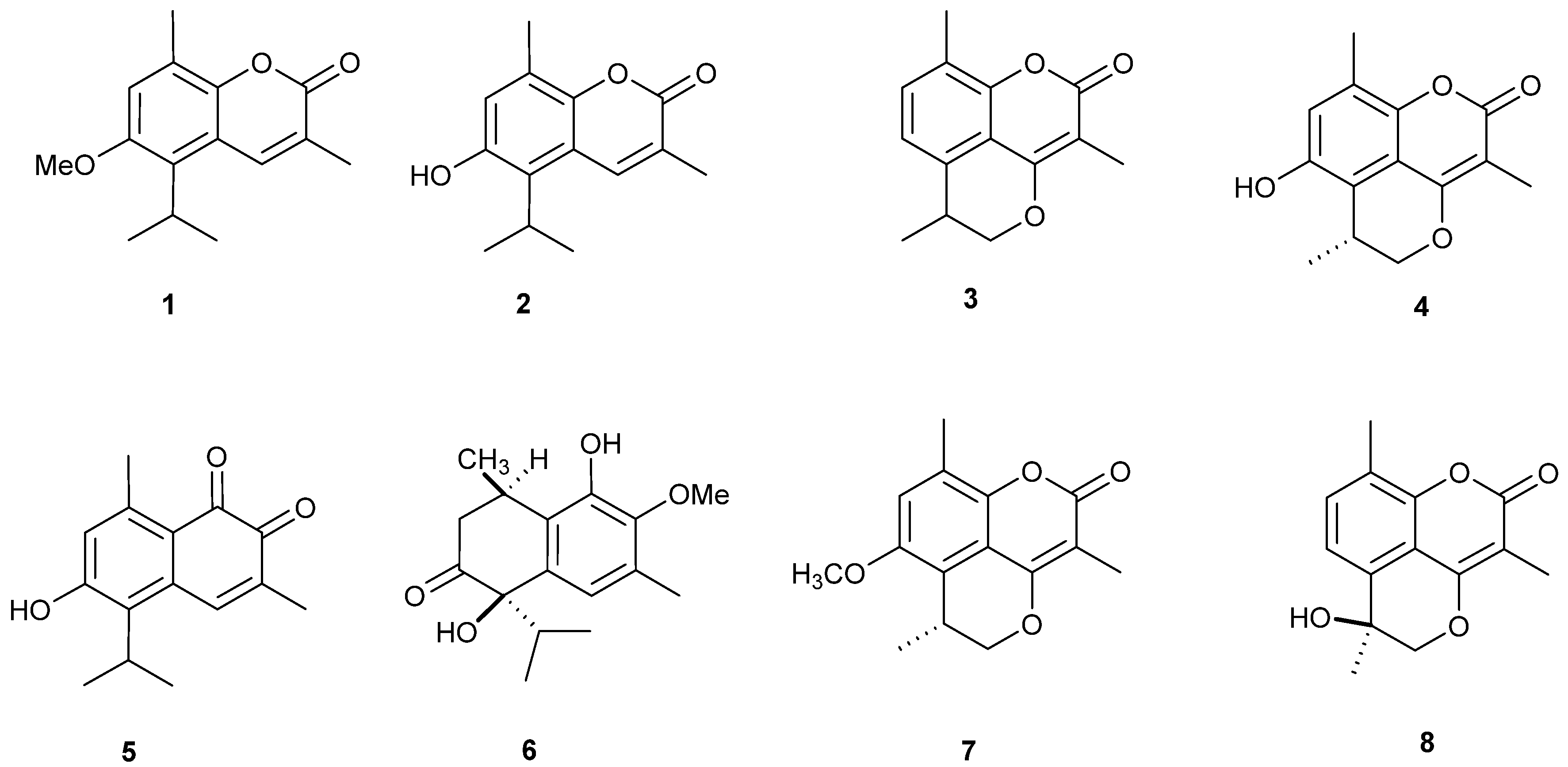 Figure 1
This is an open access article distributed under the
Creative Commons Attribution License
which permits unrestricted use, distribution, and reproduction in any medium, provided the original work is properly cited (CC BY 4.0).

Share & Cite This Article
MDPI and ACS Style
Baghdadi, M.A.; Al-Abbasi, F.A.; El-Halawany, A.M.; Aseeri, A.H.; Al-Abd, A.M. Anticancer Profiling for Coumarins and Related O-Naphthoquinones from Mansonia gagei against Solid Tumor Cells In Vitro. Molecules 2018, 23, 1020.
Note that from the first issue of 2016, MDPI journals use article numbers instead of page numbers. See further details here.
Related Articles
Comments
[Return to top]