Identification of Inhibitors Targeting Ferredoxin-NADP+ Reductase from the
Xanthomonas citri

subsp.

citri

Phytopathogenic Bacteria

1

Departamento de Bioquímica y Biología Molecular y Celular, Facultad de Ciencias, and Institute of Biocomputation and Physics of Complex Systems (BIFI-IQFR and CBsC-CSIC Joint Units), Universidad de Zaragoza, Pedro Cerbuna, 12, 50009 Zaragoza, Spain

2

Departamento de Química Física, Universidad de Santiago de Compostela, 15782 Santiago de Compostela, Spain

3

Molecular Biology Division, Instituto de Biología Molecular y Celular de Rosario (IBR), CONICET, Facultad de Ciencias Bioquímicas y Farmacéuticas, Universidad Nacional de Rosario, Rosario 2000, Argentina

*

Author to whom correspondence should be addressed.

†

Present Address: FMC Corporation, Genvej 2, 2790 Hørsholm, Denmark.

Received: 6 November 2017 / Revised: 28 November 2017 / Accepted: 15 December 2017 / Published: 24 December 2017
Abstract
Ferredoxin-NADP(H) reductases (FNRs) deliver NADPH or low potential one-electron donors to redox-based metabolism in plastids and bacteria.
Xanthomonas citri
subsp.
citri
(
Xcc
) is a Gram-negative bacterium responsible for citrus canker disease that affects commercial citrus crops worldwide. The
Xcc fpr
gene encodes a bacterial type FNR (
Xcc
FPR) that contributes to the bacterial response to oxidative stress conditions, usually found during plant colonization. Therefore,
Xcc
FPR is relevant for the pathogen survival and its inhibition might represent a strategy to treat citrus canker. Because of mechanistic and structural differences from plastidic FNRs,
Xcc
FPR is also a potential antibacterial target. We have optimized an activity-based high-throughput screening (HTS) assay that identifies
Xcc
FPR inhibitors. We selected 43 hits from a chemical library and narrowed them down to the four most promising inhibitors. The antimicrobial effect of these compounds was evaluated on
Xcc
cultures, finding one with antimicrobial properties. Based on the functional groups of this compound and their geometric arrangement, we identified another three
Xcc
FPR inhibitors. Inhibition mechanisms and constants were determined for these four
Xcc
FPR inhibitors. Their specificity was also evaluated by studying their effect on the plastidic
Anabaena
PCC 7119 FNR, finding differences that can become interesting tools to discover
Xcc
antimicrobials.
View Full-Text
►

▼

Figures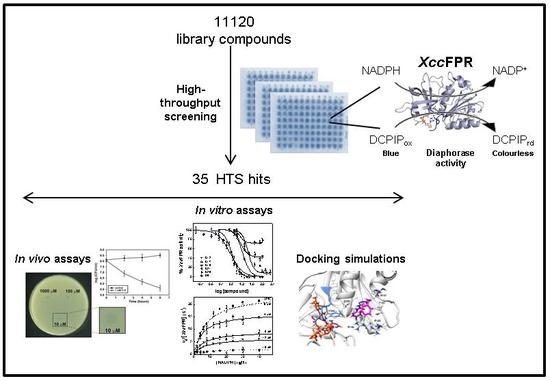 Graphical abstract
This is an open access article distributed under the
Creative Commons Attribution License
which permits unrestricted use, distribution, and reproduction in any medium, provided the original work is properly cited (CC BY 4.0).

Share & Cite This Article
MDPI and ACS Style
Martínez-Júlvez, M.; Goñi, G.; Pérez-Amigot, D.; Laplaza, R.; Ionescu, I.A.; Petrocelli, S.; Tondo, M.L.; Sancho, J.; Orellano, E.G.; Medina, M. Identification of Inhibitors Targeting Ferredoxin-NADP+ Reductase from the Xanthomonas citri subsp. citri Phytopathogenic Bacteria. Molecules 2018, 23, 29.
Note that from the first issue of 2016, MDPI journals use article numbers instead of page numbers. See further details here.
Related Articles
Comments
[Return to top]