Open Access This article is
freely available
re-usable
Review
Bioactive Compounds in
Brassicaceae
Vegetables with a Role in the Prevention of Chronic Diseases
1
Department of Agricultural Sciences, University of Naples Federico II, Via Università 100, 80055 Naples, Italy
2
Department of Chemical Sciences, University of Naples Federico II, Complesso Universitario di Monte Sant'Angelo, 80055 Naples, Italy
*
Authors to whom correspondence should be addressed.
Received: 11 December 2017 / Accepted: 20 December 2017 / Published: 23 December 2017
Abstract
:
The beneficial role of the Mediterranean diet in the prevention of chronic diseases, including cardiovascular diseases, diabetes, and obesity, is well-recognized. In this context,
Brassicaceae
are considered important vegetables due to several evidences of their health promoting effects that are associated to bioactive compounds present in the edible parts of the plants. In this review, the mechanisms of action and the factors regulating the levels of the bioactive compounds in
Brassicaceae
have been discussed. In addition, the impact of industrial and domestic processing on the amount of these compounds have been considered, in order to identify the best conditions that are able to preserve the functional properties of the
Brassicaceae
products before consumption. Finally, the main strategies used to increase the content of health-promoting metabolites in
Brassica
plants through biofortification have been analyzed.
Keywords:
chronic diseases; glucosinolates; phenolic compounds; ascorbic acid; carotenoids; biofortification
1. Introduction
The
Brassicaceae
family consists of about 3500 species, and includes 350 genera, such as
Brassica, Camelina, Crambe, Sinapis,
and
Thlaspi.
In particular, the genus
Brassica
includes some species of worldwide economic importance, such as
Brassica oleracea, Brassica rapa
L., and
Brassica napus
[
1
].
Several species, which belong to the
Brassicaceae
family, represent an important part of the human diet worldwide; indeed, when regularly consumed, they have been found to exert health-promoting effects, such as a reduction in the risk of chronic diseases, particularly cardio-vascular diseases and several types of cancer [
2
,
3
]. These effects have been linked to the presence in these plants of phenolics, glucosinolates, carotenoids, tocopherols, and ascorbic acid, well-known antioxidants [
4
]. In particular, broccoli, white cabbage, and cauliflower are rich in glucosinolates, and, more in detail, in glucoraphanin, a molecule that is transformed by myrosinase into sulforaphane, that is a compound endowed with anticarcinogenic properties [
5
].
In this review, we describe how a reduced risk of chronic diseases development may be a consequence of
Brassicaceae
consumption. Furthermore, we analyze the specific mechanisms of action of the most important bioactive compounds that are present in the genus
Brassica
. Finally, we debate on the biotechnological approaches that can be used to enrich the content of antioxidant compounds in the edible parts of
Brassica
plants.
Brassicaceae
are usually consumed after cooking; therefore, it is necessary to use appropriate agronomic techniques combined with proper processing techniques to manage and/or improve the general quality of the final
Brassica
product used for consumption [
6
]. Therefore, here, the impact of different practices used both pre- and post-harvest and their effects on the amount of bioactive compounds in
Brassicaceae
products are also discussed.
2. Bioactive Compounds in
Brassicaceae

and Their Effects on Chronic Diseases
3. Biofortification to Optimize the Content of Bioactive Compounds in
Brassicaceae
4. Effect of Food Processing Techniques on Bioactive Compounds Content
5. Conclusions
A variety of vegetables belong to the family of
Brassicaceae
that are considered among the most important weeds in the world. These vegetables provide dietary fiber, vitamins, anti-cancer glucosinolates, dietary flavonols, and anthocyanins. The content of these compounds in
Brassica
food is affected by genetic background, climatic conditions, crop management strategies, time, and other conditions of storage, characterizing the time from harvest to initial processing in the industry or retailer, as well as the methods that are adopted for cooking and consumption at home [
67
].
Bioavailability of antioxidants and glucosinolates are also related to the association with other food constituents. The bioavailability of glucosinolates and their breakdown products depends also by the inactivation or not of myrosinases. Further investigations are desirable in order to deeply analyze the impact of each agronomic parameter on the accumulation and synthesis of these compounds in the different crops belonging to
Brassicaceae
. In addition, further genetic studies are needed to identify the genetic determinants that control the accumulation of bioactive compounds in these vegetables. These studies will help to obtain novel plant lines that will be able to accumulate higher levels of bioactive compounds, through conventional breeding programs, or, in alternative, through more efficient metabolic engineering approaches.
Supplementary Materials
Supplementary File 1
Acknowledgments
The authors would like to thank BenTen Project (POR Campania 2007/2013) for the financial support to their activities.
Author Contributions
A.R., G.P., D.M.M. and M.M.R wrote the manuscript with the contribution of other authors; A.B. and A.E. revised the manuscript.
Conflicts of Interest
The authors declare no conflict of interest.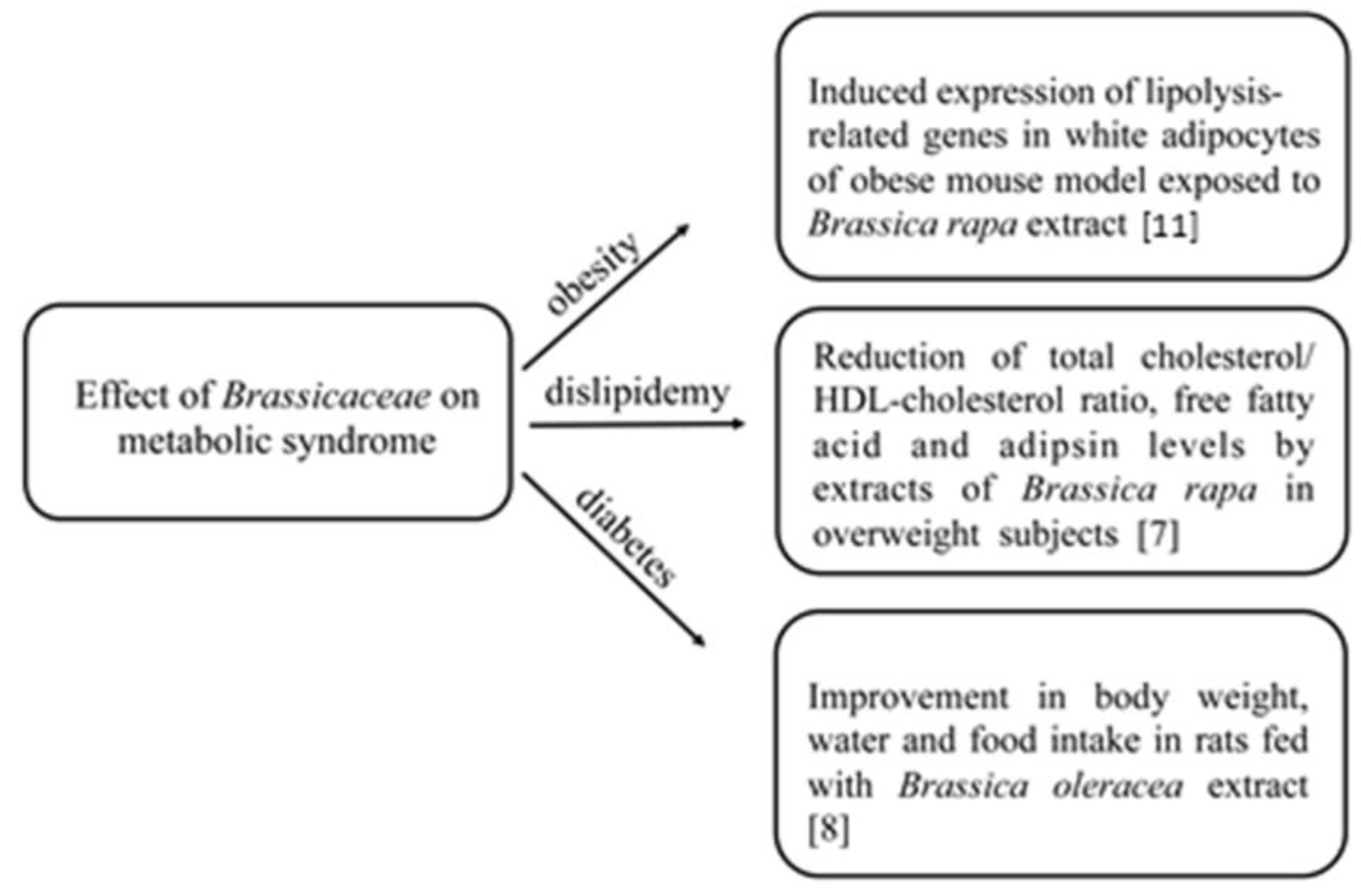 Compound
Mechanism
Reference
Ascorbic acid
ROS reduction and neutralization
[12]
Protection against LDL oxidation
[13]
Prevention of oxLDL-induced overexpression of Vascular Endothelial Growth Factor
Phenolics
ROS neutralization
[14]
Chelation of redox-active metal ions and inhibition of LDL-cholesterol oxidation
Carotenoids
Radical scavengers and quenches of singlet oxygen
[15]
Glucosinolates
Inhibition of the invasive potential of human cancer cell line in vitro
[16]
Regulation of the phase I and/or phase II detoxification enzymes activity
[17]

Table 2.
Summary of impact of domestic and industrial processing on the nutritional quality of
Brassicaceae.
Treatment
Effect on Nutritional Quality
Reference
High pressure boiling
Degradation of hydroxycinnamic acids and flavonoids
[60]
Glucosinolates hydrolysis causing the formation of isothiocyanates
[62]
Steaming cooking
Reduction of phenolic degradation
[59]
Inactivation of myrosinase and low loss of glucosinolates
[62]
Microwaving- pressure cooking
Low loss of AsA and carotenoids
[60]
MAP treatment
Good preservation of glucosinolates
[65]

© 2017 by the authors. Licensee MDPI, Basel, Switzerland. This article is an open access article distributed under the terms and conditions of the Creative Commons Attribution (CC BY) license (http://creativecommons.org/licenses/by/4.0/).