Phenolics Isolated from
Aframomum meleguta

Enhance Proliferation and Ossification Markers in Bone Cells

1

Medicinal Plants Research Unit, Deanship of Scientific Research, King Abdulaziz University, Jeddah 80230, Saudi Arabia

2

Department of Pharmacology and Toxicology, Faculty of Pharmacy, King Abdulaziz University, Jeddah 21589, Saudi Arabia

3

Department of Biochemistry, Faculty of Science, King Abdulaziz University, Jeddah 21523, Saudi Arabia

4

Department of Biological Sciences, Faculty of Science, King Abdulaziz University, Jeddah 21523, Saudi Arabia

5

Pharmacology Department, Medical Division, National Research Centre, Giza 12622, Egypt

6

Department of Natural Products, Faculty of Pharmacy, King Abdulaziz University, Jeddah 21589, Saudi Arabia

7

Department of Pharmacognosy, Faculty of Pharmacy, Cairo University, Cairo 11562, Egypt

8

Institute of Natural Medicine, University of Toyama, Toyama 930-0194, Japan

*

Author to whom correspondence should be addressed.

Received: 13 August 2017 / Revised: 30 August 2017 / Accepted: 2 September 2017 / Published: 4 September 2017
Abstract
Osteoporosis is a serious health problem characterized by decreased bone mineral density and deterioration of bone microarchitecture. Current antiosteoporotic agents exhibit a wide range of adverse effects; meanwhile, phytochemicals are effective and safer alternatives. In the current work, nine compounds belonging to hydroxyphenylalkane and diarylheptanoid groups were isolated from
Aframomum meleguea
seeds and identified as 6-gingerol (
1
), 6-paradol (
2
), 8-dehydrogingerdione (
3
), 8-gingerol (
4
), dihydro-6-paradol (
5
), dihydrogingerenone A (
6
), dihydrogingerenone C (
7
), 1,7-bis(3,4-dihydroxy-5-methoxyphenyl)heptane-3,5-diyl diacetate (
8
), and 1-(3,4-dihydroxy-5-methoxyphenyl)-7-(3,4-dihydroxyphenyl)heptane-3,5-diyl diacetate (
9
). The structures of isolated compounds were established by NMR and mass spectral data, in addition to referring to literature data. Exposure of MCF-7, MG-63, and SAOS-2 cells to subcytotoxic concentrations of the compounds under investigation resulted in accelerated proliferation. Among them, paradol was selected for further detailed biochemical analysis in SAOS-2 cells. DNA flowcytometric analysis of cell cycle distribution revealed that paradol did not induce any significant change in the proliferation index of SAOS-2 cells. Assessment of osteogenic gene expression revealed that paradol enhanced the expression of osteocyte and osteoblast-related genes and inhibited osteoclast and RUNX suppressor genes. Biochemically, paradol enhanced alkaline phosphatase activity and vitamin D content and decreased the osteoporotic marker acid phosphatase. In conclusion, paradol, which is a major constituents of
A. melegueta
seeds, exhibited potent proliferative and ossification characteristics in bone cells.
View Full-Text
►

▼

Figures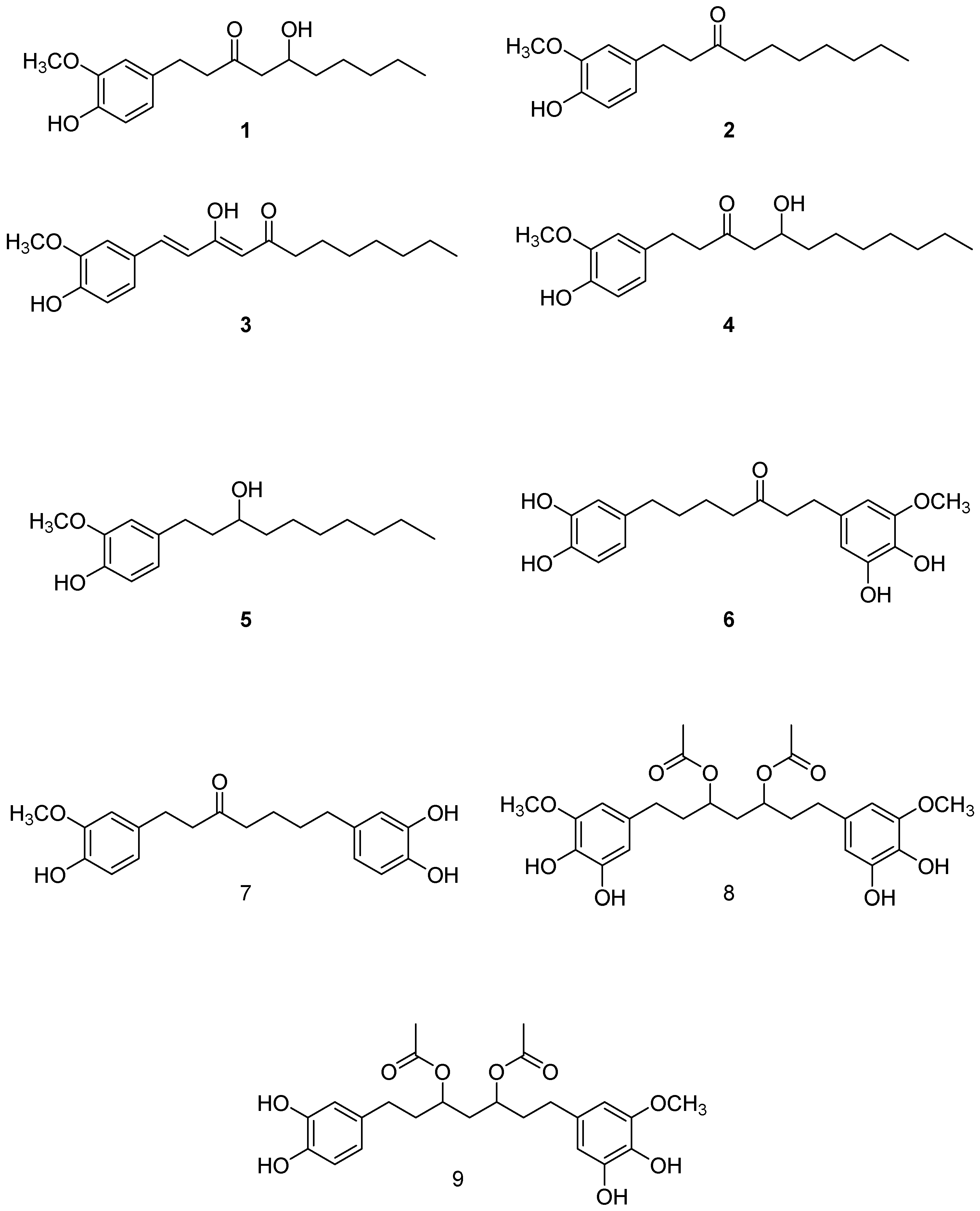 Figure 1
This is an open access article distributed under the
Creative Commons Attribution License
which permits unrestricted use, distribution, and reproduction in any medium, provided the original work is properly cited (CC BY 4.0).

Share & Cite This Article
MDPI and ACS Style
Abdel-Naim, A.B.; Alghamdi, A.A.; Algandaby, M.M.; Al-Abbasi, F.A.; Al-Abd, A.M.; Abdallah, H.M.; El-Halawany, A.M.; Hattori, M. Phenolics Isolated from Aframomum meleguta Enhance Proliferation and Ossification Markers in Bone Cells. Molecules 2017, 22, 1467.
Note that from the first issue of 2016, MDPI journals use article numbers instead of page numbers. See further details here.
Related Articles
Comments
[Return to top]