Anti-Inflammatory and Antioxidant Properties of Peptides Released from β-Lactoglobulin by High Hydrostatic Pressure-Assisted Enzymatic Hydrolysis
1
Centre for Pharmacy & Health Research, Faculty of Pharmacy and Pharmaceutical Sciences, University of Alberta, 11361-87 Ave, Edmonton, AB T6G 2E1, Canada
2
Center for Nutraceutical and Pharmaceutical Materials, Myongji University, Yongin, Gyeonggi 449-728, Korea
*
Authors to whom correspondence should be addressed.
Academic Editor: Dong-Kug Choi
Received: 19 April 2017 / Revised: 24 May 2017 / Accepted: 5 June 2017 / Published: 7 June 2017
Abstract
Background: β-lactoglobulin hydrolysates (BLGH) have shown antioxidant, antihypertensive, antimicrobial, and opioid activity. In the current study, an innovative combination of high hydrostatic pressure and enzymatic hydrolysis (HHP–EH) was used to increase the yield of short bioactive peptides, and evaluate the anti-inflammatory and antioxidant properties of the BLGH produced by the HHP–EH process. Method: BLG was enzymatically hydrolyzed by different proteases at an enzyme-to-substrate ratio of 1:100 under HHP (100 MPa) and compared with hydrolysates obtained under atmospheric pressure (AP-EH at 0.1 MPa). The degree of hydrolysis (DH), molecular weight distribution, and the antioxidant and anti-inflammatory properties of hydrolysates in chemical and cellular models were evaluated. Results: BLGH obtained under HHP–EH showed higher DH than the hydrolysates obtained under AP-EH. Free radical scavenging and the reducing capacity were also significantly stronger in HHP-BLGH compared to AP-BLGH. The BLGH produced by alcalase (Alc) (BLG-Alc) showed significantly higher antioxidant properties among the six enzymes examined in this study. The anti-inflammatory properties of BLG-HHP-Alc were observed in lipopolysaccharide-stimulated macrophage cells by a lower level of nitric oxide production and the suppression of the synthesis of pro-inflammatory cytokines. Peptide sequencing revealed that 38% of the amino acids in BLG-HHP-Alc are hydrophobic and aromatic residues, which contribute to its anti-inflammatory properties. Conclusions: Enzymatic hydrolysis of BLG under HHP produces a higher yield of short bioactive peptides with potential antioxidant and anti-inflammatory effects.
View Full-Text
►

▼

Figures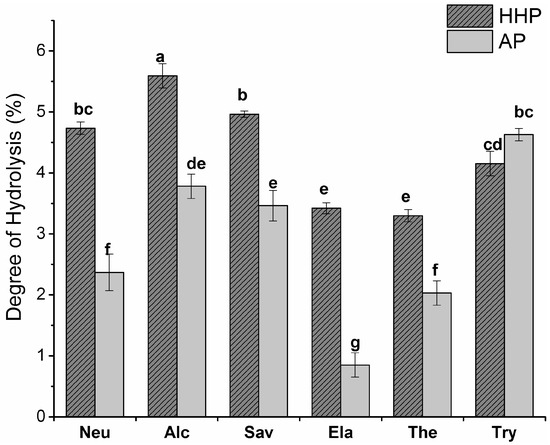 Figure 1
This is an open access article distributed under the
Creative Commons Attribution License
which permits unrestricted use, distribution, and reproduction in any medium, provided the original work is properly cited (CC BY 4.0).

Share & Cite This Article
MDPI and ACS Style
Bamdad, F.; Bark, S.; Kwon, C.H.; Suh, J.-W.; Sunwoo, H. Anti-Inflammatory and Antioxidant Properties of Peptides Released from β-Lactoglobulin by High Hydrostatic Pressure-Assisted Enzymatic Hydrolysis. Molecules 2017, 22, 949.
Note that from the first issue of 2016, MDPI journals use article numbers instead of page numbers. See further details here.
Related Articles
Comments
[Return to top]