Rapid Determination of 30 Polyphenols in Tongmai Formula, a Combination of Puerariae Lobatae Radix, Salviae Miltiorrhizae Radix et Rhizoma, and Chuanxiong Rhizoma, via Liquid Chromatography-Tandem Mass Spectrometry
1
State Key Laboratory of Natural and Biomimetic Drugs, Department of Natural Medicines, School of Pharmaceutical Sciences, Peking University Health Science Center, Peking University, No. 38, Xueyuan Road, Haidian District, Beijing 100191, China
2
Institute of Bascic Medical Sciences, Xiyuan Hospital, China Academy of Chinese Medical Sciences, Beijing 100091, China
3
School of Basic Medical Science, Beijing University of Chinese Medicines, Beijing 100029, China
4
Faculty of Traditinal Chinese Medicine, Shenyang Pharmaceutical University, Shenyang 110016, Liaoning, China
*
Authors to whom correspondence should be addressed.
Academic Editor: Isabel C. F. R. Ferreira
Received: 20 February 2017 / Revised: 19 March 2017 / Accepted: 27 March 2017 / Published: 29 March 2017
Abstract
Tongmai formula (TMF) is a herbal preparation composed of three traditional Chinese medicinal materials: Puerariae Lobatae Radix (Gegen), Salviae Miltiorrhizae Radix et Rhizoma (Danshen) and Chuanxiong Rhizoma (Chuanxiong). It has been used to treat cardiovascular diseases for decades. To develop a reliable and convenient analytical method for a comprehensive determination of polyphenols in TMF and the ascertainment of their chemical correlations with its herbal components, a method combining high-performance liquid chromatography with electrospray ionization tandem mass spectrometry (LC-ESI-MS/MS) was developed and validated for rapid determination of 30 polyphenols in TMF and its three herbal components. The chromatographic separation was carried out on a Chromolith Fastgradient RP-18 endcapped 50-2 column using an optimized gradient elution. Statistical analysis of obtained data demonstrated that the method had a desirable linearity, precision, and accuracy, as well as excellent sensitivity. The obtained results indicated that, among the 30 polyphenols in TMF, 22 originated from Gegen, 6 originated from Danshen, and 2 originated from Chuanxiong. The major polyphenols in TMF have been identified as puerarin, mirificin, salvianolic acid B, salvianic acid A, 3'-hydroxypuerarin, 3'-methoxypuerarin, and salvianolic acid A, with a combined contribution of 19.2% of the preparation. The development and validation of this method will greatly facilitate future pharmacological studies of TMF and its herbal components, as well as polyphenols in cardiovascular therapies.
View Full-Text
►

▼

Figures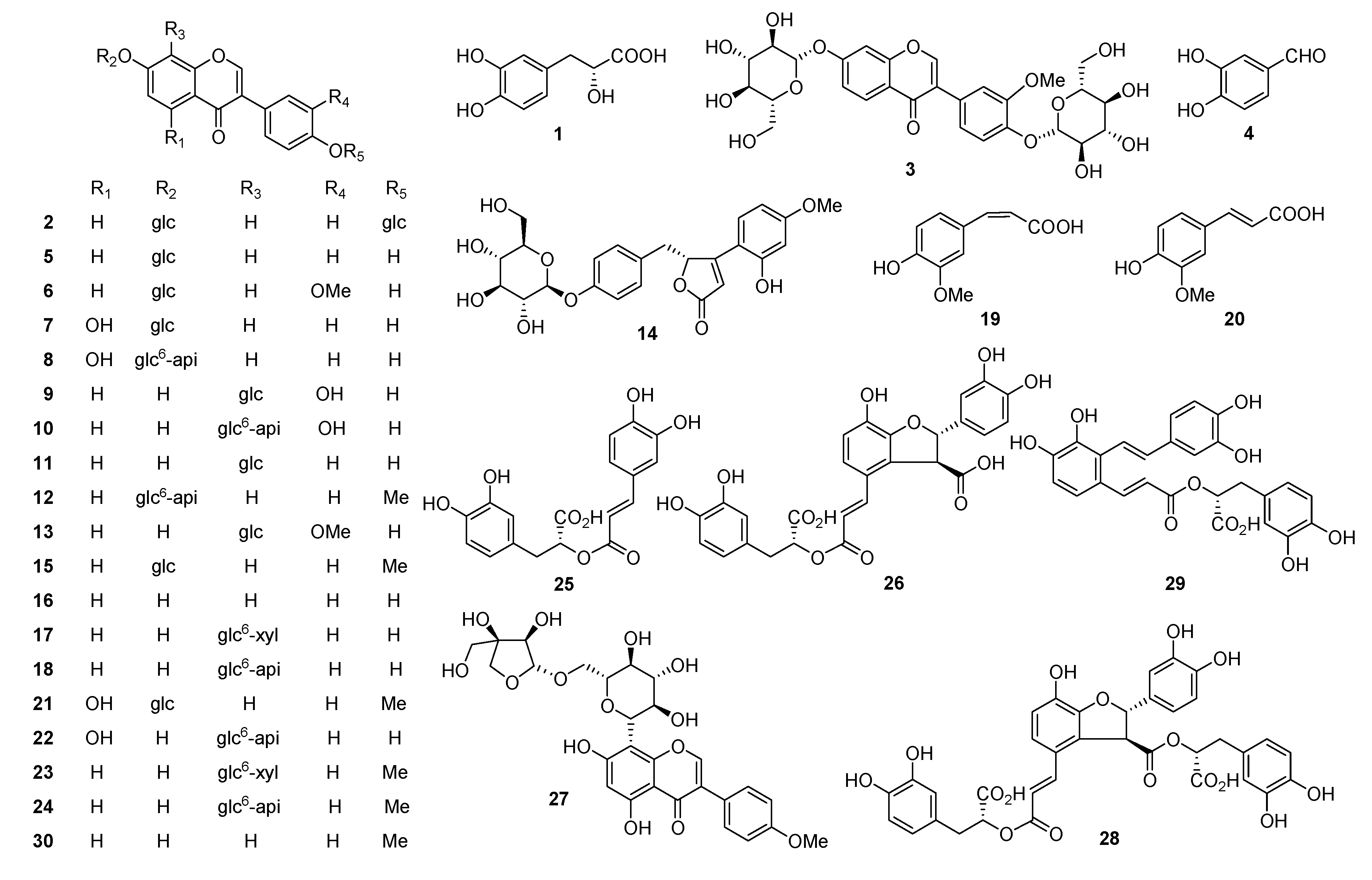 Figure 1
This is an open access article distributed under the
Creative Commons Attribution License
which permits unrestricted use, distribution, and reproduction in any medium, provided the original work is properly cited (CC BY 4.0).

Share & Cite This Article
MDPI and ACS Style
Wang, F.-R.; Zhang, Y.; Yang, X.-B.; Liu, C.-X.; Yang, X.-W.; Xu, W.; Liu, J.-X. Rapid Determination of 30 Polyphenols in Tongmai Formula, a Combination of Puerariae Lobatae Radix, Salviae Miltiorrhizae Radix et Rhizoma, and Chuanxiong Rhizoma, via Liquid Chromatography-Tandem Mass Spectrometry. Molecules 2017, 22, 545.
Note that from the first issue of 2016, MDPI journals use article numbers instead of page numbers. See further details here.
Related Articles
Comments
[Return to top]