Neoflavonoids as Inhibitors of HIV-1 Replication by Targeting the Tat and NF-κB Pathways
1
Pharmaceutical Chemistry Area, Department of Pharmaceutical Sciences, University of Salamanca, Faculty of Pharmacy, CIETUS, IBSAL, Campus Miguel de Unamuno, 37007 Salamanca, Spain
2
Department of Cellular Biology, Physiology and Immunology, University of Córdoba, Faculty of Medicine Avda de Menendez Pidal s/n, 14004 Córdoba, Spain
3
CIFLORPAN, Center for Pharmacognostic Research on Panamanian Flora, College of Pharmacy, University of Panama, P.O. Box 0824-00172 Panama, Panama
4
National Centre of Microbiology, Institute Carlos III, Crt. Majadahonda a Pozuelo, 28220 Majadahonda, Madrid, Spain
5
Pharmacology Department, College of Pharmacy, Complutense University. Pz. Ramón Y Cajal s/n, 28040 Madrid, Spain
*
Authors to whom correspondence should be addressed.
Academic Editor: Derek J. McPhee
Received: 12 January 2017 / Revised: 19 January 2017 / Accepted: 16 February 2017 / Published: 19 February 2017
Abstract
Twenty-eight
neoflavonoids have been prepared and evaluated in vitro against HIV-1. Antiviral activity was assessed on MT-2 cells infected with viral clones carrying the luciferase reporter gene. Inhibition of HIV transcription and Tat function were tested on cells stably transfected with the HIV-LTR and Tat protein. Seven 4-phenylchromen-2-one derivatives showed HIV transcriptional inhibitory activity but only the phenylchrome-2-one
10
inhibited NF-κB and displayed anti-Tat activity simultaneously. Compounds
10
,
14
, and
25
, inhibited HIV replication in both targets at concentrations <25 μM. The assays of these synthetic 4-phenylchromen-2-ones may aid in the investigation of some aspects of the anti-HIV activity of such compounds and could serve as a scaffold for designing better anti-HIV compounds, which may lead to a potential anti-HIV therapeutic drug.
View Full-Text
►

▼

Figures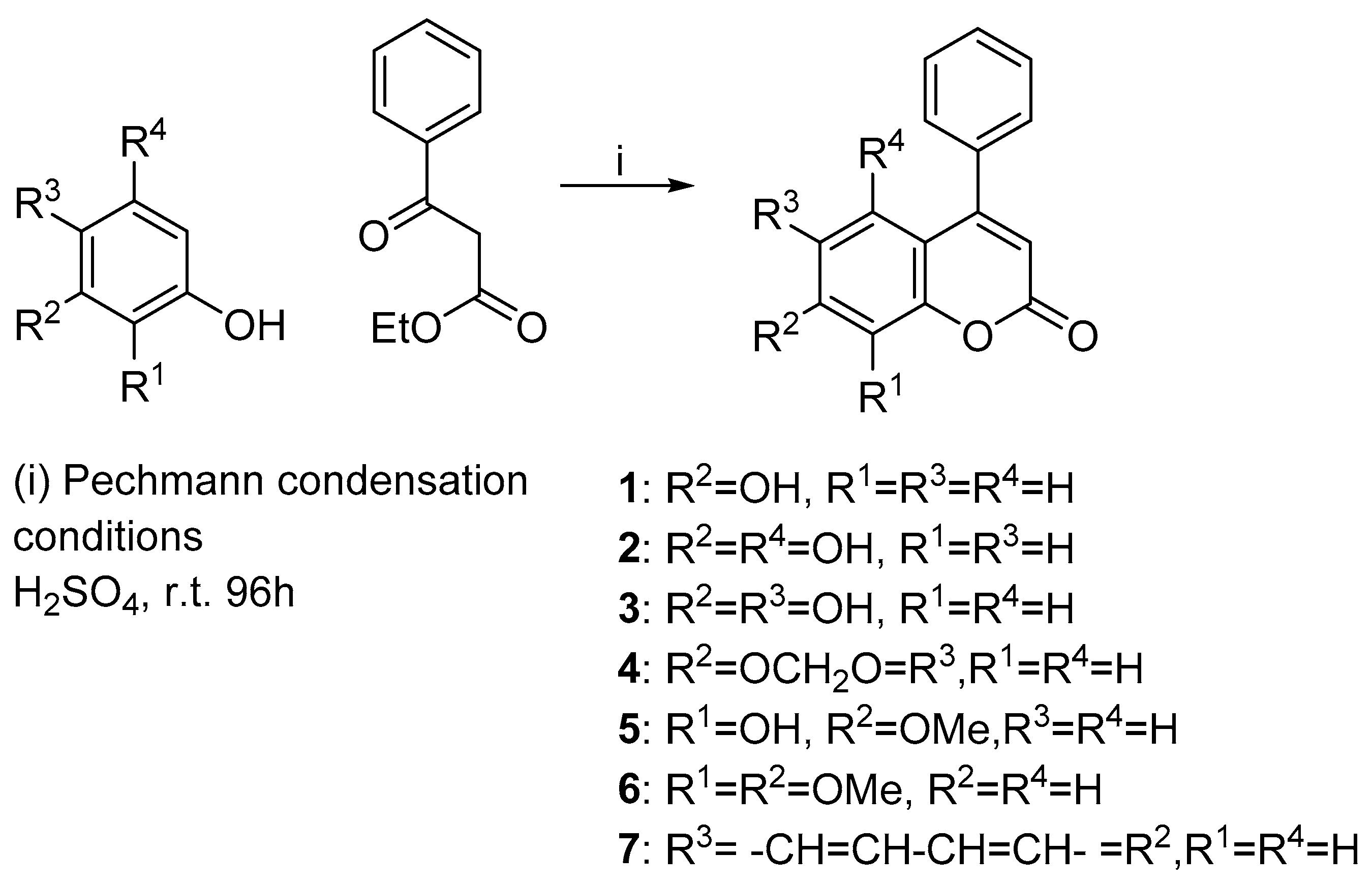 Scheme 1
This is an open access article distributed under the
Creative Commons Attribution License
which permits unrestricted use, distribution, and reproduction in any medium, provided the original work is properly cited (CC BY 4.0).

Share & Cite This Article
MDPI and ACS Style
Olmedo, D.A.; López-Pérez, J.L.; Del Olmo, E.; Bedoya, L.M.; Sancho, R.; Alcamí, J.; Muñoz, E.; Feliciano, A.S.; Gupta, M.P. Neoflavonoids as Inhibitors of HIV-1 Replication by Targeting the Tat and NF-κB Pathways. Molecules 2017, 22, 321.
Note that from the first issue of 2016, MDPI journals use article numbers instead of page numbers. See further details here.
Related Articles
Comments
[Return to top]