Optimization Technology of the LHS-1 Strain for Degrading Gallnut Water Extract and Appraisal of Benzene Ring Derivatives from Fermented Gallnut Water Extract Pyrolysis by Py-GC/MS
1
Institute of Chemical Industry of Forest Products, Chinese Academy Forestry, Nanjing 210042, China
2
National Engineering Laboratory for Biomass Chemical Utilization, Nanjing 210042, China
3
Key and Open Laboratory on Forest Chemical Engineering, State Forestry Administration, Nanjing 210042, China
4
Key Laboratory of Biomass Energy and Material, Nanjing 210042, China
5
Institute of New Technology of Forestry, Chinese Academy Forestry, Beijing 100091, China
*
Author to whom correspondence should be addressed.
Received: 31 October 2017 / Revised: 9 December 2017 / Accepted: 11 December 2017 / Published: 20 December 2017
Abstract
Gallnut water extract (GWE) enriches 80~90% of gallnut tannic acid (TA). In order to study the biodegradation of GWE into gallic acid (GA), the LHS-1 strain, a variant of
Aspergillus niger
, was chosen to determine the optimal degradation parameters for maximum production of GA by the response surface method. Pyrolysis–gas chromatography–mass spectrometry (Py-GC/MS) was first applied to appraise benzene ring derivatives of fermented GWE (FGWE) pyrolysis by comparison with the pyrolytic products of a tannic acid standard sample (TAS) and GWE. The results showed that optimum conditions were at 31 °C and pH of 5, with a 50-h incubation period and 0.1 g·L
−1
of TA as substrate. The maximum yields of GA and tannase were 63~65 mg·mL
−1
and 1.17 U·mL
−1
, respectively. Over 20 kinds of compounds were identified as linear hydrocarbons and benzene ring derivatives based on GA and glucose. The key benzene ring derivatives were 3,4,5-trimethoxybenzoic acid methyl ester, 3-methoxy-1,2-benzenediol, and 4-hydroxy-3,5-dimethoxy-benzoic acid hydrazide.
View Full-Text
►

▼

Figures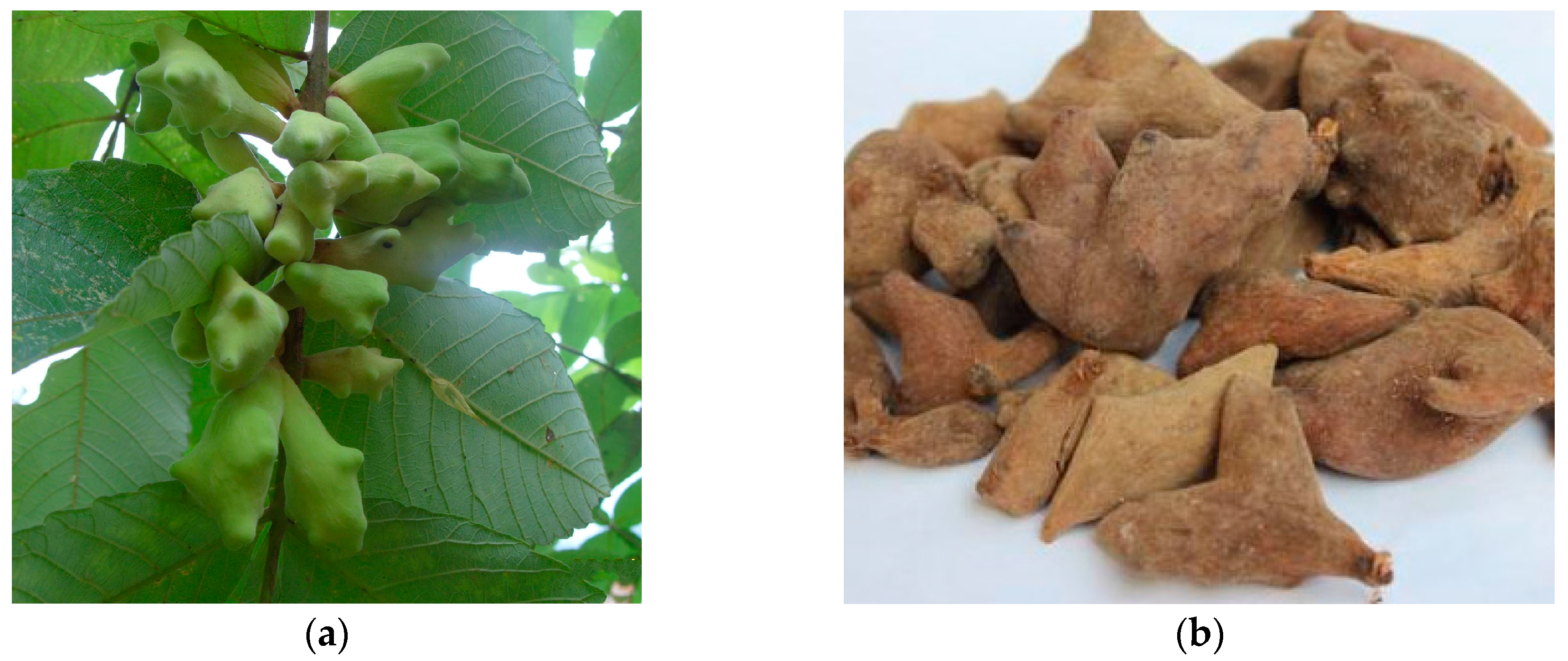 Figure 1
This is an open access article distributed under the
Creative Commons Attribution License
which permits unrestricted use, distribution, and reproduction in any medium, provided the original work is properly cited (CC BY 4.0).

Share & Cite This Article
MDPI and ACS Style
Wang, C.; Li, W. Optimization Technology of the LHS-1 Strain for Degrading Gallnut Water Extract and Appraisal of Benzene Ring Derivatives from Fermented Gallnut Water Extract Pyrolysis by Py-GC/MS. Molecules 2017, 22, 2253.
Note that from the first issue of 2016, MDPI journals use article numbers instead of page numbers. See further details here.
Related Articles
Comments
[Return to top]