Cyanidin-3-
O

-glucoside: Physical-Chemistry, Foodomics and Health Effects

1

Instituto de Ciencias Biomédicas, Departamento de Ciencias Químico-Biológicas, Universidad Autónoma de Ciudad Juárez, Anillo Envolvente del PRONAF y Estocolmo s/n, Ciudad Juárez 32310, Chihuahua, Mexico

2

Departamento de Investigación y Posgrado en Alimentos, Facultad de Química, Universidad Autónoma de Querétaro, Cerro de las Campanas s/n, Querétaro 76010, Querétaro, Mexico

3

Coordinación de Tecnología de Alimentos de Origen Vegetal, Centro de Investigación en Alimentación y Desarrollo, AC. Carretera a la Victoria km. 0.6, AP 1735, Hermosillo 83000, Sonora, Mexico

*

Author to whom correspondence should be addressed.

Academic Editors: Celestino Santos-Buelga and Arturo San Feliciano

Received: 15 August 2016 / Revised: 9 September 2016 / Accepted: 13 September 2016 / Published: 21 September 2016
Abstract
Anthocyanins (ACNs) are plant secondary metabolites from the flavonoid family. Red to blue fruits are major dietary sources of ACNs (up to 1 g/100 g FW), being cyanidin-3-
O
-glucoside (Cy3G) one of the most widely distributed. Cy3G confers a red hue to fruits, but its content in raspberries and strawberries is low. It has a good radical scavenging capacity (RSC) against superoxide but not hydroxyl radicals, and its oxidative potential is pH-dependent (58 mV/pH unit). After intake, Cy3G can be metabolized (phases I, II) by oral epithelial cells, absorbed by the gastric epithelium (1%–10%) and it is gut-transformed (phase II & microbial metabolism), reaching the bloodstream (<1%) and urine (about 0.02%) in low amounts. In humans and Caco-2 cells, Cy3G's major metabolites are protocatechuic acid and phloroglucinaldehyde which are also subjected to entero-hepatic recycling, although caffeic acid and peonidin-3-glucoside seem to be strictly produced in the large bowel and renal tissues. Solid evidence supports Cy3G's bioactivity as DNA-RSC, gastro protective, anti-inflammatory, anti-thrombotic chemo-preventive and as an epigenetic factor, exerting protection against
Helicobacter pylori
infection, age-related diseases, type 2 diabetes, cardiovascular disease, metabolic syndrome and oral cancer. Most relevant mechanisms include RSC, epigenetic action, competitive protein-binding and enzyme inhibition. These and other novel aspects on Cy3G's physical-chemistry, foodomics, and health effects are discussed.
View Full-Text
►

▼

Figures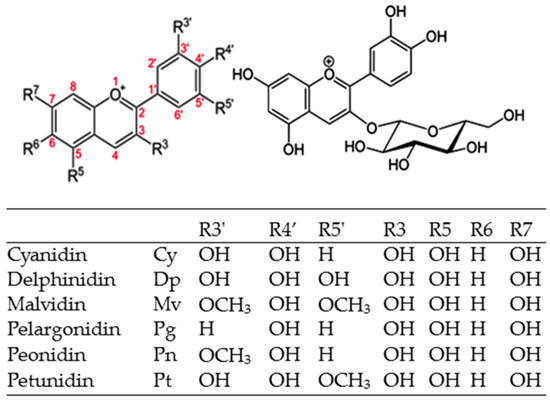 Figure 1
This is an open access article distributed under the
Creative Commons Attribution License
which permits unrestricted use, distribution, and reproduction in any medium, provided the original work is properly cited (CC BY 4.0).

Share & Cite This Article
MDPI and ACS Style
Olivas-Aguirre, F.J.; Rodrigo-García, J.; Martínez-Ruiz, N.D.R.; Cárdenas-Robles, A.I.; Mendoza-Díaz, S.O.; Álvarez-Parrilla, E.; González-Aguilar, G.A.; De la Rosa, L.A.; Ramos-Jiménez, A.; Wall-Medrano, A. Cyanidin-3-O-glucoside: Physical-Chemistry, Foodomics and Health Effects. Molecules 2016, 21, 1264.
Note that from the first issue of 2016, MDPI journals use article numbers instead of page numbers. See further details here.
Related Articles
Comments
[Return to top]