Antinociceptive Effect of 3-(2,3-Dimethoxyphenyl)-1-(5-methylfuran-2-yl)prop-2-en-1-one in Mice Models of Induced Nociception
1
Department of Biomedical Sciences, Faculty of Medicine and Health Sciences, Universiti Putra Malaysia, 43400 Serdang, Malaysia
2
Faculty of Pharmaceutical Sciences, UCSI University, 56000 Cheras, Malaysia
3
Laboratory of Natural Products, Institute of Bioscience, Universiti Putra Malaysia, 43400 Serdang, Malaysia
4
Faculty of Industrial Sciences & Technology, University Malaysia Pahang, 26300 Gambang, Malaysia
*
Author to whom correspondence should be addressed.
Academic Editor: Derek J. McPhee
Received: 28 June 2016 / Revised: 11 August 2016 / Accepted: 12 August 2016 / Published: 22 August 2016
Abstract
The antinociceptive effects produced by intraperitoneal administration of a novel synthetic chalcone, 3-(2,3-dimethoxyphenyl)-1-(5-methylfuran-2-yl)prop-2-en-1-one (DMFP), were investigated in several mouse models of induced nociception. The administration of DMFP (0.1, 0.5, 1.0 and 5.0 mg/kg) produced significant attenuation on the acetic acid-induced abdominal-writhing test. It also produced a significant increase in response latency time in the hot-plate test and a marked reduction in time spent licking the injected paw in both phases of the formalin-induced paw-licking test. In addition, it was also demonstrated that DMFP exhibited significant inhibition of the neurogenic nociceptive response induced by intraplantar injections of capsaicin and glutamate. Moreover, the antinociceptive effect of DMFP in the acetic acid-induced abdominal-writhing test and the hot-plate test was not antagonized by pretreatment with a non-selective opioid receptor antagonist, naloxone. Finally, DMFP did not show any toxic effects and/or mortality in a study of acute toxicity and did not interfere with motor coordination during the Rota-rod test. Our present results show that DMFP exhibits both peripheral and central antinociceptive effects. It was suggested that its peripheral antinociceptive activity is associated with attenuated production and/or release of NO and various pro-inflammatory mediators, while central antinociceptive activity seems to be unrelated to the opioidergic system, but could involve, at least in part, an interaction with the inhibition of capsaicin-sensitive fibers and the glutamatergic system.
View Full-Text
►

▼

Figures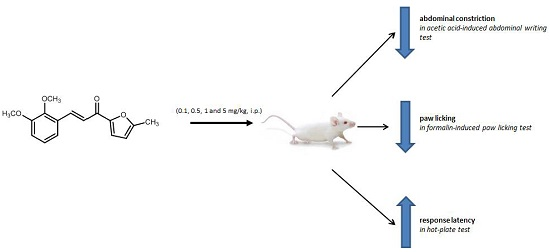 Graphical abstract
This is an open access article distributed under the
Creative Commons Attribution License
which permits unrestricted use, distribution, and reproduction in any medium, provided the original work is properly cited (CC BY 4.0).

Share & Cite This Article
MDPI and ACS Style
Ismail, N.I.; Ming-Tatt, L.; Lajis, N.; Akhtar, M.N.; Akira, A.; Perimal, E.K.; Israf, D.A.; Sulaiman, M.R. Antinociceptive Effect of 3-(2,3-Dimethoxyphenyl)-1-(5-methylfuran-2-yl)prop-2-en-1-one in Mice Models of Induced Nociception. Molecules 2016, 21, 1077.
Note that from the first issue of 2016, MDPI journals use article numbers instead of page numbers. See further details here.
Related Articles
Comments
[Return to top]