Achillolide A Protects Astrocytes against Oxidative Stress by Reducing Intracellular Reactive Oxygen Species and Interfering with Cell Signaling
1
Department of Food Quality and Safety, The Volcani Center, Agricultural Research Organization, Bet Dagan 50250, Israel
2
Dead Sea & Arava Science Center and Regenerative Medicine & Stem Cell Research Center, Ben-Gurion University of the Negev, Beer-Sheba 84105, Israel
3
Raymond and Beverly Sackler Faculty of Exact Sciences, School of chemistry, Tel Aviv University, Ramat Aviv 69978, Israel
4
Clinical Biochemistry and Pharmacology Department, Faculty of Health Sciences, Ben-Gurion University of the Negev, Beer-Sheba 84105, Israel
*
Author to whom correspondence should be addressed.
Academic Editor: Peter Koulen
Received: 14 January 2016 / Revised: 23 February 2016 / Accepted: 25 February 2016 / Published: 2 March 2016
Abstract
Achillolide A is a natural sesquiterpene lactone that we have previously shown can inhibit microglial activation. In this study we present evidence for its beneficial effects on astrocytes under oxidative stress, a situation relevant to neurodegenerative diseases and brain injuries. Viability of brain astrocytes (primary cultures) was determined by lactate dehydrogenase (LDH) activity, intracellular ROS levels were detected using 2′,7′-dichlorofluorescein diacetate,
in vitro
antioxidant activity was measured by differential pulse voltammetry, and protein phosphorylation was determined using specific ELISA kits. We have found that achillolide A prevented the H
2
O
2
-induced death of astrocytes, and attenuated the induced intracellular accumulation of reactive oxygen species (ROS). These activities could be attributed to the inhibition of the H
2
O
2
-induced phosphorylation of MAP/ERK kinase 1 (MEK1) and p44/42 mitogen-activated protein kinases (MAPK), and to the antioxidant activity of achillolide A, but not to H
2
O
2
scavenging. This is the first study that demonstrates its protective effects on brain astrocytes, and its ability to interfere with MAPK activation. We propose that achillolide A deserves further evaluation for its potential to be developed as a drug for the prevention/treatment of neurodegenerative diseases and brain injuries where oxidative stress is part of the pathophysiology.
View Full-Text
►

▼

Figures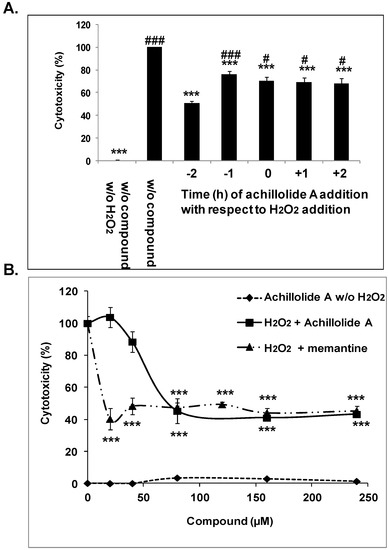 Figure 1
This is an open access article distributed under the
Creative Commons Attribution License
which permits unrestricted use, distribution, and reproduction in any medium, provided the original work is properly cited (CC BY 4.0).

Share & Cite This Article
MDPI and ACS Style
Elmann, A.; Telerman, A.; Erlank, H.; Ofir, R.; Kashman, Y.; Beit-Yannai, E. Achillolide A Protects Astrocytes against Oxidative Stress by Reducing Intracellular Reactive Oxygen Species and Interfering with Cell Signaling. Molecules 2016, 21, 301.
Note that from the first issue of 2016, MDPI journals use article numbers instead of page numbers. See further details here.
Related Articles
Comments
[Return to top]