Stereoselective Alkane Oxidation with
meta

-Chloroperoxybenzoic Acid (MCPBA) Catalyzed by Organometallic Cobalt Complexes†

1

Semenov Institute of Chemical Physics, Russian Academy of Sciences, ulitsa Kosygina, dom 4, Moscow 119991, Russia

2

Chair of Chemistry and Physics, Plekhanov Russian University of Economics, Stremyannyi pereulok, dom 36, Moscow 117997, Russia

3

Nesmeyanov Institute of Organoelement Compounds, Russian Academy of Sciences, ulitsaVavilova, dom 28, Moscow 119991, Russia

†

This work was partly presented at the 16th International Congress on Catalysis, Beijing, China, 2016, lecture OF24.

*

Author to whom correspondence should be addressed.

Academic Editor: Derek J. McPhee

Received: 23 October 2016 / Revised: 15 November 2016 / Accepted: 16 November 2016 / Published: 22 November 2016
Abstract
Cobalt pi-complexes, previously described in the literature and specially synthesized and characterized in this work, were used as catalysts in homogeneous oxidation of organic compounds with peroxides. These complexes contain pi-butadienyl and pi-cyclopentadienyl ligands: [(tetramethylcyclobutadiene)(benzene)cobalt] hexafluorophosphate, [(C
4
Me
4
)Co(C
6
H
6
)]PF
6
(
1
); diiodo(carbonyl)(pentamethylcyclopentadienyl)cobalt, Cp*Co(CO)I
2
(
2
); diiodo(carbonyl)(cyclopentadienyl)cobalt, CpCo(CO)I
2
(
3
); (tetramethylcyclobutadiene)(dicarbonyl)(iodo)cobalt, (C
4
Me
4
)Co(CO)
2
I (
4
); [(tetramethylcyclobutadiene)(acetonitrile)(2,2′-bipyridyl)cobalt] hexafluorophosphate, [(C
4
Me
4
)Co(bipy)(MeCN)]PF
6
(
5
); bis[dicarbonyl(B-cyclohexylborole)]cobalt, [(C
4
H
4
BCy)Co(CO)
2
]
2
(
6
); [(pentamethylcyclopentadienyl)(iodo)(1,10-phenanthroline)cobalt] hexafluorophosphate, [Cp*Co(phen)I]PF
6
(
7
); diiodo(cyclopentadienyl)cobalt, [CpCoI
2
]
2
(
8
); [(cyclopentadienyl)(iodo)(2,2′-bipyridyl)cobalt] hexafluorophosphate, [CpCo(bipy)I]PF
6
(
9
); and [(pentamethylcyclopentadienyl)(iodo)(2,2′-bipyridyl)cobalt] hexafluorophosphate, [Cp*Co(bipy)I]PF
6
(
10
). Complexes
1
and
2
catalyze very efficient and stereoselective oxygenation of tertiary C–H bonds in isomeric dimethylcyclohexanes with MCBA: cyclohexanols are produced in 39 and 53% yields and with the
trans
/
cis
ratio (of isomers with mutual
trans
- or
cis
-configuration of two methyl groups) 0.05 and 0.06, respectively. Addition of nitric acid as co-catalyst dramatically enhances both the yield of oxygenates and stereoselectivity parameter. In contrast to compounds
1
and
2
, complexes
9
and
10
turned out to be very poor catalysts (the yields of oxygenates in the reaction with
cis
-1,2-dimethylcyclohexane were only 5%–7% and
trans
/
cis
ratio 0.8 indicated that the oxidation is not stereoselective). The chromatograms of the reaction mixture obtained before and after reduction with PPh
3
are very similar, which testifies that alkyl hydroperoxides are not formed in this oxidation. It can be thus concluded that the interaction of the alkanes with MCPBA occurs without the formation of free radicals. The complexes catalyze oxidation of alcohols with
tert
-butylhydroperoxide (TBHP). For example,
tert
-BuOOH efficiently oxidizes 1-phenylethanol to acetophenone in 98% yield if compound
1
is used as a catalyst.
View Full-Text
►

▼

Figures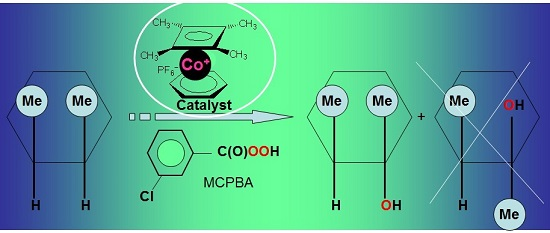 Graphical abstract
This is an open access article distributed under the
Creative Commons Attribution License
which permits unrestricted use, distribution, and reproduction in any medium, provided the original work is properly cited (CC BY 4.0).

Share & Cite This Article
MDPI and ACS Style
Shul'pin, G.B.; Loginov, D.A.; Shul'pina, L.S.; Ikonnikov, N.S.; Idrisov, V.O.; Vinogradov, M.M.; Osipov, S.N.; Nelyubina, Y.V.; Tyubaeva, P.M. Stereoselective Alkane Oxidation with meta-Chloroperoxybenzoic Acid (MCPBA) Catalyzed by Organometallic Cobalt Complexes. Molecules 2016, 21, 1593.
Note that from the first issue of 2016, MDPI journals use article numbers instead of page numbers. See further details here.
Related Articles
Comments
[Return to top]