Synthesis of 5α-Androstane-17-spiro-δ-lactones with a 3-Keto, 3-Hydroxy, 3-Spirocarbamate or 3-Spiromorpholinone as Inhibitors of 17β-Hydroxysteroid Dehydrogenases
Laboratory of Medicinal Chemistry, CHU de Québec (CHUL) — Research Center and Faculty of Medicine, Laval University, 2705 Laurier Boulevard, Québec (Québec), G1V 4G2, Canada
*
Author to whom correspondence should be addressed.
†
These authors contributed equally to this work.
Received: 3 December 2012 / Revised: 24 December 2012 / Accepted: 5 January 2013 / Published: 11 January 2013
Abstract
We synthesized two series of androstane derivatives as inhibitors of type 3 and type 5 17β-hydroxysteroid dehydrogenases (17β-HSDs). In the first series, four monospiro derivatives at position C17 were prepared from androsterone (ADT) or
epi
-ADT. After the protection of the alcohol at C3, the C17-ketone was alkylated with the lithium acetylide of tetrahydro-2-(but-3-ynyl)-2-H-pyran, the triple bond was hydrogenated, the protecting groups hydrolysed and the alcohols oxidized to give the corresponding 3-keto-17-spiro-lactone derivative. The other three compounds were generated from this keto-lactone by reducing the ketone at C3, or by introducing one or two methyl groups. In the second series, two dispiro derivatives at C3 and C17 were prepared from
epi
-ADT. After introducing a spiro-δ-lactone at C17 and an oxirane at C3, an aminolysis of the oxirane with L-isoleucine methyl ester provided an amino alcohol, which was treated with triphosgene or sodium methylate to afford a carbamate- or a morpholinone-androstane derivative, respectively. These steroid derivatives inhibited 17β-HSD3 (14–88% at 1 μM; 46–94% at 10 μM) and 17β-HSD5 (54–73% at 0.3 μM; 91–92% at 3 μM). They did not produce any androgenic activity and did not bind steroid (androgen, estrogen, glucocorticoid and progestin) receptors, suggesting a good profile for prostate cancer therapy.
View Full-Text
►

▼

Figures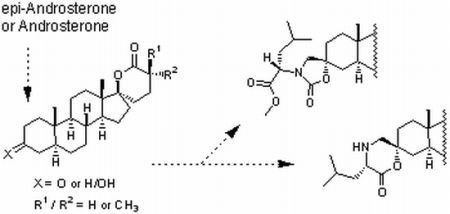 Graphical abstract

Share & Cite This Article
MDPI and ACS Style
Djigoué, G.B.; Ngatcha, B.T.; Roy, J.; Poirier, D. Synthesis of 5α-Androstane-17-spiro-δ-lactones with a 3-Keto, 3-Hydroxy, 3-Spirocarbamate or 3-Spiromorpholinone as Inhibitors of 17β-Hydroxysteroid Dehydrogenases. Molecules 2013, 18, 914-933.
Related Articles
Comments
[Return to top]