Anti-metastatic Semi-synthetic Sulfated Maltotriose C-C Linked Dimers. Synthesis and Characterisation
1
Department of Chemistry, Materials and Chemical Engineering "G. Natta", Politecnico di Milano via Mancinelli 7, 20131 Milan, Italy
2
Scientific Institute of Chemistry and Biochemistry "G. Ronzoni", via G. Colombo 81, 20133 Milan, Italy
*
Author to whom correspondence should be addressed.
Received: 4 July 2012 / Revised: 8 August 2012 / Accepted: 9 August 2012 / Published: 17 August 2012
Abstract
This manuscript describes the preparation and the spectroscopic characterisation of semi-synthetic sulfated maltotriose C-C linked dimers (SMTCs) where the natural C-O-C anomeric bond was substituted by one direct central C-C bond. This C-C bond induces conformation and flexibility changes with respect to the usual anomeric bond. SMTCs neutral precursors came from maltotriosyl bromide electroreduction through maltotriosyl radical intermediate dimerisation. The new C-C bond configuration, named for convenience a,a, a,b and b,b as the natural anomeric bond, dictated the statistic ratio formation of three diastereoisomers. They were separated by silica gel flash chromatography followed by semi preparative HPLC chromatography. Each diastereoisomer was exhaustively sulfated to afford the corresponding SMTCs. SMTCs were huge characterised by NMR spectroscopy which provided the sulfation degree, too. a,a and a,b were found quite homogeneous samples with a high degree of sulfation (85–95%). b,b appeared a non-homogeneous sample whose average sulfation degree was evaluated at around 78%. Mass spectroscopy experiments confirmed the sulfation degree range. Some considerations were proposed about SMTCs structure-biological properties.
View Full-Text
►

▼

Figures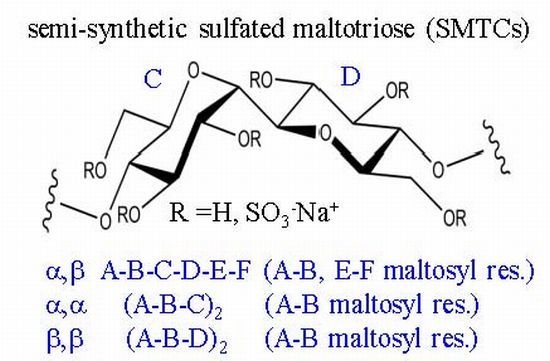 Graphical abstract

Share & Cite This Article
MDPI and ACS Style
Vismara, E.; Coletti, A.; Valerio, A.; Naggi, A.; Urso, E.; Torri, G. Anti-metastatic Semi-synthetic Sulfated Maltotriose C-C Linked Dimers. Synthesis and Characterisation. Molecules 2012, 17, 9912-9930.
Related Articles
Comments
[Return to top]