Tamm-Horsfall Glycoprotein Enhances PMN Phagocytosis by Binding to Cell Surface-Expressed Lactoferrin and Cathepsin G That Activates MAP Kinase Pathway
1
Institute of Molecular Medicine, National Taiwan University College of Medicine, No. 7 Chung-Shan South Road, Taipei 100, Taiwan
2
Department of Internal Medicine, National Taiwan University Hospital and National Taiwan University College of Medicine, No.7 Chung-Shan South Road, Taipei 100, Taiwan
3
Division of Allergy, Immunology and Rheumatology, Buddhist Dalin Tzu-Chi General Hospital, No.2 Ming-Shen Road, Dalin, Chia-Yi, Taiwan
4
Section of Allergy, Immunology and Rheumatology, Taipei-Veterans General Hospital, No.201 Section 2, Shih-Pai Road, Taipei 11217, Taiwan
*
Author to whom correspondence should be addressed.
Received: 7 December 2010 / Revised: 15 February 2011 / Accepted: 28 February 2011 / Published: 3 March 2011
(This article belongs to the Special Issue
Glycosides
)
Abstract
The molecular basis of polymorphonuclear neutrophil (PMN) phagocytosis-enhancing activity (PEA) by human purified urinary Tamm-Horsfall glyco- protein (THP) has not been elucidated. In this study, we found human THP bound to lactoferrin (LF) and cathepsin G (CG) expressed on the surface of PMN, identified by a proteomic study with MALDI-TOF- LC/LC/mass spectrometric analysis. Pre-incubation of 10% SDS-PAGE electrophoresed PMN lysates with monoclonal anti-LF or anti-CG antibody reduced the binding with THP. To elucidate the signaling pathway of THP on PMN activation, we found THP enhanced ERK1/2 phosphorylation, reduced p38 MAP kinase phosphorylation, but had no effect on DNA binding of the five NF-kB family members in PMN. To further clarify whether the carbohydrate-side chains or protein-core structure in THP molecule is responsible for THP-PEA, THP was cleaved by different degrading enzymes with carbohydrate specificity (neuraminidase and β-galactosidase), protein specificity (V8 protease and proteinase K) or glycoconjugate specificity (carboxylpeptidase Y and O-sialoglycoprotein endopeptidase). We clearly demonstrated that the intact protein-core structure in THP molecule was more important for THP-PEA than carbohydrate-side chains. Putting these results together, we conclude that THP adheres to surface-expressed LF and CG on PMN and transduces signaling via the MAP kinase pathway to enhance PMN phagocytosis.
View Full-Text
►

▼

Figures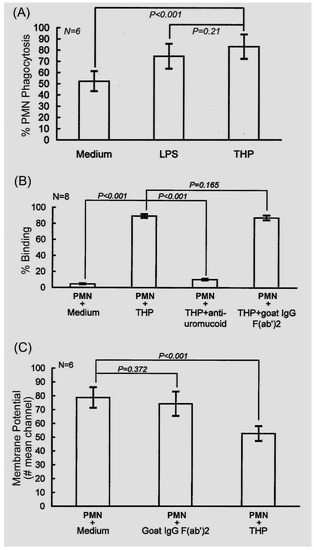 Figure 1

Share & Cite This Article
MDPI and ACS Style
Siao, S.-C.; Li, K.-J.; Hsieh, S.-C.; Wu, C.-H.; Lu, M.-C.; Tsai, C.-Y.; Yu, C.-L. Tamm-Horsfall Glycoprotein Enhances PMN Phagocytosis by Binding to Cell Surface-Expressed Lactoferrin and Cathepsin G That Activates MAP Kinase Pathway. Molecules 2011, 16, 2119-2134.
Related Articles
Comments
[Return to top]