Structure of Dihydrochalcones and Related Derivatives and Their Scavenging and Antioxidant Activity against Oxygen and Nitrogen Radical Species
Laboratório de Planejamento e Desenvolvimento de Fármacos, Universidade Federal do Pará, CP 11101, 66075-110, Belém, PA, Brazil
*
Author to whom correspondence should be addressed.
Received: 21 November 2010 / Revised: 21 December 2010 / Accepted: 5 January 2011 / Published: 21 February 2011
Abstract
Quantum mechanical calculations at B3LYP/6-31G** level of theory were employed to obtain energy (E), ionization potential (IP), bond dissociation enthalpy (O-H BDE) and stabilization energies (DE
iso
) in order to infer the scavenging activity of dihydrochalcones (DHC) and structurally related compounds. Spin density calculations were also performed for the proposed antioxidant activity mechanism of 2,4,6-trihydroxyacetophenone (2,4,6-THA). The unpaired electron formed by the hydrogen abstraction from the phenolic hydroxyl group of 2,4,6-THA is localized on the phenolic oxygen at 2, 6, and 4 positions, the C
3
and C
6
carbon atoms at
ortho
positions, and the C
5
carbon atom at
para
position. The lowest phenolic oxygen contribution corresponded to the highest scavenging activity value. It was found that antioxidant activity depends on the presence of a hydroxyl at the C2 and C4 positions and that there is a correlation between IP and O-H BDE and peroxynitrite scavenging activity and lipid peroxidation. These results identified the pharmacophore group for DHC.
View Full-Text
►

▼

Figures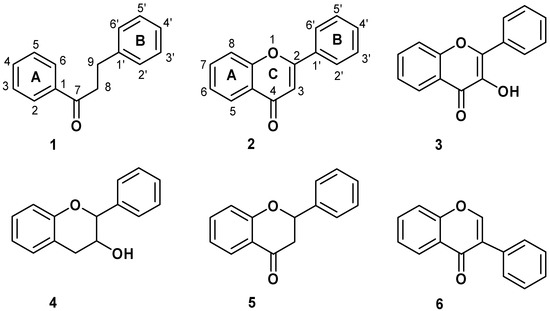 Figure 1

Share & Cite This Article
MDPI and ACS Style
Bentes, A.L.A.; Borges, R.S.; Monteiro, W.R.; De Macedo, L.G.M.; Alves, C.N. Structure of Dihydrochalcones and Related Derivatives and Their Scavenging and Antioxidant Activity against Oxygen and Nitrogen Radical Species. Molecules 2011, 16, 1749-1760.
Related Articles
Comments
[Return to top]