Influence of Soldiers on Exploratory Foraging Behavior in the Formosan Subterranean Termite, Coptotermes formosanus (Blattodea: Rhinotermitidae)
Viewed by 522
Abstract
Termites are eusocial insects that live in organized colonies consisting of reproductives, workers, and soldiers. Soldiers are specialized for defense but are expensive to maintain, as they are incapable of husbandry and must be fed and groomed by workers. The soldiers of several
[...] Read more.
Termites are eusocial insects that live in organized colonies consisting of reproductives, workers, and soldiers. Soldiers are specialized for defense but are expensive to maintain, as they are incapable of husbandry and must be fed and groomed by workers. The soldiers of several species influence foraging behavior by acting as scouts that initiate foraging or by mediating worker behavioral plasticity during food exploration. These behaviors imply that soldiers may play a keystone role in termite colony function, apart from defense. Subterranean termite workers tunnel through soil in search of food while accompanied by varying proportions of soldiers, depending on the species and colony conditions. Previous studies have shown that soldiers accelerate worker exploratory tunneling behavior in two
Reticulitermes
species, the colonies of which contain fewer than 2% soldiers. This effect, however, is unknown in other subterranean species with different soldier proportions. In this study, we examined the influence of soldiers on exploratory foraging behavior in the Formosan subterranean termite,
Coptotermes formosanus
Shiraki, which is an economically devastating invasive species that maintains a relatively high soldier proportion (about 10%). When 100 foraging workers were grouped with 0, 2, 10, or 30 soldiers in two-dimensional foraging arenas, we found no significant effect of soldiers on the tunnel length, branch pattern, food source interception, or food collected within 96 h. These results suggest that
C. formosanus
colonies maintain food exploration efficiency regardless of soldier proportion variation.
Full article
►

▼

Show Figures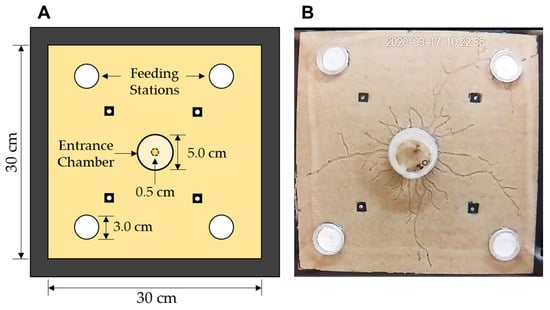 Figure 1