Journal Browser
►

▼

Journal Browser
Conferences
Upcoming MDPI Conferences (1)
Gels announces selected third-party conferences. In case you would like to announce your own event on the Gels website, please fill out the following form to apply for the announcement of a conference or other academic event (seminar, workshop).
Upcoming Partner Conferences (2)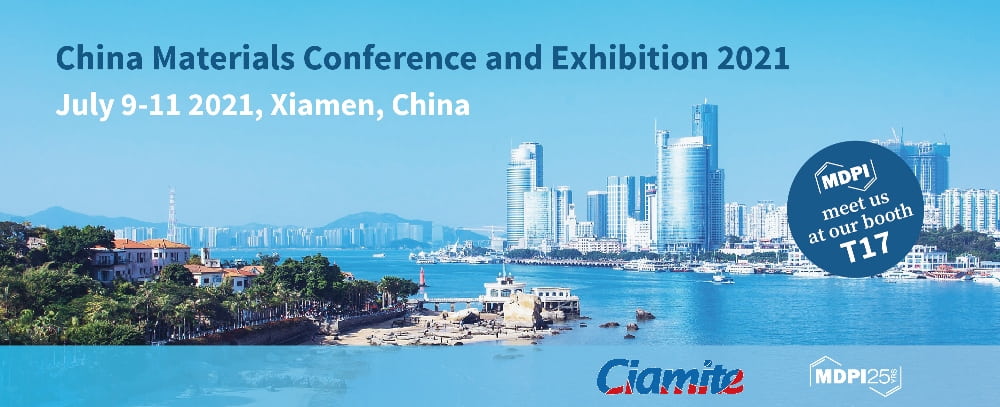 9–11 July 2021
The 13th Int'l Material Analysis, Laboratory Equipment & Quality Control Expo (CMC 2021)
Xiamen, China
Having an insight into the global market, gathering industry information, leading the new direction of material research in China.
Ciamate International Expo on Material Analysis, Laboratory Equipment and Quality Control has been held since 2008, together with C-MRS China Material Congress. From more than 20 exhibitors to 220+ exhibitors in 2019, it has become the largest exhibition of materials science and technology in China, and also an annual procurement platform for registered representatives of C-MRS conferences.
The number of exhibitors in Ciamite 2021 is expected to exceed 350, with an exhibition area of more than 15,000 square meters.
Meet us at our booth T17!

12–16 June 2022
PNG 2022
Rome, Italy
Dear Friends and Colleagues,

We are about to start working for the next edition of the Polymer Networks Group Workshop. It will be held in mid-June 2022 in Rome, after four years from the Prague's edition and the unfortunate cancellation of the 2020 edition due to the pandemic emergency. In this period the activities in the laboratories around the world have not stopped and in Rome we expect a lot of enthusiastic people willing to report and discuss after such long, forced stop from meeting each other.

In addition, the 2022 PNG workshop site will be at Rome, the Eternal City, the town that has resisted and accompanied any kind of historical events, for more than 2000 years. Rome will be the perfect scenario for the re-establishment of our community meetings.

We will be sending periodic announcements and information materials as the event gets closer.

We hope to see you all back together in Rome in 2022 in the historical University of Rome "Sapienza", at walking distance from "Termini", the main railroad station in Rome and airport terminal, in a central zone of the town where you can find a huge number of hotels for your needs (a list of hotels will be provided in due time).

Check already on your agenda these days! We look forward to meeting you in Rome!

Gaio Paradossi, Chair