Conferences
Upcoming MDPI Conferences (2)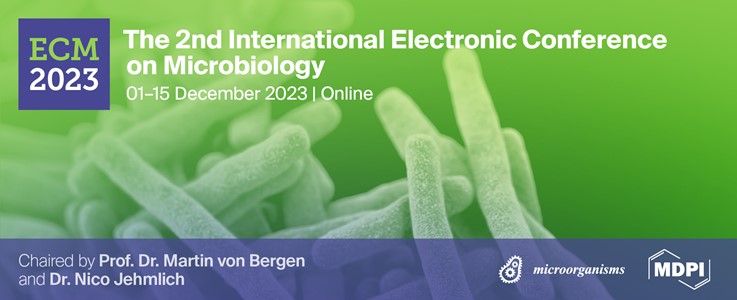 1–15 December 2023
The 2nd International Electronic Conference on Microbiology
Online
We are pleased to announce and invite you to join the 2nd International Electronic Conference on Microbiology (ECM 2023) that is hosted online by: ECM2023.sciforum.net. Participation is free of charge for both authors and attendees.
ECM 2023 will present the latest research related to microorganisms.
Topics of interest include but are not limited to:
S1. Gut Microbiota and Health Disease
S2. Foodborne Pathogens and Food Safety
S3. Antimicrobial Agents and Resistance
S4. Emerging Infectious Diseases
S5. Microbiome and Soil Science
S6. Microbial Characterization and Bioprocess
S7. Microbe–Plant Interactions
Important Dates:
Abstract Submission: 30th June 2023
Acceptance Notification: 20th July 2023
Full Paper Submission: 10 September 2023
Final Paper Notification: 20 September 2023
All submitted abstracts will be evaluated by the conference committee. Upon acceptance of their abstract, authors will contribute an extended abstract for the conference proceedings and a slide presentation of their work. The authors of the most outstanding contributions will be invited to submit a full manuscript for potential publication in the Special Issue "ECM 2023" in the journal Microorganisms (Impact Factor 4.926) (submission to the journal is independent of the conference proceedings and will follow the usual process of the journal, including peer review, APC, etc.).
We look forward to your participation in this exciting event.
To find out more about the conference, please visit the following link: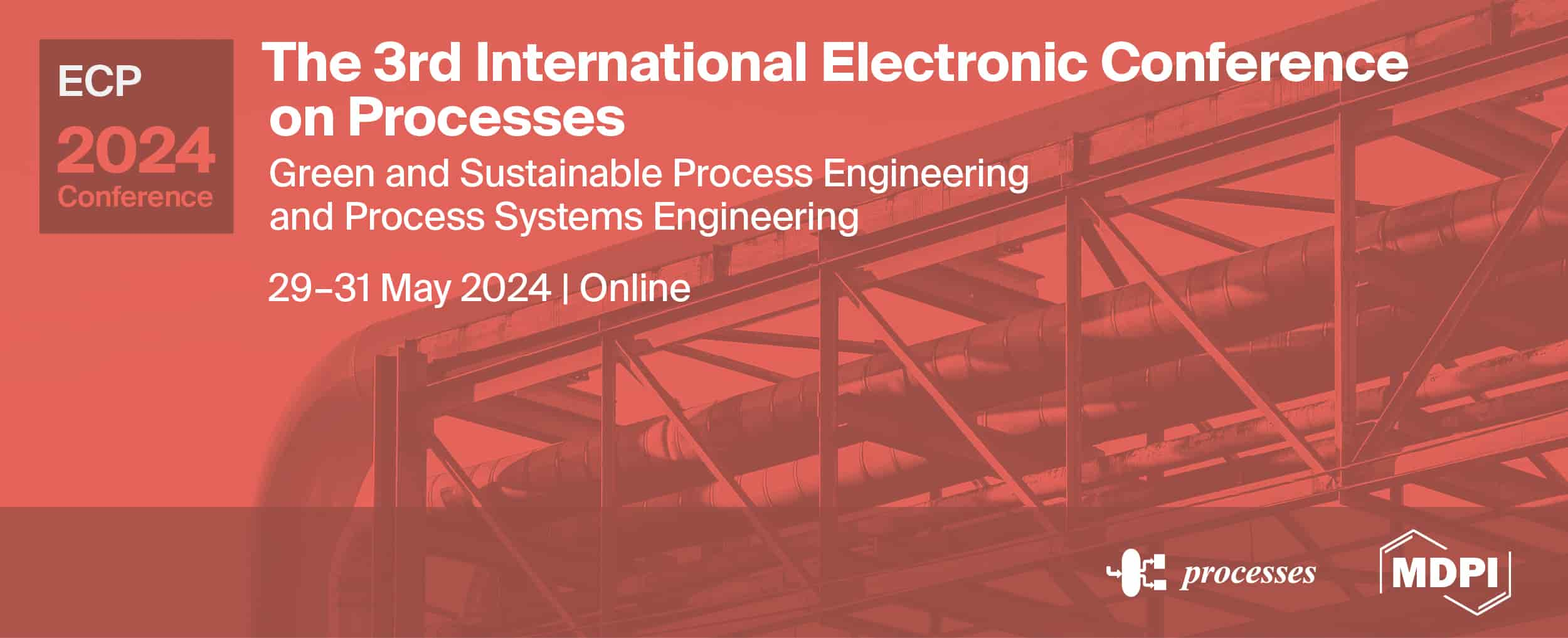 29–31 May 2024
The 3rd International Electronic Conference on Processes
Online
We cordially invite you to attend this event organized by Processes (ISSN: 2227-9717, Impact Factor: 3.5). It will take place virtually on 29–31 May 2024, Central European Time.
Conference Chairs
Prof. Dr. Giancarlo Cravotto, University of Turin, Italy
The Topics of Interest
S1. Environmental and Green Processes;
S2. Energy Systems;
S3. Food Processes;
S4. Chemical Processes and Systems;
S5. Process Control and Monitoring.
Important Dates
Deadline for Abstract Submission: 29th January 2024
Notification of Acceptance: 28th February 2024
Deadline for Early Bird Registration: 5th March 2024
Deadline for Covering Author Registration: 1st May 2024
Guide for Authors
To submit your abstract, please click on the following link: https://sciforum.net/user/submission/create/936
To register for the event, please click on the following link: https://ecp2024.sciforum.net/#registration
For details regarding Abstract Submission, Poster and Slide Submission, and Publication Opportunities, you may refer to the "Instructions for Authors" section: https://ecp2024.sciforum.net/#instructions
For inquiries regarding submissions and sponsorship opportunities, please feel free to contact [email protected].
We look forward to seeing you at the 3rd International Electronic Conference on Processes (ECP 2024).
Fermentation announces selected third-party conferences. In case you would like to announce your own event on the Fermentation website, please fill out the following form to apply for the announcement of a conference or other academic event (seminar, workshop).
Upcoming Partner Conferences (0)
No conferences found for the selection.