Open Access This article is
freely available
re-usable
Article
Performance Space, Political Theater, and Audibility in Downtown Chaco
1
Department of Anthropology, State University of New York at Buffalo, Buffalo, NY 14261-0026, USA
2
Department of Anthropology, State University of New York at Albany, Albany, NY 12222, USA
*
Author to whom correspondence should be addressed.
Received: 6 November 2018 / Accepted: 21 December 2018 / Published: 27 December 2018
Abstract
:
Chaco Canyon, NM, USA, was the center of an Ancestral Puebloan polity from approximately 850–1140 CE, and home to a dozen palatial structures known as "great houses" and scores of ritual structures called "great kivas". It is hypothesized that the 2.5 km2 centered on the largest great house, Pueblo Bonito (i.e., "Downtown Chaco"), served as an open-air performance space for both political theater and sacred ritual. The authors used soundshed modeling tools within the Archaeoacoustics Toolbox to illustrate the extent of this performance space and the interaudibility between various locations within Downtown Chaco. Architecture placed at liminal locations may have inscribed sound in the landscape, physically marking the boundary of the open-air performance space. Finally, the implications of considering sound within political theater will be discussed.
Keywords:
archaeoacoustics; soundscapes; open-air performance space; political theater; Ancestral Puebloan; Chaco Canyon
1. Introduction
Chaco Canyon, San Juan County, NM, USA, was the center of an Ancestral Puebloan (also known as "Anasazi") polity from approximately 850–1140 CE. This location was home to a dozen palatial structures known as "great houses" and scores of ritual structures called "great kivas". Most of these were located in a 2.5 square kilometer region referred to as "Downtown Chaco", centered on the largest great house, Pueblo Bonito (
Figure 1
). We hypothesize that this downtown area served as an open-air performance space for both political theater and sacred ritual. Indeed, it is believed that ritual and politics were tightly bound together in Chaco, much like other early states, and similar to the nature of leadership within modern Pueblo communities.
Our purpose for this paper is to further explore the relationship between the built environment of Chaco and its soundscapes, a situation that we approached in various conference papers [
1
,
2
,
3
], and in a previous article, "Soundscapes in the past: Investigating sound at the landscape level" [
4
]. In our article, we reported that the physical relationship between modeled soundscapes and the locations of shrines throughout the wider landscape may be evidence of ritual performance space, where the shrines themselves marked the bounds of that space.
Our goals for this article are threefold. First, we briefly provide a literature review for those unfamiliar with the study of archaeoacoustics, particularly how it relates to the landscape scale. Secondly, we review the results of the initial study and then interpret those results with two linked bodies of anthropological theory: performance theory and political theater. Performance theory describes how activities gain their meaning in the context of group involvement [
5
], and political theater describes how elites utilize performances to present themselves as they want to be seen in order to legitimize their status [
6
]. These two interrelated theories can help researchers develop a stronger understanding of the nature of landscape experience at Chaco, illustrating how Chacoan elites may have guided the construction of specific landscape features to both anchor and bound socio-cultural performance space, and to serve as a stage for political theater for the legitimation of their roles. Finally, we show how both of these functions interacted simultaneously to construct and reify political power in the 10th and 11th century CE.
2. Modeling Methods
In 2016, we developed Soundshed Analysis Tool, beta version 0.9.2, part of an Archaeoacoustics Toolbox which models the spread of sound throughout a landscape [
1
,
2
,
3
,
4
]. Written in the Python programming language for ArcGIS 10.3, it is based upon SPreAD-GIS, a toolbox developed to model the propagation of engine noise within wildland settings [
71
,
72
]. The following year the acoustical modeling tool was updated [
73
,
74
], and the Archaeoacoustics Toolbox now includes preset versions of the Soundshed Analysis Tool which utilize elevation datasets with 1, 1.5, and 30 m resolutions. In addition, modeling at alternative resolutions is possible with minor adjustments to the Python script. For this analysis, our soundsheds feature a 1.5 m resolution based on LiDAR data.
Modeling the spread of sound in a GIS environment places an emphasis on the spatial location and extent of the soundshed, rather than a detailed acoustical reconstruction. This allows archaeologists to incorporate acoustics into their analyses of relationships between sites and features within the landscape, and study the cultural implications of those relationships. While noise analysis software can be cost-prohibitive or otherwise inaccessible to archaeologists, GIS is a prevalently used tool that most archaeologists can access and operate; we hope that, when complete, the Archaeoacoustics Toolbox will introduce many archaeologists to acoustical modeling as an open-source addition to readily available GIS software.
2.1. Model Inputs
Input variables for the model include environmental data and archaeologically derived cultural data, as illustrated in
Table 1
. Environmental inputs include an elevation dataset and information used to determine the physical characteristics of the spread of sound in air. These are typically gathered from the literature and include the percentage of relative humidity [
75
], the air temperature in degrees Fahrenheit [
75
], and the ambient sound pressure level (dB(A)) of the study location [
76
]. Cultural data describe the sound source. These consist of the location of the sound source, the output height (ft) of the person or instrument creating the sound (which can be derived from osteological data and/or the artifact assemblage), the sound pressure level of the source (dB(A)), the distance (ft) at which the sound pressure level of the source was measured, and the frequency (Hz) representing the fundamental tone or peak long-term average frequency at which the sound source was measured [
66
,
77
,
78
]. Specific modeling inputs used for this paper are provided in
Table 2
.
2.2. Modeling Steps
The Soundshed Analysis Tool is a geometric-type model which assumes sound is travelling through the air along straight-line paths. Currently, the model does not incorporate wave effects such as reverberation which require more processing power than a 32-bit GIS environment presently provides. The tool uses formulae of outdoor sound propagation, calculating free-field sound attenuation following ISO 9613-2 [
79
], atmospheric absorption loss following ANSI 1.26 [
80
], topographic loss following ISO 9613-2 [
79
], and barrier effects based on Maekawa's optical diffraction theory [
81
,
82
]. The results are output in soundshed rasters that indicate audibility over background noise levels, and provide a viewshed analysis for that site. Within this paper, "audibility" refers to the perception of sounds and does not necessarily implicate the intelligibility of speech. Rasters can be created for any frequency, however the examples presented herein match the fundamental tone or peak long-term average frequency of the sound source. Each study location is modeled independently, although a second tool being developed for inclusion in the Archaeoacoustics Toolbox can create cumulative soundsheds for sound sources propagating from multiple landscape locations simultaneously. Due to the environmental nature of the Chacoan landscape, vegetation attenuation and ground effects are not modeled in v0.9.2, however the script is currently under revision to include these calculations following ISO 9613-2 [
79
,
83
]. Absorption due to structural surfaces is also not modeled in the current tool.
4. Discussion
As these platform mounds were constructed, the people of Chaco Canyon were in essence forming the stage for the political theater enacted by the elites of Pueblo Bonito. When seen in this light, instances of communal feasting take on a much more nuanced interpretation. Not only were these occasions organized by the elites (and thus served to formalize their role in comparison to others), but they physically shaped the political and sacred performance space utilized by those elites. As the mounds were created, not only did they become prominent features of the Chacoan landscape, but the extent of their soundscapes grew to encompass Downtown Chaco. If this soundscape is interpreted as an integral part of the legitimation of the Chacoan religious and political system, it was the performances of the Puebloan people themselves that reinforced the elite power structures.
5. Conclusions
As illustrated, specific features within a landscape can provide clues as to how people related to that place. While the platform mounds at Pueblo Bonito imply aspects of political theater and public performance, placing those features into a context of landscape archaeoacoustics highlights just how important a role they played within Chacoan society and culture. The mounds were constructed in an ideal location to serve as the stage for political theater that would have been observed by all within Downtown Chaco and perhaps farther afield. Their construction was an act of public performance, indicating that both elite and non-elite individuals participated in the creation of that stage and its resulting soundshed.
Sound is an integral part of the lived experience, and one that is becoming increasingly acknowledged by archaeologists. Chaco Canyon provides an example of just how important it may have been during the development of complex societies.
Author Contributions
Individual author contributions are as follows: conceptualization, D.E.W.; methodology, D.E.W., K.E.P.; software, K.E.P.; writing—original draft preparation, D.E.W., K.E.P.; writing—review and editing, D.E.W., K.E.P.; visualization, K.E.P.
Funding
This research received no external funding.
Acknowledgments
The authors would like to acknowledge Ruth Van Dyke and Kyle Bocinsky for providing GPS data, Rich Friedman for permission to use
Figure 3
, and Tommaso Mattioli for an invitation to present at a 2018 EAA session on Archaeoacoustics, which provided the impetus for this paper. David would like to thank his parents for a relatively undisturbed place in which he wrote the initial draft of this article during a vacation to visit family. Likewise, Kristy thanks Thomas Dyson for the same. David would also like to thank Ed Kandl for serving as a scale bar in
Figure 2
. Finally, the authors thank the three anonymous reviewers for their feedback, which has resulted in a stronger paper.
Conflicts of Interest
The authors declare no conflict of interest. As there is no outside funding, no additional person or organization had a role in the design of the study; in the collection, analyses, or interpretation of data; in the writing of the manuscript, or in the decision to publish the results.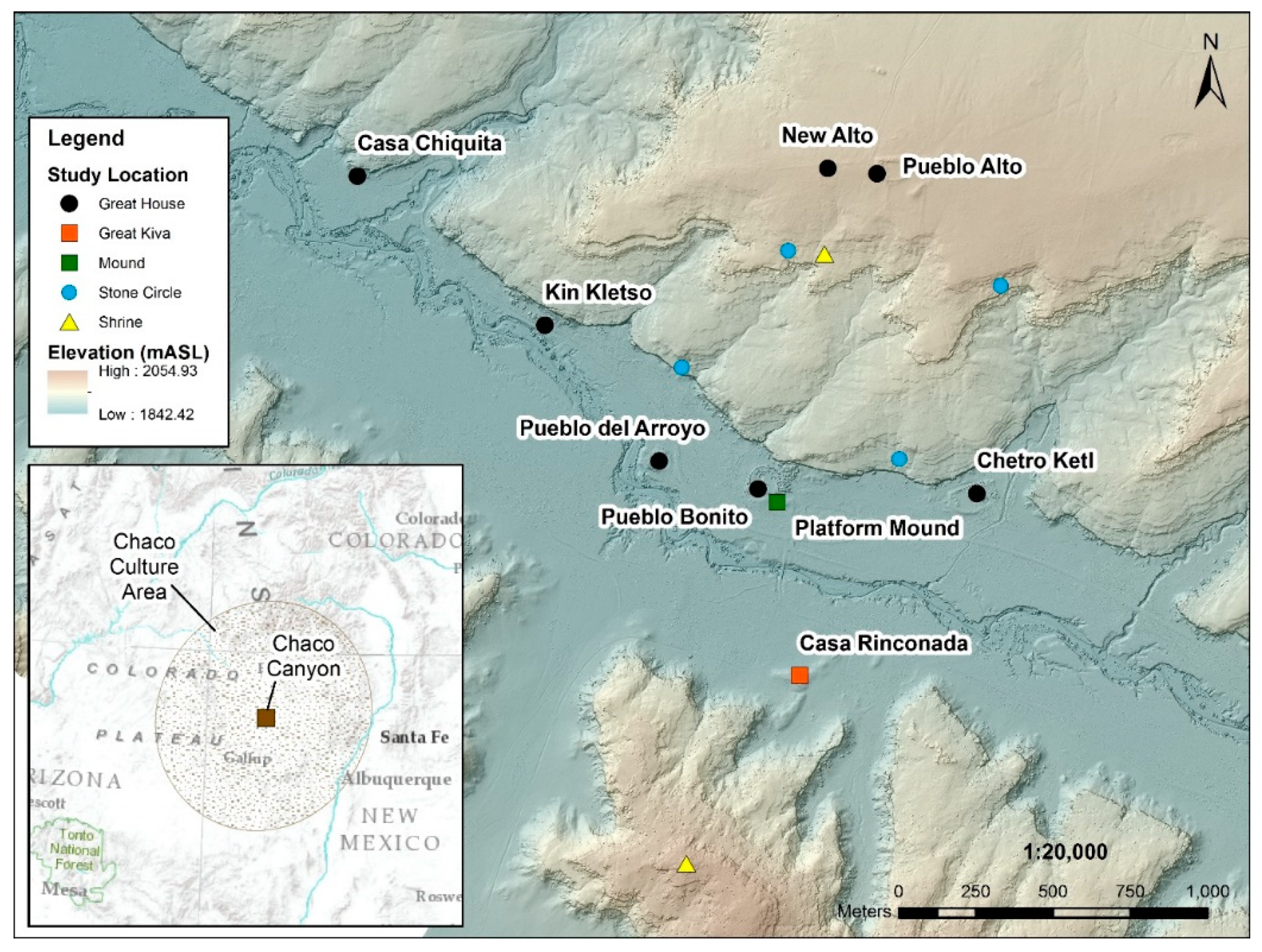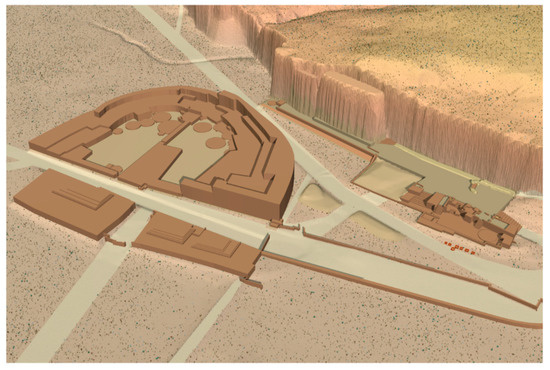 Figure 3. Reconstruction of the Pueblo Bonito architecture. Reproduced with permission from Richard Friedman, in The Architecture of Chaco Canyon, New Mexico; published by University of Utah Press, 2007.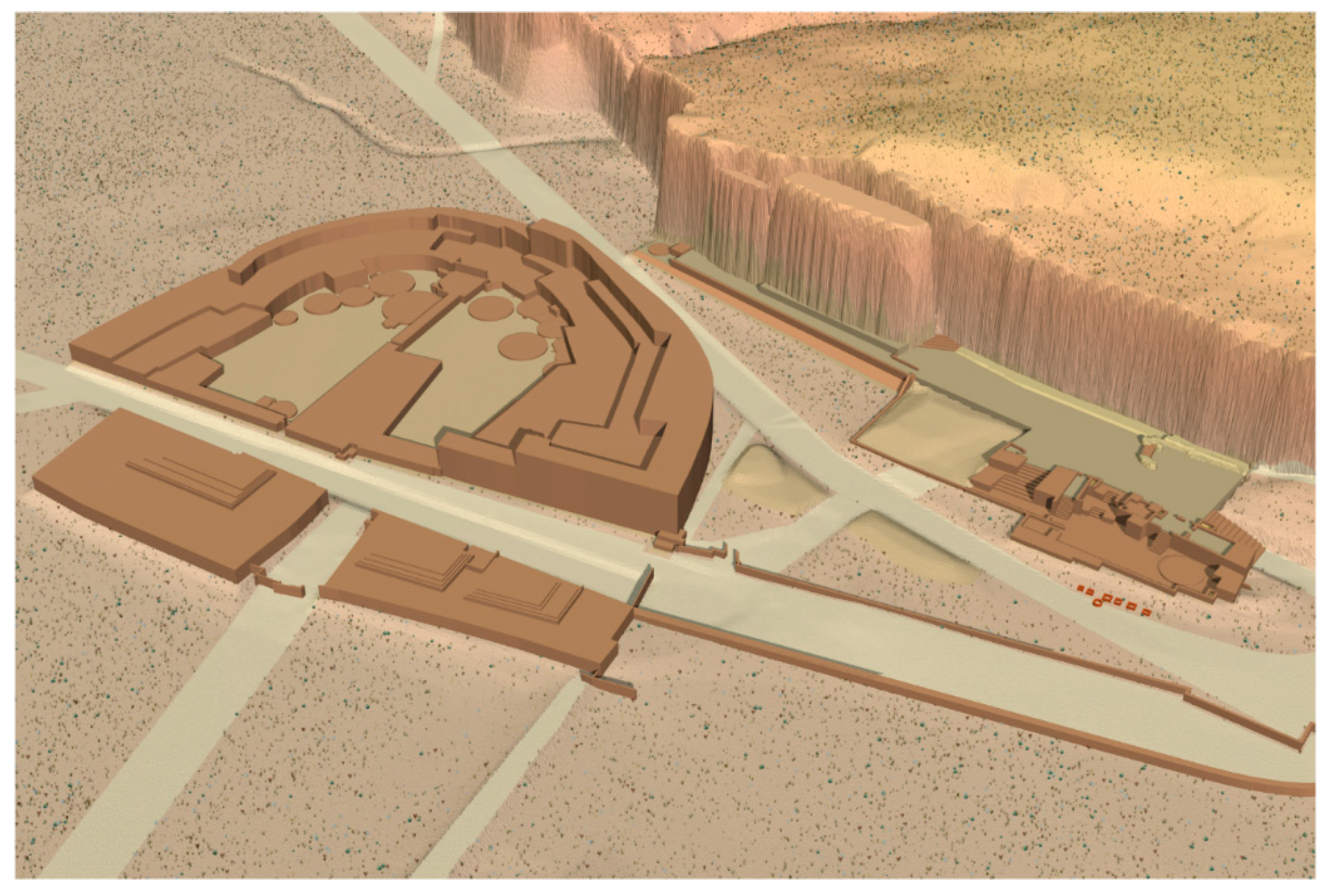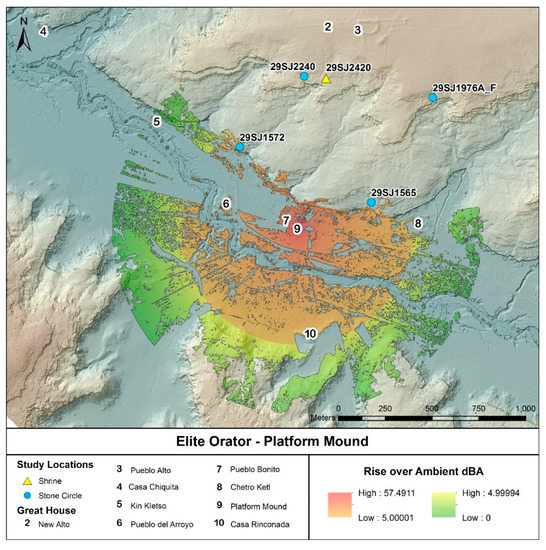 Figure 4. Soundshed of an elite orator speaking at 84 dB(A) with a peak long-term average frequency of 325 Hz.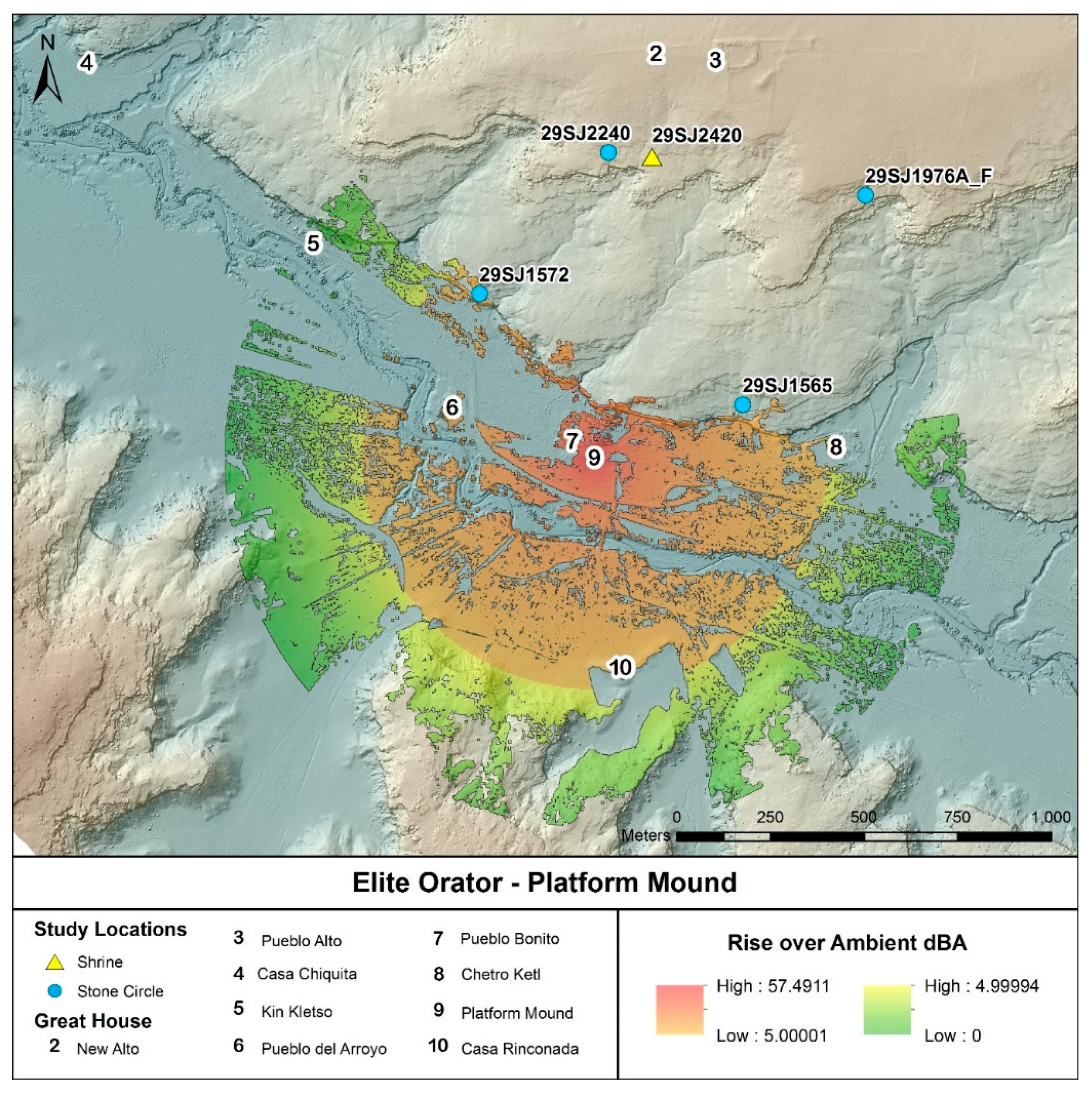 | Environmental Inputs | Cultural Inputs |
| --- | --- |
| Percentage of Relative Humidity | Location of Sound Source |
| Air Temperature (°F) | Height of Sound Source (ft) |
| Ambient Sound Pressure Level (dB(A)) | Sound Pressure Level of Source (dB(A)) |
| LiDAR-based DEM | Measurement Distance of Source (ft) |
| | Frequency of Source (Hz) |
Modeling Inputs
Elite Orator with a Raised Voice: Afternoon in June
Conch Shell Trumpet: Dawn in June
Environmental Inputs
Percentage of Relative Humidity
30%
30%
Air Temperature
89.6 °F (32 °C)
55.4 °F (13 °C)
Ambient Sound Pressure Level
20.7 dB(A)
20.7 dB(A)
Cultural Inputs
Height of Sound Source
5 ft (1.5 m)
6 ft (1.8 m)
Sound Pressure Level of Source
84 dB(A)
96 dB(A)
Measurement Distance of Source
3 ft (0.9 m)
4 ft (1.2 m)
Frequency of Source
325 Hz
330 Hz

© 2018 by the authors. Licensee MDPI, Basel, Switzerland. This article is an open access article distributed under the terms and conditions of the Creative Commons Attribution (CC BY) license (http://creativecommons.org/licenses/by/4.0/).