Thermal Modeling of Temperature Distribution in Metal Additive Manufacturing Considering Effects of Build Layers, Latent Heat, and Temperature-Sensitivity of Material Properties
1
Woodruff School of Mechanical Engineering, Georgia Institute of Technology, Atlanta, GA 30332, USA
2
Carpenter Technology Corporation, Senior Additive Manufacturing Engineer, Huntsville, AL 35671, USA
3
Siemens Digital Factory, Product Lifecycle Management, Nonnendammallee 101, Bauteil C, 13629 Berlin, Germany
4
Department of Power Mechanical Engineering, National Tsing Hua University, Hsinchu 30013, Taiwan
*
Author to whom correspondence should be addressed.
Received: 12 August 2018 / Revised: 31 August 2018 / Accepted: 8 September 2018 / Published: 12 September 2018
Abstract
A physics-based analytical model is proposed in order to predict the temperature profile during metal additive manufacturing (AM) processes, by considering the effects of temperature history in each layer, temperature-sensitivity of material properties and latent heat. The moving heat source analysis is used in order to predict the temperature distribution inside a semi-infinite solid material. The laser thermal energy deposited into a control volume is absorbed by the material thermodynamic latent heat and conducted through the contacting solid boundaries. The analytical model takes in to account the typical multi-layer aspect of additive manufacturing processes for the first time. The modeling of the problem involving multiple layers is of great importance because the thermal interactions of successive layers affect the temperature gradients, which govern the heat transfer and thermal stress development mechanisms. The temperature profile is calculated for isotropic and homogeneous material. The proposed model can be used to predict the temperature in laser-based metal additive manufacturing configurations of either direct metal deposition or selective laser melting. A numerical analysis is also conducted to simulate the temperature profile in metal AM. These two models are compared with experimental results. The proposed model also well captured the melt pool geometry as it is compared to experimental values. In order to emphasize the importance of solving the problem considering multiple layers, the peak temperature considering the layer addition and peak temperature not considering the layer addition are compared. The results show that considering the layer addition aspect of metal additive manufacturing can help to better predict the surface temperature and melt pool geometry. An analysis is conducted to show the importance of considering the temperature sensitivity of material properties in predicting temperature. A comparison of the computational time is also provided for analytical and numerical modeling. Based on the obtained results, it appears that the proposed analytical method provides an effective and accurate method to predict the temperature in metal AM.
View Full-Text
►

▼

Figures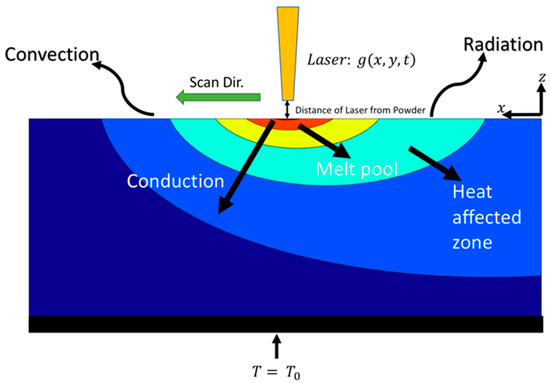 Figure 1
This is an open access article distributed under the
Creative Commons Attribution License
which permits unrestricted use, distribution, and reproduction in any medium, provided the original work is properly cited (CC BY 4.0).

Share & Cite This Article
MDPI and ACS Style
Mirkoohi, E.; Ning, J.; Bocchini, P.; Fergani, O.; Chiang, K.-N.; Liang, S.Y. Thermal Modeling of Temperature Distribution in Metal Additive Manufacturing Considering Effects of Build Layers, Latent Heat, and Temperature-Sensitivity of Material Properties. J. Manuf. Mater. Process. 2018, 2, 63.
Note that from the first issue of 2016, MDPI journals use article numbers instead of page numbers. See further details here.
Comments
[Return to top]