Description of the Annual Reproductive Cycle of Wreckfish
Polyprion americanus

in Captivity

1

Institute of Marine Biology, Biotechnology and Aquaculture, Hellenic Center for Marine Research, P.O. Box 2214, 71500 Heraklion, Crete, Greece

2

Instituto Español de Oceanografia, Centro Oceanográfico de Vigo, 36280 Vigo, Spain

3

Instituto Galego de Formación en Acuicultura, Xunta de Galicia, 36626 Illa de Arousa, Spain

4

Centro de Investigacións Mariñas, Xunta de Galicia, 36620 Vilanova de Arousa, Pontevedra, Spain

5

Aquarium Finisterrae, 15002 A Coruña, Spain

*

Author to whom correspondence should be addressed.

Received: 10 August 2018 / Revised: 14 September 2018 / Accepted: 17 October 2018 / Published: 19 October 2018
Abstract
Successful spontaneous reproduction and the production of viable offspring of wild fish in captivity can take some years of adaptation, and may also involve different environmental conditions, sex ratios and densities compared to natural populations. We followed the reproductive cycle of wreckfish
Polyprion americanus
—a late maturing, deep-sea benthic species—in captivity in three different broodstocks in Spain under natural photoperiod and temperature, and one broodstock in Greece under a constant temperature of 16 °C for two consecutive years, to describe the reproductive cycle of the species and the associated sex steroid hormone profiles. Oogenesis begun in the fall and post-vitellogenic oocytes of 1250 μm were present between March and June. Males were in spermiation condition and produced good-quality sperm throughout the year, regardless of the temperature profile to which they were exposed. Some females completed oogenesis, underwent oocyte maturation, and spawned spontaneously under both constant and fluctuating temperatures. The sex steroid hormones of both males and females followed the already-known profiles during fish gametogenesis, except for 17,20β-dihydroxy-progesterone, which did not seem to be related to either female or male maturation. The female reproductive dysfunctions that were identified included (a) the arrest of oogenesis at the cortical alveoli stage in certain females; (b) the failure to undergo oocyte maturation in others; and (c) the production of large percentages of unfertilized eggs from the females that spawned spontaneously. Our study suggests that reproduction in captivity is possible in wreckfish maintained under typical marine aquaculture conditions, but that reliable spawning and production of high-quality eggs may require some years of adaptation to captivity, before the reproductive dysfunctions will be overcome.
View Full-Text
►

▼

Figures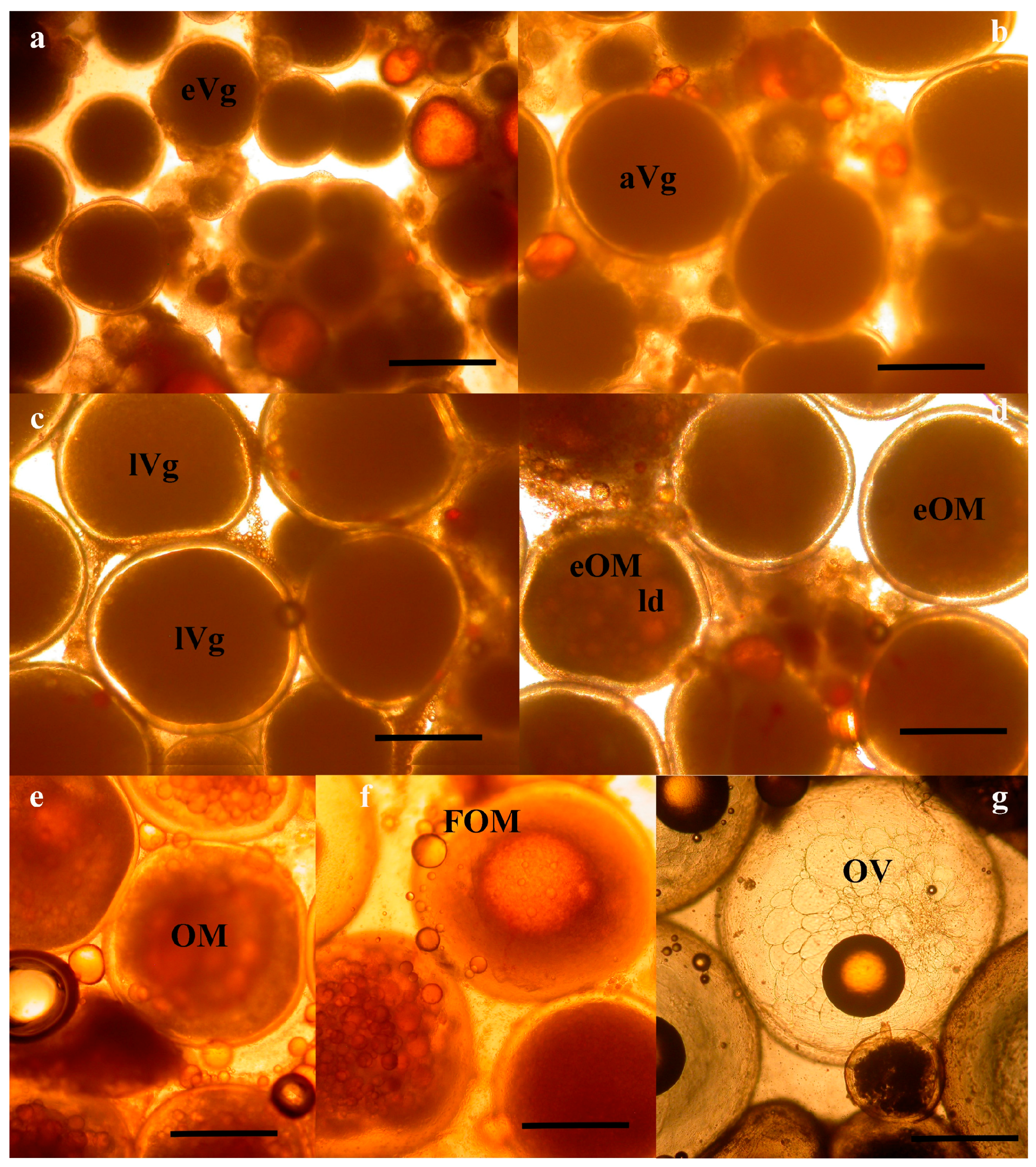 Figure 1
This is an open access article distributed under the
Creative Commons Attribution License
which permits unrestricted use, distribution, and reproduction in any medium, provided the original work is properly cited (CC BY 4.0).

Share & Cite This Article
MDPI and ACS Style
Papadaki, M.; Peleteiro, J.B.; Alvarez-Blázquez, B.; Rodríguez Villanueva, J.L.; Linares, F.; Vilar, A.; Pérez Rial, E.; Lluch, N.; Fakriadis, I.; Sigelaki, I.; Mylonas, C.C. Description of the Annual Reproductive Cycle of Wreckfish Polyprion americanus in Captivity. Fishes 2018, 3, 43.
Comments
[Return to top]