Open Access This article is
freely available
re-usable
Article
Modelling Bovine Granuloma Formation In Vitro upon Infection with
Mycobacterium Avium
Subspecies
Paratuberculosis
1
Department of Microbiology, University of Tennessee Knoxville, Knoxville, TN 37996, USA
2
Department of Immunology, University of Texas Southwestern Medical Center, Dallas, TX 75390, USA
3
Office of Vital Statistics, Division of Vital Records and Statistics, Tennessee Department of Health, Nashville, TN 37243, USA
4
Department of Forestry, Wildlife and Fisheries, University of Tennessee Institute of Agriculture, 1231 Joe Johnson Drive, Knoxville, TN 37996, USA
*
Author to whom correspondence should be addressed.
Received: 29 August 2019 / Accepted: 8 October 2019 / Published: 12 October 2019
Abstract
:
Mycobacterium avium
subspecies
paratuberculosis
(
Map
) causes chronic granulomatous disease in cattle and ruminant livestock, causing substantial economic losses. Current vaccines delay clinical signs but cannot train the immune system to fully eradicate latent
Map
. During latency,
Map
uses host defenses, cage-like macrophage clusters called granuloma, as incubators for months or years. We used an in vitro model to investigate the early coordination of macrophages into granuloma upon
Map
infection over ten days. We found that at multiplicities of infection (MOI;
Map
:macrophages) of 1:2 and below, the macrophages readily form clusters and evolve pro-inflammatory cytokines in keeping with a cell-mediated immune response. At higher MOIs, viability of host macrophages is negatively impacted. At 1:4 MOI, we quantified viable
Map
in our model and confirmed that intracellular
Map
reproduced over the first five days of infection. Host cells expressed Type 1-specific cytokines, and
Map
-infected macrophages displayed reduced motility compared to
Map
-exposed, uninfected macrophages, suggesting an important role for uninfected macrophages in the early aggregative response. Reported is the first in vitro JD granuloma model capturing
Map
and macrophage viability, size distribution of resulting clusters, motility of monocyte-derived macrophages, and cytokine response during clustering, allowing quantitative analysis of multiple parameters of the
Map
-specific granulomatous response.
Keywords:
granuloma; mycobacterium; paratuberculosis; modelling; pathogenesis; Johne's
2. Materials and Methods
2.1. Blood Sample Collection
Blood samples were obtained by venipuncture from young female calves (less than 2 months old) at the University of Tennessee Little River Animal and Environmental Unit. The farm has no history of JD. The protocol was approved by the University of Tennessee Institutional Animal Care Use Committee (Protocol: #2288-0714).
2.2. Preparation and Separation of PBMC Culture
Assays of granuloma formation were conducted using bovine monocyte-derived-macrophages (MDMs). Blood collected using ethylenediaminetetraacetic acid (EDTA) (Fisher Bioreagents, Pittsburgh, PA, USA) as anticoagulant was subjected to discontinuous gradient centrifugation with iodixanol solution OptiPrep™ (1.320 g/mL) from Axis-Shield (Dundee, Scotland) and Hank's Balanced Salt Solution (HBSS) (GE Healthcare, Chicago, IL, USA) as diluent, according to the manufacturer's instruction. The density of the blood was adjusted with a working solution of OptiPrep in HBSS (1.205 g/mL final) to 1.095 g/mL and layered under a barrier solution (OptiPrep in HBSS, 1.078 g/mL final). At the top of the column, 2 mL HBSS (1.006 g/mL) was layered to prevent cells sticking to the tube along the meniscus. The column was spun at 700×
g
for 20 min with minimum acceleration, after which the buffy coat was collected from the interface between the barrier and the HBSS layer. Peripheral blood mononuclear cells (PBMCs) were washed three times with HBSS, then suspended in Roswell Park Memorial Institute 1640 medium (MP Biomedicals, Santa Ana, CA, USA) with 10% fetal bovine serum (GE Healthcare, Chicago, IL, USA) (RPMI-FBS) and 2 ng/mL granulocyte-macrophage colony-stimulating factor (GM-CSF) (Corning, Tewksbury, MA, USA). Cells were incubated in an untreated T-75 culture flask (Corning, Tewksbury, MA, USA) overnight at 37 °C, 5% CO
2
to allow for macrophage differentiation and adherence.
After incubation, the medium was removed along with non-adherent PBMCs, which were pelleted at 300×
g
and suspended in fresh RPMI-FBS. Adherent cells were washed twice with phosphate-buffered saline (PBS; pH 7.6) before being treated with 5 mL of the trypsin-alternative Accutase (Life Technologies, Carlsbad, CA, USA) for 15 min at 37 °C. Once cells were detached, they were diluted in an equal volume of RPMI-FBS supplemented with 1 mM EDTA to delay reattachment. After centrifugation at 300×
g
, the pellet was suspended in 1 mL RPMI-FBS and the adherent cells were quantified using a hemocytometer before being diluted to a concentration of 2 × 10
5
cells/mL. MDMs in this state were used directly in model setup.
Non-adherent PBMCs were quantified and placed in the same T-75 flask (where a minority of adherent MDMs remained), and a volume of
Map
was added to achieve a multiplicity of infection of 1:1 (
Map
:non-adherent cells). These cells were incubated at 37 °C, 5% CO
2
for 24 h, then removed and centrifuged at 300×
g
. The supernatant was collected, passed through a 0.22 µm filter, and labeled as conditioned medium of
Map
-exposed non-adherent cells.
2.3. Culturing and Preparation of Map Strains
Map
strain K-10 was cultured at 37 °C in Middlebrook 7H9 broth supplemented with 10% oleic acid-albumin-dextrose complex and 1 g/L Mycobactin J (Allied Monitor, Fayette, MO, USA), with sub-culturing every 2 weeks.
Map
grew as a pellicle along the surface of the culture medium.
For the infection study, a 1 mL aliquot of homogeneous
Map
culture was collected and treated for aggregates by sonication, subjecting the suspension to 30 repetitions of impulses less than 1 s in duration on the lowest power setting. Remaining aggregates were spun down at 2000×
g
and the supernatant was taken. The
Map
concentration was estimated by optical density measurement (in-house comparison of optical density at 600 nm and colony forming unit (CFU) of
Map
K10 shows a linear relationship between optical densities of 0.01 and 1.0) before being diluted to the appropriate concentrations for infection.
For cytokine expression analysis,
Map
enumeration, and macrophage viability and motility analysis,
Map
was added to RPMI-FBS at a final concentration of 5 × 10
4
cells/mL. For cluster counting experiments and for the calculation of the ratio of infected to uninfected macrophages,
Map
concentrations of 5 × 10
4
, 10
5
, 2 × 10
5
, and 4 × 10
5
cells/mL were used.
2.4. Setup and Maintenance of In Vitro Model
The wells of a Costar
®
tissue culture treated 24-well plate (Corning, Tewksbury, MA, USA) were inoculated with 1 mL of the adherent cell suspension, and the cells were left to acclimate overnight. After the macrophages were allowed to adhere, the medium from the wells was removed along with contaminating lymphocytes and replaced with 1 mL of fresh RPMI-FBS with concentrations of
Map
bacilli corresponding to an MOI of 1:4, 1:2, 1:1, or 2:1 (
Map
: MDMs).
Every three days, 900 µL of the 1 mL culture medium was removed from the wells and exchanged for conditioned media harvested from non-adherent lymphocytes cultured with
Map
(MOI of 1:1) for 24 h. Medium from wells serving as negative controls was changed with medium conditioned by lymphocytes from the original PBMC populations before GM-CSF exposure and cultured without
Map
.
To visualize the interaction of lymphocytes directly with MDMs in early granuloma-like clusters, preliminary iterations of the model involved reintroduction of non-adherent PBMCs into the granuloma assay on day 0 at a 1:1 ratio with MDMs. Before model setup, MDMs and non-adherent lymphocytes were separately stained with fluorescent membrane dyes 1,1′-dioctadecyl-3,3,3′,3′-tetramethylindocarbocyanine perchlorate (DiI) (Thermo Fisher Scientific, Waltham, MA, USA) and DiI-derivative DiB (Biotium, Freemont, CA, USA), respectively.
Map
cells were stained with cytoplasmic dye carboxyfluorescein succinimidyl ester (CFSE) (BioLegend, San Diego, CA, USA) before infection.
2.5. Monitoring Rate of Aggregation
Each day post-infection, 10% of the center of each well (containing approximately 2 × 10
4
host MDMs on day 0) was imaged using an EVOS FL auto scanning microscope (Thermo Fisher Scientific, Waltham, MA, USA) to create a scanned image at 10× magnification. These images were then analyzed using the software ImageJ [
31
] by subtracting the background, converting the image to binary, and sorting the clusters of cells by size, circularity, and number. The result was used to quantify the number of cells still adherent, the differences in morphology between infected and uninfected cells, and the number of larger, granuloma-like clusters present.
2.6. RNA Isolation and Quantification
Cells were harvested for reverse transcriptase-quantitative polymerase chain reaction (RT-qPCR) from uninfected and infected wells on days 0, 2, 5, and 7. The 1 mL volume was removed from each well and replaced with 150 µL RNAlater (Qiagen, Valencia, CA, USA). The plate containing the harvested wells was then wrapped in parafilm and stored at 4 °C until day 7 post-infection. On day 7, cells in RNAlater were lysed by adding 450 µL RNeasy lysis buffer and pipetting to homogenization. Total RNA was isolated using an RNeasy Plus Kit (Qiagen, Valencia, CA, USA) and quantified via Nanodrop spectroscopy (Thermo Fisher Scientific, Waltham, MA, USA). A normalized mass of RNA was transferred to an RNA-to-cDNA reaction mix (Life Technologies, Carlsbad, CA, USA), and cDNA synthesis carried out in a C1000 Thermocycler (BioRad, Hercules, CA, USA) at 37 °C for 2 h. The resulting ss-cDNA was used for SYBR-green qPCR (Life Technologies, Carlsbad, CA, USA), and the relative change in cytokine expression was determined by Δ-Δ- analysis using actin as internal control [
32
]. Primers used for RT-qPCR are summarized in
Table S1
.
2.7. Measuring Viability of Host Cells
On days 0, 2, 5, and 7, cells were stained using a LIVE/DEAD cell imaging kit (Life Technologies, Eugene, OR, USA). Using the EVOS FL auto microscope, 10% of the center of each well was scanned with green and red fluorescence channels for live and dead stains, respectively. The scanned image was analyzed using the ImageJ software by separating the color channels, converting to binary, and calculating the number of stained particles per channel. The results were used to calculate the viability of adherent macrophages.
2.8. Map Enumeration and Viability
On days 0, 2, 5, and 7, internalized
Map
bacilli were harvested from infected wells and subjected to propidium monoazide (PMA)-qPCR to quantify live and total bacteria, as described previously [
33
,
34
,
35
]. To remove extracellular bacilli, the total 1 mL volume of the well was removed, and the adherent cells were washed once with PBS. MDMs were then lysed with 1 mL 0.2% Triton X-100 in PBS followed by a 30-min incubation at room temperature. Next, the lysate was removed to a 1.5 mL tube and centrifuged at 9300×
g
for 5 min, after which the supernatant was replaced with PBS and the suspension homogenized.
Each of the 1 mL samples was separated into two aliquots of 500 µL. One aliquot was subjected to treatment with 12.5 µL PMA, while the other followed the same incubation pattern without the addition of PMA. All samples were incubated in the dark for 5 min, then placed on ice under a 650-watt lamp at 20 cm for two minutes. The incubation pattern was repeated after the addition of another 12.5 µL PMA for a final concentration of 50 µM.
Bacilli were pelleted at 9300×
g
for 5 min, washed, and subjected to genomic DNA purification using a DNeasy kit and protocol (Qiagen, Valencia, CA, USA), with a bead-beating step added for initial lysis and homogenization of
Map
[
36
]. qPCR on
Map
samples was conducted using a VetAlert Johne's disease detection kit (Tetracore, Rocksville, MD, USA) with TaqMan probe targeting the
Map
-specific
hspX
gene. To estimate the concentration of
Map
genome copies in samples, a standard curve was constructed from serial dilutions of the supplied
hspX
positive control, and the resulting trendline was used to convert values of samples into the number of copies/µL.
2.9. Host Cell Motility and Infection Rate
MDMs were infected with CFSE-stained
Map
at a concentration of 5 × 10
4
, 10
5
, 2 × 10
5
, or 4 × 10
5
cells/mL. On days 0, 2, 5, and 7, six randomly localized 40× images were taken with the EVOS FL auto microscope at each
Map
concentration using green fluorescence and phase-contrast channels (30–50 MDMs per field). Using the superimposed image of these two channels, the total number of macrophages and the number of infected macrophages was calculated to find the ratio of infected to uninfected host cells.
MDMs exposed to CFSE-stained
Map
at MOI of 1:4 were also used to calculate the motility rates of both infected and uninfected MDMs. On day 2 post-infection, a time lapse video was compiled from microscope images taken at 40× magnification from randomly localized areas of the well. Infected cells were distinguished from uninfected cells based on the presence of fluorescent bacteria. The time-lapse image sequences were then analyzed using the ImageJ plugin
wrMTrck
, originally developed to monitor the velocity and displacement of
Caenorhabditis elegans
[
37
].
3. Results
3.1. Host Cell Cluster Formation in the Presence of Lymphocyte-Specific Signaling Factors
Clusters of bovine MDMs (termed granuloma-like cell clusters [GLCC] in this paper) began to appear by day 2 post-infection in
Map
-exposed wells while background GLCC in
Map
-free wells remained low throughout the experimental time-course. To confirm that the clusters observed were persistent cellular superstructures rather than transient spatial associations of cells, several individual GLCCs were tagged and tracked throughout the time course (representative shown in
Figure 1
b–g). In MDM cultures supplemented with non-adherent PBMCs, GLCCs were composed of infected and uninfected MDMs and a small number of lymphocytes surrounding the macrophage cluster (representative shown in
Figure 1
a,a′).
The number of GLCCs formed over ten days was enumerated by analyzing images capturing 10% of the total MDM population (
Figure 2
). In wells infected at
Map
MOIs of 1:4 and 1:2, there was a lag in cluster formation from day 2 until day 5, after which persistent clusters began forming rapidly until they peaked at day 8 post-infection. Both the rate of formation and total count of GLCCs was higher at MOI of 1:4 than at 1:2 (
Figure 2
A,B)
At MOI of 1:1, the GLCC count remained relatively steady throughout the experiment, however, GLCCs from these wells possess a different appearance compared to those infected at lower MOI. Individual and GLCC-incorporated MDMs appear necrotic (darkened cytoplasm with indistinct/irregular cell membranes). At the highest MOI of 2:1, the necrotic appearance of cells is more apparent, and the viability of cells declines rapidly to the point the accumulation of cellular debris prevented quantification of living cells past day 7 (
Figure 3
). Thus, an MOI of 1:4 was selected for cytokine profiling and motility experiments due to the robust clustering response that occurred at this
Map
concentration as well as the increased stability of GLCCs and prolonged viability of MDMs.
3.2. Viability of Host Mdms and Infection Rate
The numbers of MDMs remaining adherent across the time-course are shown in
Figure 3
. Live/Dead staining of MDMs indicate that about 95% of adherent cells were viable at each time point (
Figure S1
). Interestingly, cells infected at the two lower MOIs displayed increased longevity compared to uninfected cells, which saw a population reduction of 50% within seven days post-infection. Cells infected with an MOI of 1:1 experienced a death rate over the ten-day period comparable to uninfected cells, while those infected at 2:1 died significantly more quickly.
Moreover, interestingly, the prolonged viability of cells in
Map
-exposed wells appears to be a property of both uninfected and infected populations from within the same well. The proportion of host cells infected with
Map
by day is shown in
Figure 4
. These data indicate the proportion of infected cells does not change significantly across the time-course for any of the wells except at a
Map
MOI of 1:1, which experienced a small but significant increase in infection rate by day 7. Based on the result from MDMs infected at an MOI of 1:4, both the infected and uninfected populations from within the same well must have similar death rates, even as the death rate varies significantly between different MOIs.
3.3. Host-Cell Behavior and Growth of Intracellular
3.3.1. Cytokine Expression Profile Changes in Infected Mdms
MDMs infected at a
Map
multiplicity of 1:4 display transcription-level shifts in cytokine expression marked by upregulation of TNF-α by 15-fold by day 5 post-infection with concurrent downregulation of IL-10 (
Figure 5
). Intermittent upregulation of IL-1 was observed over the time course. The expression analysis also picked up late induction of T-cell-produced IL-4 and IFN-γ by day 7 post-infection. MDMs infected at 1:1 MOI show similar trends in cytokine expression but increase the production of IL-10 (
Figure S2
; data in duplicate).
3.3.2. Host-Cell Motility
The distribution of movement speeds displayed by populations of infected or uninfected cells exposed to
Map
at an MOI of 1:4 is shown in
Figure 6
. Observations were made on day 2 post-infection, whereupon infected MDMs displayed significantly lower motility compared to uninfected. Motility data from infected and uninfected populations fell into non-parametric, positively skewed distributions (Shapiro–Wilk
p
-values of 1.7 × 10
−5
and 1.1 × 10
−4
, respectively) that were statistically distinct by the Kolmogorov–Smirnov test (
p
-value of 7.1 × 10
−8
).
3.3.3.
Map

Viability

Using the established technique for PMA-modified qPCR of

Map

, we were able to detect viable bacilli growing intracellularly within the MDMs in our model (

Figure 7

). We observed a statistically significant increase in viable

Map

from day 0 to day 5 post-infection (

p

-value of 0.025), indicating the intracellular population of

Map

can reproduce under the conditions of our model. The mean number of viable

Map

dropped between day 5 and day 7, but this difference was not significant (

p

-value of 0.12).
Supplementary Materials
The following are available online at
https://www.mdpi.com/2306-7381/6/4/80/s1
, Table S1: Primer sequences for RT-qPCR, Figure S1: Viability of adherent MDMs by day by LIVE/DEAD fluorescent assay, Figure S2. Cytokine profile shift of MDMs infected with 1:1 MOI of
Map
.
Author Contributions
Conceptualization, S.E.; methodology, J.H.R. and S.E.; investigation, J.H.R., M.M.M., A.H. and S.E.; resources, S.E.; data curation, J.H.R., M.M.M., A.H. and S.E.; writing-original draft preparation, J.H.R.; writing-review & editing, J.H.R. and S.E.; visualization, J.H.R. and S.E.; supervision, J.H.R. and S.E.; project administration, S.E.; funding acquisition, S.E.
Funding
This research was funded by Seed Grant Programs of the University of Tennessee AgResearch and Center for Wildlife Health.
Conflicts of Interest
The authors declare no conflict of interest.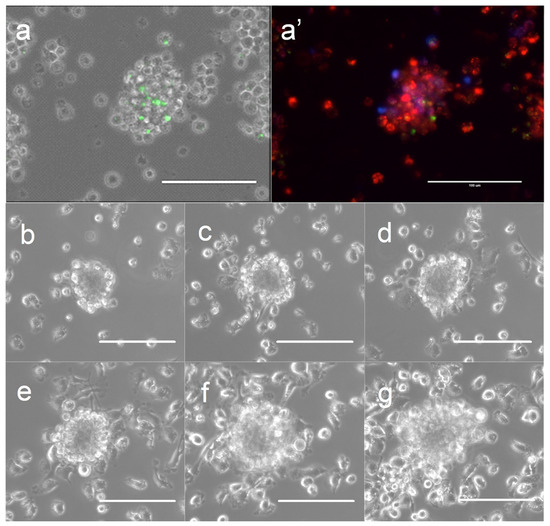 Figure 1.
Formation of granuloma-like cell clusters (GLCCs) in vitro. (
a
) GLCC of macrophages and lymphocytes exposed to
Map
. (
a′
) Same GLCC with superimposed fluorescence channels showing macrophages (red), lymphocytes (blue), and internalized
Map
(green). (
b–g
) Phase-contrast images of a single GLCC across the time-course at 1-day intervals (3–8 days post-infection; lymphocyte-free model). The scale is 100 µm.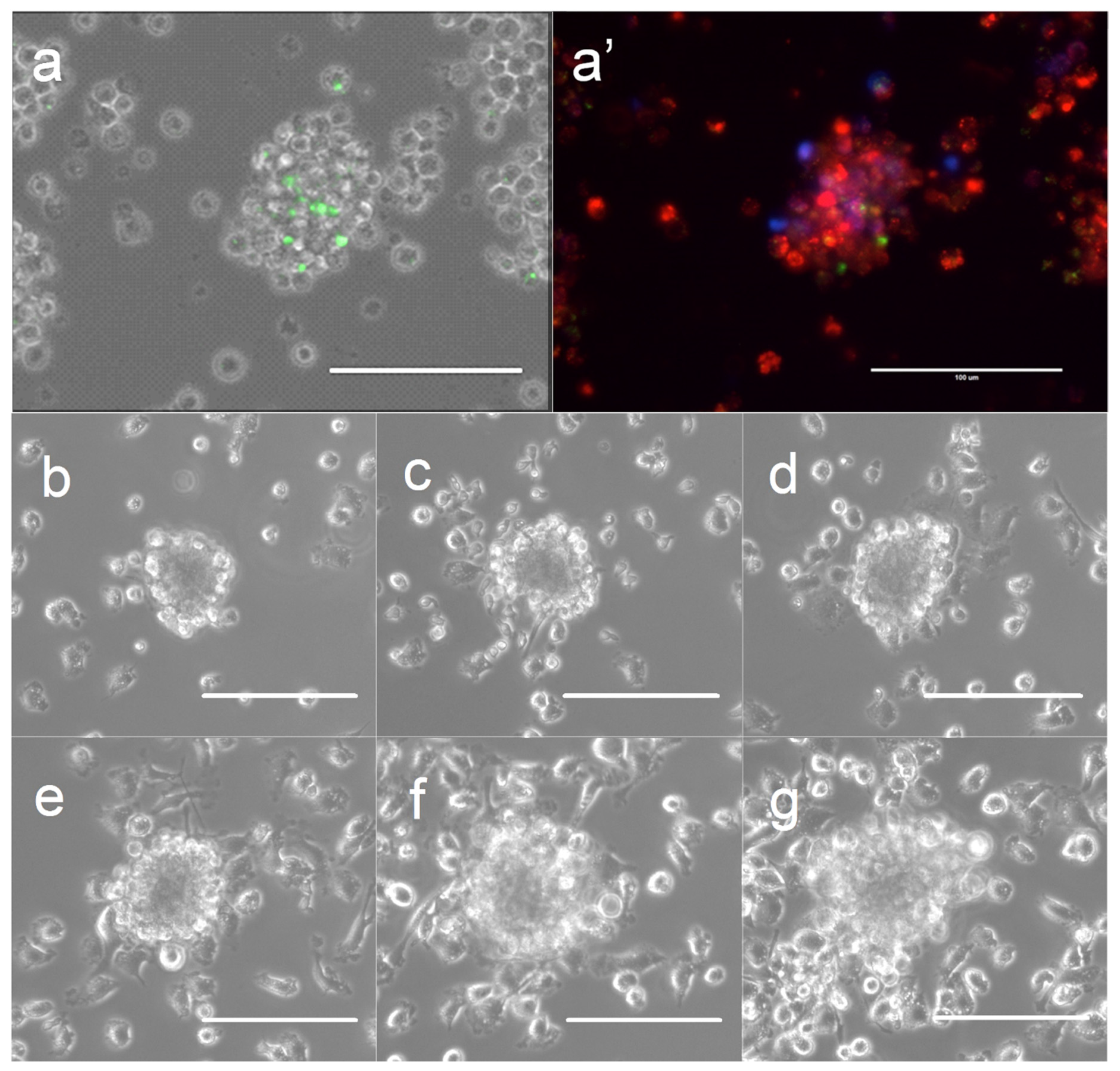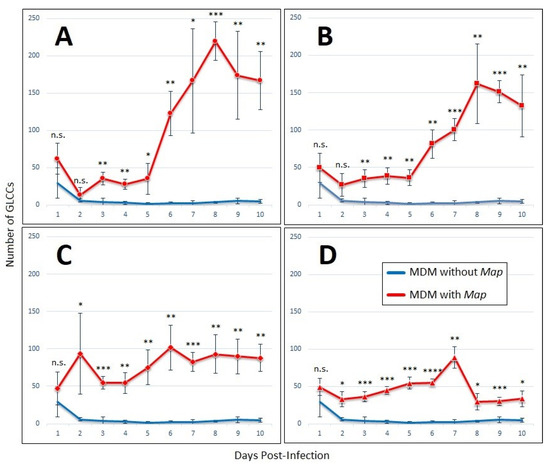 Figure 2.
GLCCs form in the presence of lymphocyte-specific signaling factors alone. Graphs of GLCC formation over ten-day experiment with MDMs cultured without non-adherent PBMCs, with conditioned medium from
Map
-exposed lymphocytes, after exposure to
Map
at an MOI of (
A
) 1:4, (
B
) 1:2, (
C
) 1:1, or (
D
) 2:1. The bars are standard deviation. *
p
< 0.05; **
p
< 0.01; ***
p
< 0.001; ****
p
< 0.0001; n.s. = not significant by student's t-test (n = 4).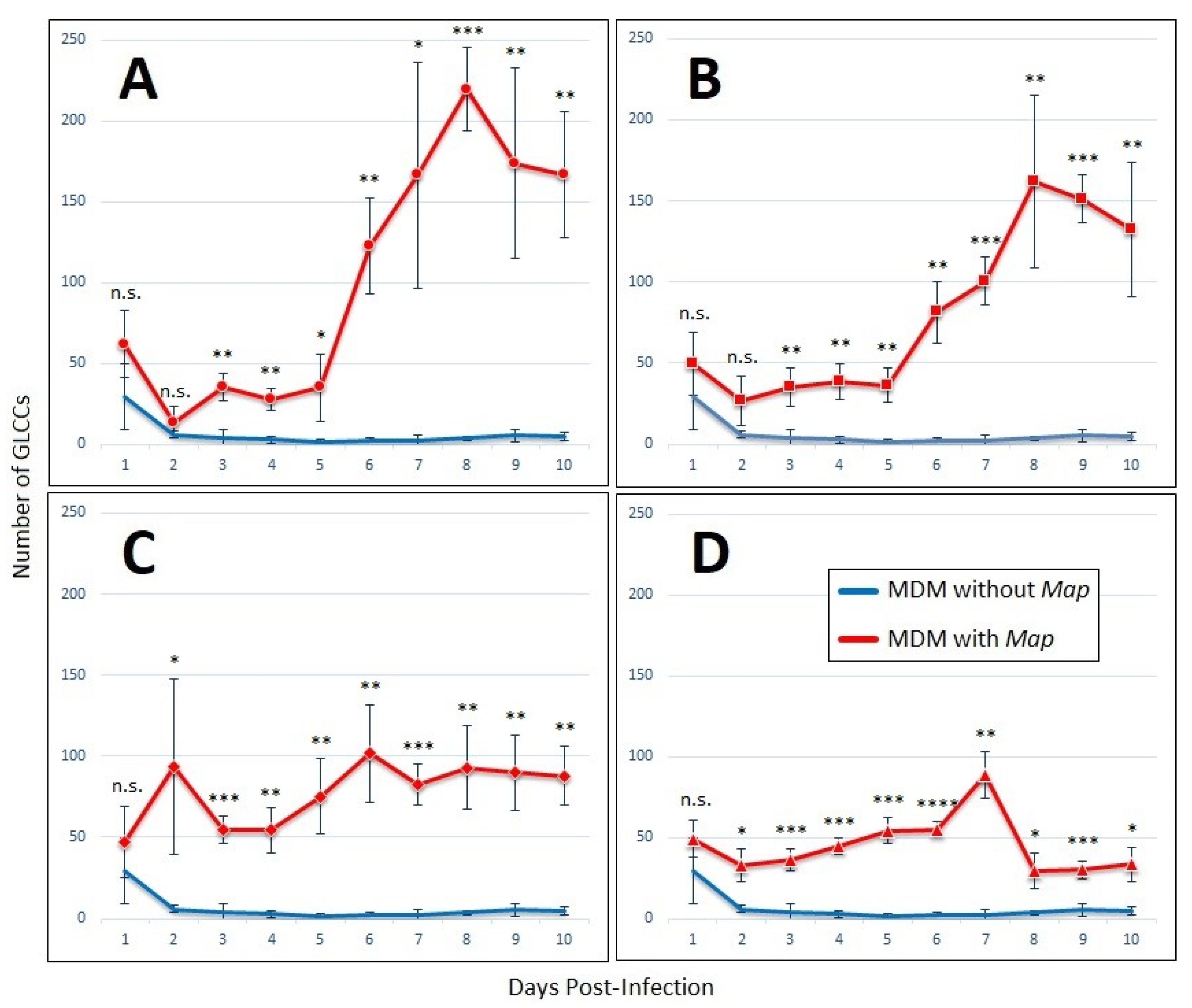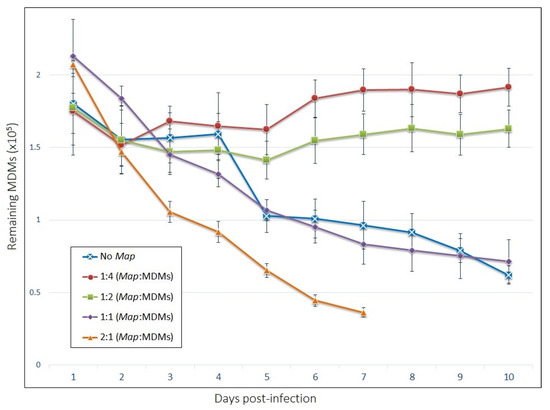 Figure 3.
The viability of host MDMs in our model depends on the multiplicity of
Map
exposure. The number of adherent cells remaining by day post-infection. The bars are standard deviation (n = 4).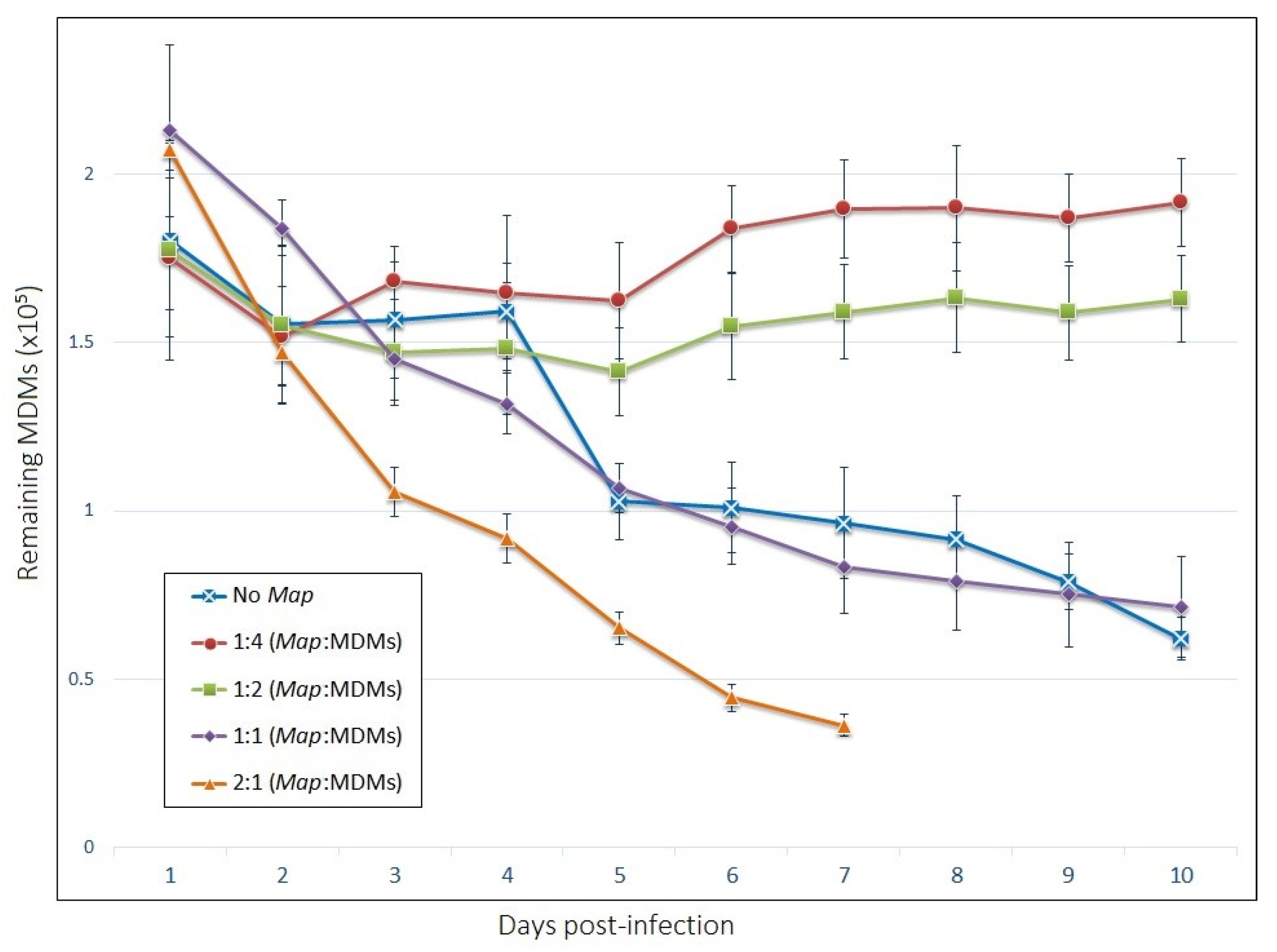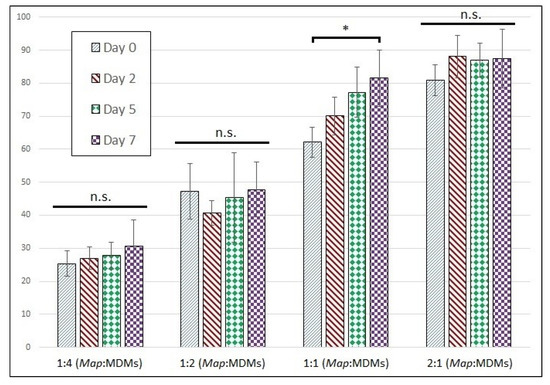 Figure 4.
Proportion of infected MDMs remains stable across time-course. Proportion of infected MDMs with intracellular CFSE-stained
Map
expressed as a percentage of total cells. The bars are standard deviation. *
p
< 0.05; n.s. = not significant by student's t-test (n = 6).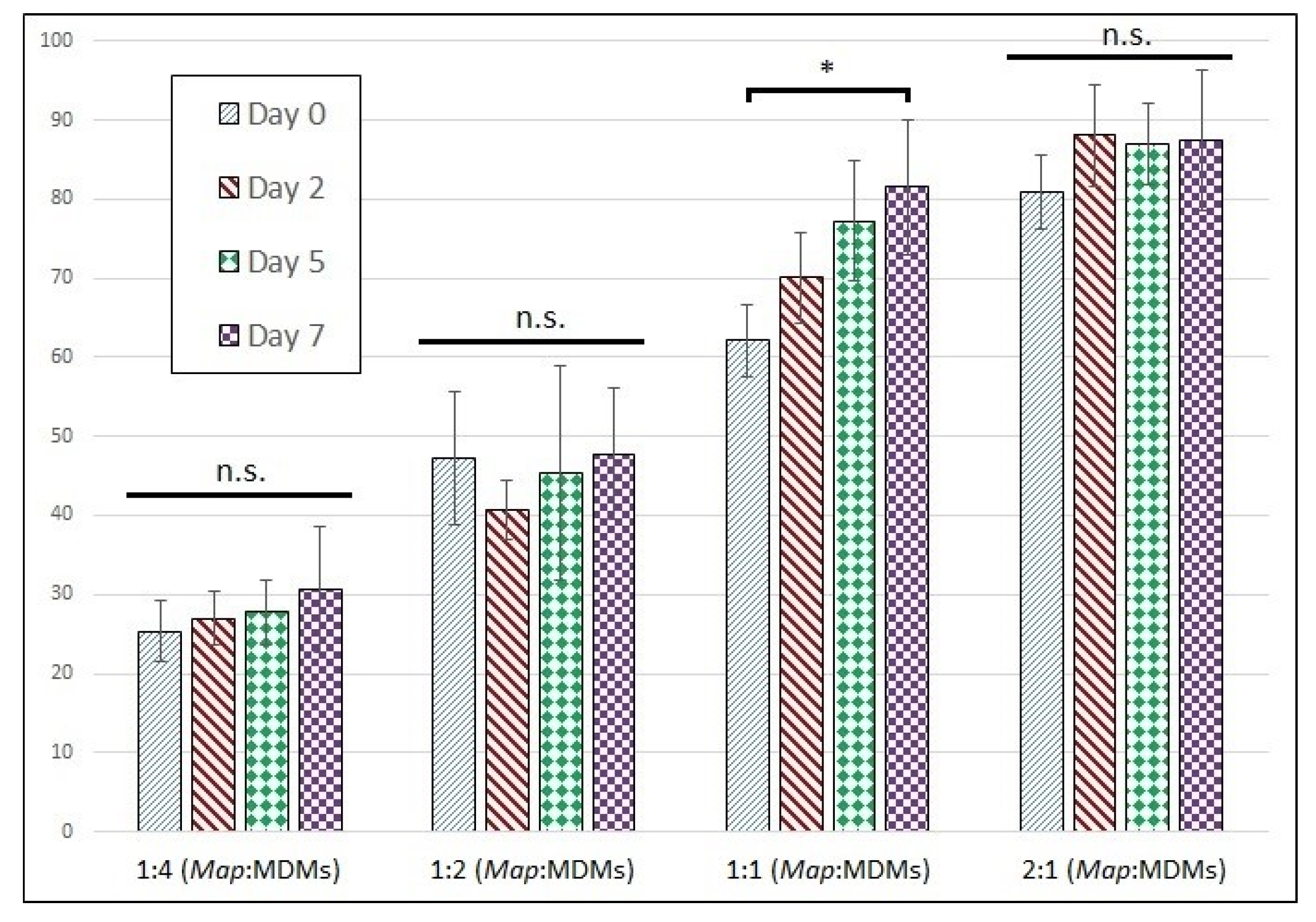 Figure 5.
Cytokine profile shift of
Map
-infect MDMs across the time-course. Cytokine expression of MDMs infected with
Map
at an MOI of 1:4 compared to same-day uninfected MDMs. RT-qPCR was run using actin as internal control, and the data was converted to fold-change by Δ-Δ- method. The bars are standard deviation. *
p
< 0.05; **
p
< 0.01; ***
p
< 0.001; n.s. = not significant by student's t-test (n = 3).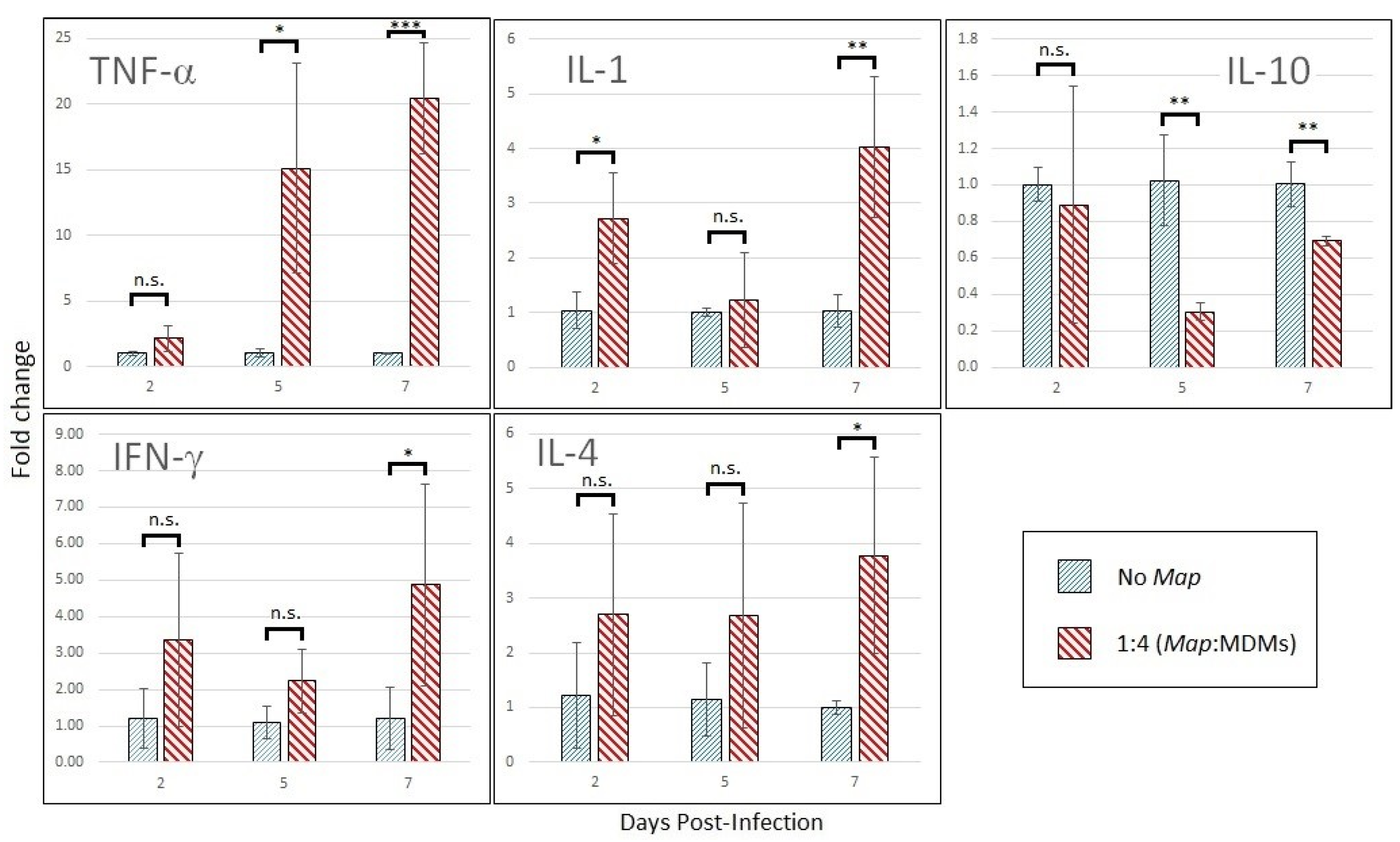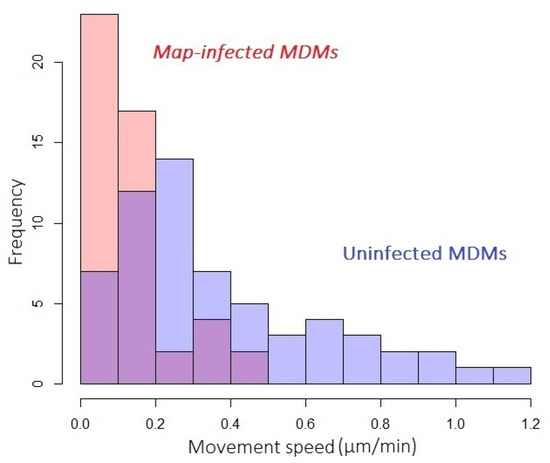 Figure 6.
Map
-infected MDMs show decreased movement speed. Histograms describing the motility of populations of
Map
-infected (red) and uninfected (blue) MDMs exposed to
Map
at MOI of 1:4. Overlap of histograms in purple.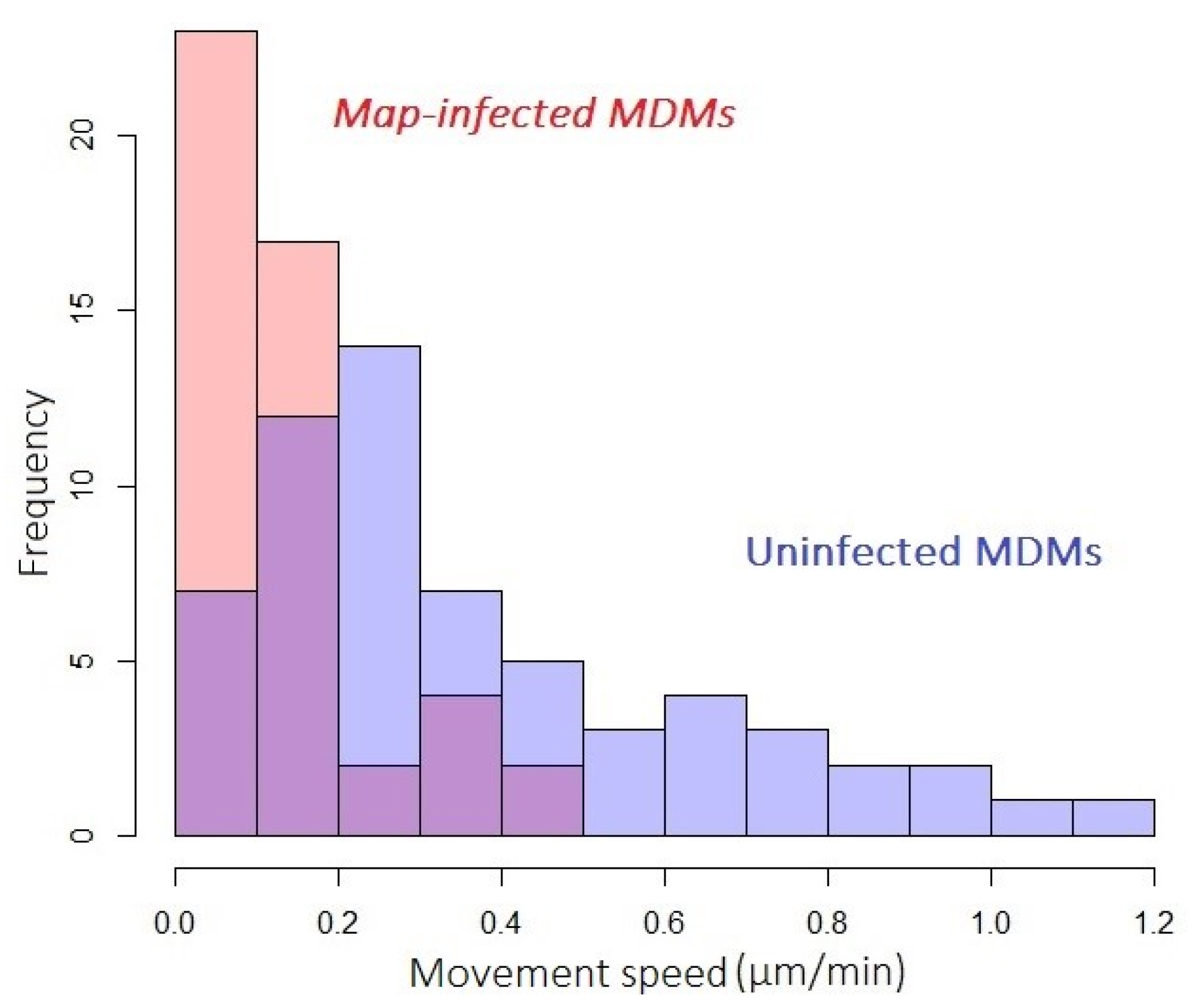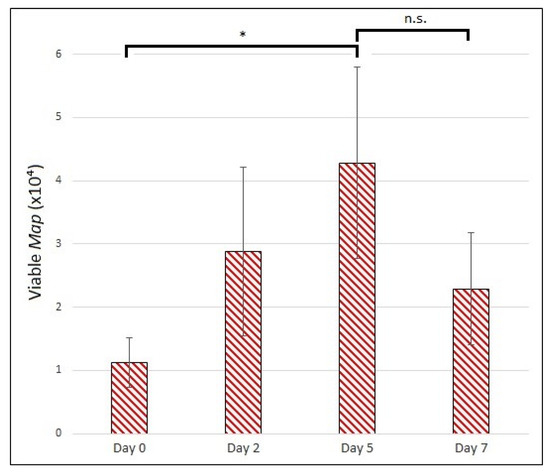 Figure 7.
Enumeration of viable, internalized Map from in vitro granuloma model. Viable Map bacilli harvested and quantified on days 0, 2, 5, and 7 p.i. MOI of 1:4. The bars are standard deviation. *
p
< 0.05; n.s. = not significant by student's t-test (n = 3).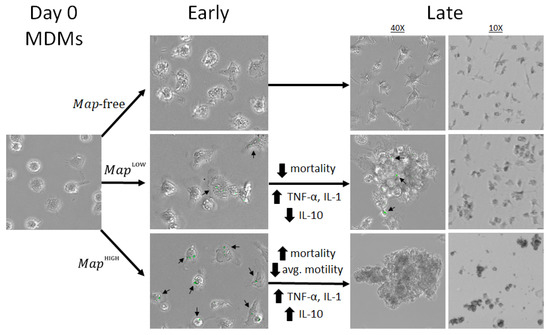 Figure 8.
Schematic summary of the findings of this model.
Map
bacilli stained with CFSE (green) and marked with arrows.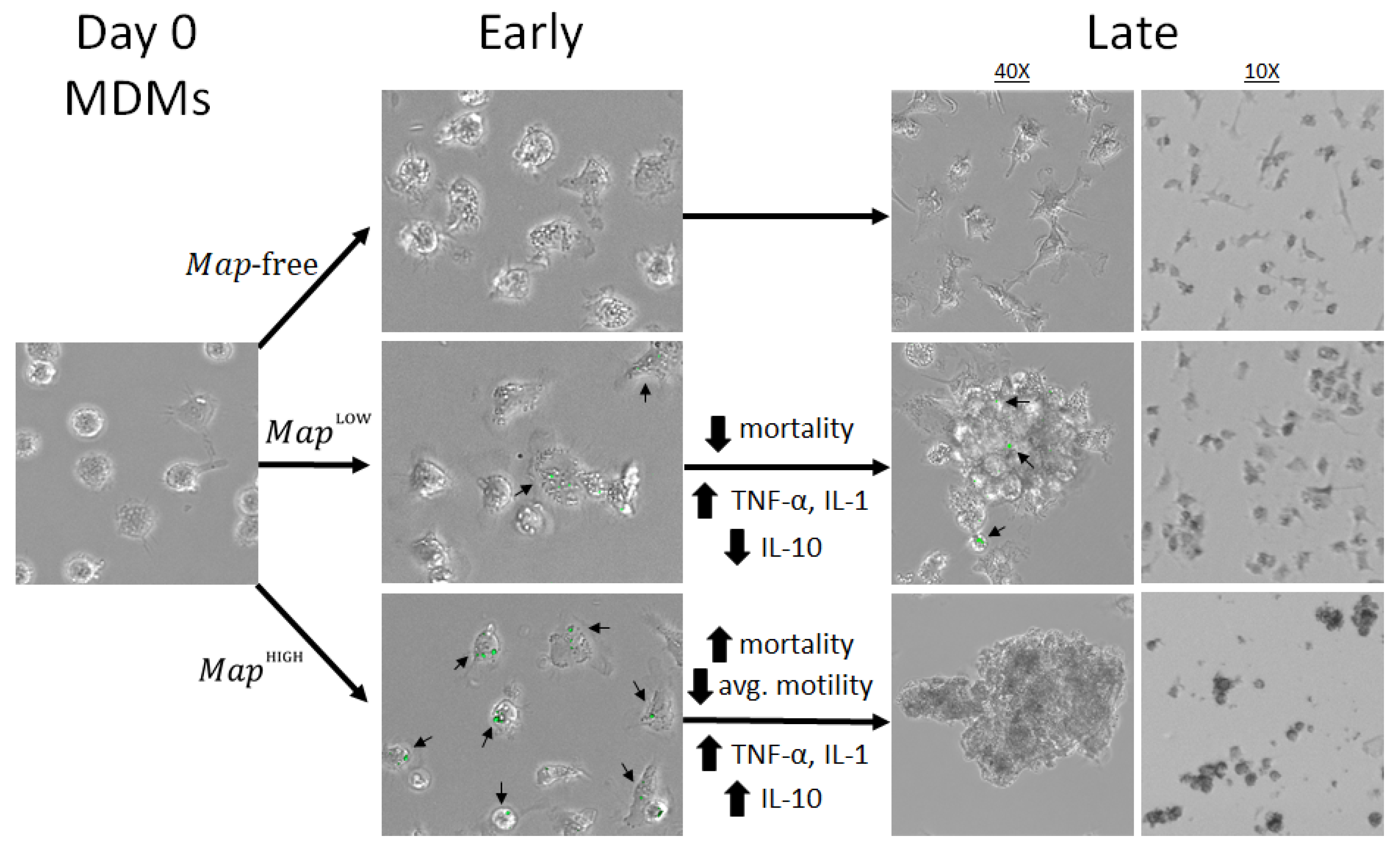 © 2019 by the authors. Licensee MDPI, Basel, Switzerland. This article is an open access article distributed under the terms and conditions of the Creative Commons Attribution (CC BY) license (http://creativecommons.org/licenses/by/4.0/).