2,4-Thiazolidinedione in Well-Fed Lactating Dairy Goats: I. Effect on Adiposity and Milk Fat Synthesis
1
Department of Animal and Rangeland Sciences, Oregon State University, Corvallis, OR 97331, USA
2
Department of Animal Science, University of Guilan, Kilometer 5 of Rasht-Qazvin Highway, Rasht 4199613776, Iran
3
Department of Animal Biotechnology, Kangwon National University, KNU Ave 1, Chuncheon 200-701, Korea
4
Department of Animal Sciences, Food and Nutrition (DIANA), Università Cattolica del Sacro Cuore, Via Emilia Parmense, 84, 29122 Piacenza PC, Italy
*
Author to whom correspondence should be addressed.
†
These authors contributed equally to this work.
‡
Current address: Dairy and Food Science Department, South Dakota State University, Box 2104, Brookings, SD 57007, USA.
§
Current address: Department of Agriculture, University of Arkansas at Pine Bluff, 1200 N. University Drive, Pine Bluff, AR 71601, USA.
Received: 28 March 2019 / Revised: 29 April 2019 / Accepted: 14 May 2019 / Published: 17 May 2019
Abstract
Background
: In a prior experiment, treatment of goats with the putative PPARγ agonist 2,4-thiazolidinedione (2,4-TZD) did not affect milk fat or expression of milk-fat related genes. The lack of response was possibly due to deficiency of vitamin A and/or a poor body condition of the animals. In the present experiment, we tested the hypothesis that PPARγ activation affects milk fat synthesis in goats with a good body condition and receiving adequate levels of vitamin A.
Methods
: Lactating goats receiving a diet that met NRC requirements, including vitamin A, were injected with 8 mg/kg BW of 2,4-TZD (
n
= 6) or saline (
n
= 6; CTR) daily for 26 days. Blood metabolic profiling and milk yield and components were measured including fatty acid profile. Expression of genes related to glucose and lipid metabolism was measured in adipose tissue and in mammary epithelial cells (MEC). Size of adipocytes was assessed by histological analysis.
Results
: NEFA, BHBA, and fatty acids available in plasma decreased while glucose increased in 2,4-TZD vs. CTR. Size of cells and expression of insulin signaling and glucose metabolism-related genes were larger in 2,4-TZD vs. CTR in adipose tissue. In MEC, expression of
SCD1
and desaturation of stearate was lower in 2,4-TZD vs. CTR.
Conclusions
: Overall data revealed a lack of PPARγ activation by 2,4-TZD and no effect on milk fat synthesis despite a strong anti-lipolysis effect on adipose tissue.
View Full-Text
►

▼

Figures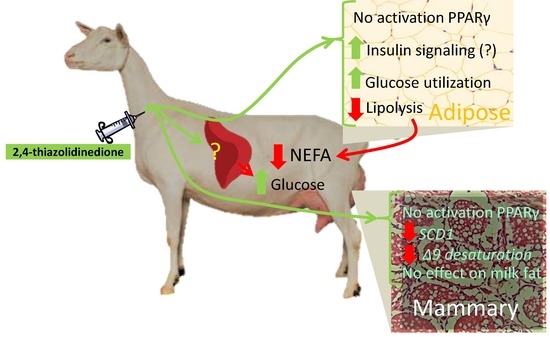 Graphical abstract
This is an open access article distributed under the
Creative Commons Attribution License
which permits unrestricted use, distribution, and reproduction in any medium, provided the original work is properly cited (CC BY 4.0).

Share & Cite This Article
MDPI and ACS Style
Jaaf, S.; Rosa, F.; Moridi, M.; Osorio, J.S.; Lohakare, J.; Trevisi, E.; Filley, S.; Cherian, G.; Estill, C.T.; Bionaz, M. 2,4-Thiazolidinedione in Well-Fed Lactating Dairy Goats: I. Effect on Adiposity and Milk Fat Synthesis. Vet. Sci. 2019, 6, 45.
Note that from the first issue of 2016, MDPI journals use article numbers instead of page numbers. See further details here.
Related Articles
Comments
[Return to top]