Chemical Characterization of
Opuntia ficus-indica

(L.) Mill. Hydroalcoholic Extract and Its Efficiency against Gastrointestinal Nematodes of Sheep

1

Department of Veterinary Medicine, Federal University of Paraná, Curitiba, PR 80035-050, Brazil

2

Department of Biochemistry and Molecular Biology, Federal University of Paraná, Curitiba, PR 81531-980, Brazil

*

Author to whom correspondence should be addressed.

Received: 11 July 2018 / Revised: 6 September 2018 / Accepted: 8 September 2018 / Published: 12 September 2018
Abstract
Opuntia ficus-indica
(L.) Mill. is a xerophylous plant that originated in tropical and subtropical America. This plant is popularly known in Brazil as "palma forrageira" (cactus pear) and plays a fundamental role in animal nutrition, mainly in the Northeastern semi-arid region of the country. The plant has several uses since it presents bioactive compounds that confer biological and pharmacological properties. In this context, the cactus pear can also be considered a potential product to combat parasite infections. The objective of this study was to chemically characterize the
O. ficus-indica
hydroalcoholic extract (OFIEOH) and to determine its efficacy against gastrointestinal parasites using in vitro tests. Initially, the hydroalcoholic extract from cladode peels of
O. ficus-indica
was produced by maceration for 21 days. For the chemical characterization, colorimetric dosages were performed for carbohydrates, proteins, phenols and condensed tannins. Liquid chromatography coupled to mass spectrometry/electron spray ionization (LC-MS/ESI) was used to characterize the polyphenolic profile of the OFIEOH extract. Fifteen compounds were identified in the OFIEOH extract, such as methyl, glycosylated and aglycone quercetin derivatives and aglycone and glycosylated kaempferol derivatives. Tri-glycosylated methyl quercetin derivatives were the main compounds identified. In vitro egg hatch (EHT) and larval migration tests (LMT) were used in a range of concentrations of OFIEOH from 12.5 to 100 mg/mL for EHT and 12.5 to 200 mg/mL for LMT. In addition, the LMT was used to test ivermectin (IVM) (from 11.4 to 57.1 µM), associated with the inhibitory concentration of 50% (IC
50
) for OFIEOH. The combination of OFIEOH (12.5 to 200 mg/mL) plus the IC
50
of IVM was also tested. The efficacy of OFIEOH alone varied from 19.33 to 90.0% using the EHT. The LMT revealed an efficacy of 5.78 to 77.26% for the extract. Both tests showed a concentration-dependence inhibitory effect. We found a drug-extract antagonistic neutralizing effect when doses of IVM were added to OFIEOH (maximum efficacy of 73.78%), while a positive additive effect was observed when OFIEOH was added to the IC
50
of IVM (IC
50
of 82.79 for OFIEOH alone against an IC
50
of 55.08 of OFIEOH + IVM). The data from this work indicate that OFIEOH alone may be considered as a suitable ecofriendly product to control gastrointestinal parasites of sheep, offering a more holistic approach to improve animal farming and welfare. The drug-extract interaction is also a promising therapeutic alternative, reducing the final dose to the host, with an optimum combination effect.
View Full-Text
►

▼

Figures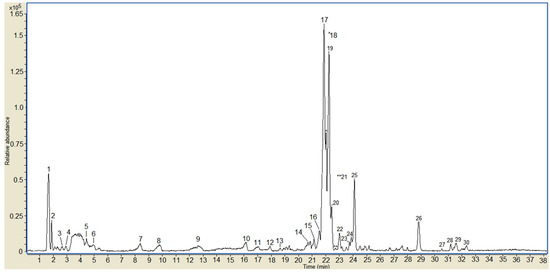 Figure 1
This is an open access article distributed under the
Creative Commons Attribution License
which permits unrestricted use, distribution, and reproduction in any medium, provided the original work is properly cited (CC BY 4.0).

Share & Cite This Article
MDPI and ACS Style
Santos, C.; Campestrini, L.H.; Vieira, D.L.; Pritsch, I.; Yamassaki, F.T.; Zawadzki-Baggio, S.F.; Maurer, J.B.B.; Molento, M.B. Chemical Characterization of Opuntia ficus-indica (L.) Mill. Hydroalcoholic Extract and Its Efficiency against Gastrointestinal Nematodes of Sheep. Vet. Sci. 2018, 5, 80.
Note that from the first issue of 2016, MDPI journals use article numbers instead of page numbers. See further details here.
Related Articles
Comments
[Return to top]