Comparative Study of a Cell-Based and Electrochemical Biosensor for the Rapid Detection of 2,4,6-Trichloroanisole in Barrel Water Extracts
1
Laboratory of Cell Technology, Department of Biotechnology, Agricultural University of Athens, 75 Iera Odos St., 11855 Athens, Greece
2
TN Coopers, Cerrillos, Ruta G-68 No 34.500, 9630000 Curacavi, Chile
*
Author to whom correspondence should be addressed.
Received: 20 November 2018 / Revised: 7 December 2018 / Accepted: 19 December 2018 / Published: 25 December 2018
Abstract
(1) Background: Fungal metabolites such as haloanisoles (especially 2,4,6-tribromoanisole/ 2,4,6-TCA) are contaminants of cork and wood barrels, materials that are widely used in the wine industry. Thus, the accurate and timely detection of these substances is very important for this sector of beverage industry. (2) Methods: Potentiometry was used for the Bioelectric Recognition Assay (BERA)-based experimental approach, where changes in the electric properties of the Vero cells modified with anti-TCA antibodies were recorded in response to the presence of 2,4,6-TCA in different concentrations. Furthermore, a second electrochemical biosensor system based on the cyclic voltammetric (CV) measurement of a reaction taking place on a screen printed electrode was developed in parallel to the customized application and configuration of the cell-based system. (3) Results: The BERA cell-based biosensor was able to quantitatively differentiate among the lower 2,4,6-TCA concentrations (control, 0.25 and 1.25 ng/L) from spiked oak barrel water extracts in an entirely distinct and reproducible manner. In contrast, the CV method was not sensitive enough to differentiate between the samples. (4) Conclusions: The present study indicates that the BERA-based biosensor after further development and optimization could be used for the routine, high throughput detection of 2,4,6-TCA in oak barrel water extracts.
View Full-Text
►

▼

Figures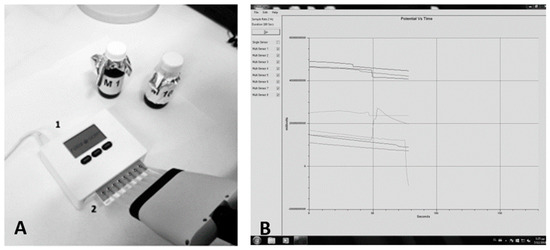 Figure 1
This is an open access article distributed under the
Creative Commons Attribution License
which permits unrestricted use, distribution, and reproduction in any medium, provided the original work is properly cited (CC BY 4.0).

Share & Cite This Article
MDPI and ACS Style
Moschopoulou, G.; Mavrikou, S.; Valdes, D.; Kintzios, S. Comparative Study of a Cell-Based and Electrochemical Biosensor for the Rapid Detection of 2,4,6-Trichloroanisole in Barrel Water Extracts. Beverages 2019, 5, 1.
Note that from the first issue of 2016, MDPI journals use article numbers instead of page numbers. See further details here.
Related Articles
Comments
[Return to top]