Biochemical and Physiological Parameters in Rats Fed with High-Fat Diet: The Protective Effect of Chronic Treatment with Purple Grape Juice (Bordo Variety)
1
Centro Universitário Metodista—IPA, Porto Alegre, RS, 90420-060, Brazil
2
Faculdades Integradas de Taquara, Taquara, RS, 95612-150, Brazil
3
Laboratório de Pesquisa em Fisiopatologia do Exercício, Hospital de Clínicas de Porto Alegre, Porto Alegre, RS, 90035-007, Brazil
4
Departamento de Biofísica, Universidade Federal do Rio Grande do Sul, Porto Alegre, RS, 91501- 970, Brazil
5
Departamento de Farmacologia, Universidade Federal do Rio Grande do Sul, Porto Alegre, RS, 90040-060, Brazil
*
Author to whom correspondence should be addressed.
Received: 24 October 2018 / Revised: 28 November 2018 / Accepted: 29 November 2018 / Published: 4 December 2018
Abstract
High-fat-diet (HFD) has been related to metabolic and cardiovascular diseases. Consumption of grapes and their byproducts containing phenolic compounds has been reported due to the benefits they produce for human health. The purpose of this study was to investigate the antioxidant and protective effect of chronic intake of purple grape juice on certain biochemical and physiological changes promoted by the consumption of HFD. Forty male rats were randomly divided into four groups to receive standard or HFD diet and/or conventional (CGJ) or organic grape juice (OGJ) for three months. Dietary intake, body weight gain, cardiometabolic parameters, and serum lipoperoxidation were investigated. Results showed that consumption of CGJ and OGJ changed the pattern of food and drink intake of the animals. There was a reduction in the body weight of animals that consumed grape juices and an increase in the weight gain in HFD and OGJ rats. HFD increased abdominal fat and the abdominal fat/weight ratio, and both grape juices prevented these modifications. HFD increased hepatic enzymes levels (aminotransferase (AST) and gamma-glutamyl transpeptidase (GGT)) and reduced urea. Purple grape juices prevented some of these changes. HFD enhanced lipid peroxidation (thiobarbituric acid reactive substances (TBARS)) in serum and CGJ and OGJ prevented this increase. The consumption of purple grape juice has the potential to prevent and ameliorate most of the alterations provoked by HFD, therefore regular intake of grape products could promote beneficial effects.
View Full-Text
►

▼

Figures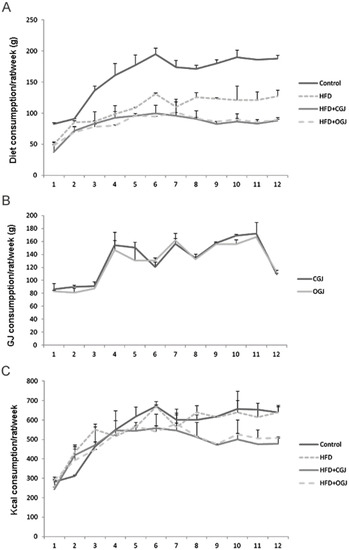 Figure 1
This is an open access article distributed under the
Creative Commons Attribution License
which permits unrestricted use, distribution, and reproduction in any medium, provided the original work is properly cited (CC BY 4.0).

Share & Cite This Article
MDPI and ACS Style
Dos Santos Lacerda, D.; Garbin de Almeida, M.; Teixeira, C.; De Jesus, A.; Da Silva Pereira Júnior, É.; Martins Bock, P.; Pegas Henriques, J.A.; Gomez, R.; Dani, C.; Funchal, C. Biochemical and Physiological Parameters in Rats Fed with High-Fat Diet: The Protective Effect of Chronic Treatment with Purple Grape Juice (Bordo Variety). Beverages 2018, 4, 100.
Note that from the first issue of 2016, MDPI journals use article numbers instead of page numbers. See further details here.
Related Articles
Comments
[Return to top]