Open Access This article is
freely available
re-usable
Technical Note
Effect of Carboxymethyl Cellulose Added at the Dosage Stage on the Foamability of a Bottle-Fermented Sparkling Wine
1
Wine Division, Plumpton College, Ditchling Road, Plumpton (East Sussex) BN7 3AE, UK
2
Department of Agronomy, Food, Natural Resources, Animals and Environment (DAFNAE), University of Padova, Viale dell'Università 16, 35020 Legnaro (PD), Italy
*
Author to whom correspondence should be addressed.
Received: 8 January 2018 / Accepted: 28 March 2018 / Published: 1 April 2018
Abstract
:
Carboxymethyl cellulose (CMC) is used in winemaking to prevent potassium bitartrate or potassium hydrogen tartrate deposits from forming. These deposits are particularly detrimental when occurring in bottle-fermented sparkling wine ahead of disgorging or in the finished product as they can cause gushing of the wine when bottles are opened. Despite CMC being used by several sparkling winemaking producers both on the base wine and after disgorging, its effect on the behavior of foam, a key indicator of sparkling wine quality, has not been systematically tested. In this work the effect on wine composition and foam attributes of CMC additions to an English sparkling wine at the dosage stage was assessed. Results showed that CMC did not cause major changes on wine parameters, with the exception of wine viscosity, and did not result in major modification of the foamability of a wine, especially when analyzed in real serving conditions. These results suggest that, at least for the wine analyzed in this work, CMC could be added at the dosage stage without compromising its foam quality attributes.
Keywords:
sparkling wine; foam; dosage; carboxymethyl cellulose (CMC); viscosity
2. Materials and Methods
2.1. Analytical Methods
The base wine was tested for protein stability using the heat test [
17
], and for cold stability using the three day cold stability test (absence of crystals after incubation at 4 °C for 72 h) [
16
]. Alcohol, pH, titratable acidity, free and total SO
2
, and volatile acidity analyses were performed by the commercial services of Campden BRI (Nutfield, UK) using a Foss WineScanTM FT 120, as described by the manufacturer (Foss, Hillerød, Denmark). Glucose and fructose content resulting from the hydrolysis of the sucrose added at dosage was measured by high-performance liquid chromatography (HPLC) according to Moro et al. [
18
]. The concentrations of malic acid was determined by HPLC as described previously [
19
]. Bottle pressure was measured using a Lipagal™ crown cap aphrometer with a Bourdon™ pressure gauge, type 316SS (Cormontreuil, France), and data were expressed at 20 °C using the Agabaliantz tables as previously reported [
20
].
2.2. Experimental Wine Samples
A commercially-prepared bottle-fermented English sparkling wine produced by Plumpton Estate Winery (Plumpton, East Sussex, UK) from a 50:50 blend of cold and protein stable Seyval-Chardonnay base wine was used. After tirage, bottles were stored horizontally at 12–14 °C for 30 months of lees ageing before being riddled over 10 days using a Gyropallette (OENO Concept™, Epernay Cedex, France). The plug of lees was removed by placing the bottles upside down in a rotary neck freezer (ChampagelTM, Epernay Cedex, France) set at −27 ± 1 °C for 10 min. Once the lees portion had frozen, the bottle necks were washed and transferred to the disgorging area where the crown cap and lees were removed using a sterile semi-automatic disgorging and dosage unit (TDD machines: DDV EcoTM, Epernay Cedex, France) and then immediately hermetically sealed using a pneumatic crown capping machine (Vigo Ltd., Dunkeswell, Honiton, Devon, UK). A dosage stock solution was prepared mixing 51 g of granulated cane sugar (Tate and Lyle™, London, UK) with 100 mL of previously-disgorged wine. A commercial cellulose gum solution (CMC) liquid product (Celstab by Laffort™, Bordeaux, France) made of a highly-purified vegetal-origin cellulose polymer, with a low degree of polymerization and viscosity, was used. Disgorged bottles were opened and added with 14.7 mL of the dosage stock solution to reach a final concentration of 10 g/L of sucrose. Afterwards, increasing volumes (from 0 to 1 mL/L) of the commercial CMC stock solution (100 g/L) were added to the wines to obtain five different CMC addition rates (0, 25, 50, 75, 100 mg/L). Subsequently bottles were topped up with disgorged wine to a final volume of 750 mL. Bottles were then crown capped, vigorously shaken, and stored at 12 °C for six weeks before analysis. For each treatment six replicates were prepared: three reserved for free pour foam analysis and three for modified mosalux and chemical analysis.
2.3. Foam Analysis
Foamability of wines was analysed using two methods: a free pour method and a modified version of the mosalux technique as previously described [
19
].
2.4. Viscosity Measurement
Viscosity was determined by using a Brookfield DV-II + viscometer with LV5 spindle (Grant™, Cambridge, UK) as previously described [
19
].
2.5. Statistical Analysis
Statistical analysis was performed using GraphPad Prism (version 7.01 for Windows, GraphPad Software, La Jolla, CA, USA), with statistical significance determined using an alpha value of 0.05. One-way Analyses of Variance (ANOVA) followed by post-hoc Tukey test were performed on each basic wine parameter separately, with CMC addition as the main factor. One-way and Repeated Measures (RM) ANOVA with post-hoc Tukey tests were performed on both modified mosalux and free pour data. Foam height and collar width kinetics were measured by two-way RM ANOVA.
3. Results and Discussion
4. Conclusions
Investigation on one bottle-fermented English sparkling wine clearly showed that CMC additions at rates within the legal limit of 100 mg/L did not cause major changes in wine parameters, with the exception of wine viscosity (
Table 1
). The key foam attributes relating to sparkling wine quality were measured with two approaches. When looking at foamability data it can be seen that samples with a lower viscosity resulted in a significantly higher foam produced (+9.4 to 12.6%) by the modified mosalux method (
Figure 1
A), while no noticeable differences were visible with the free pour method (
Figure 2
A), a system that is to be considered more representative of real wine serving conditions [
2
,
19
]. Other important parameters as foam stability (measured by modified mosalux) and collar width (measured by free pour method) were also broadly unaffected by the CMC. This confirms the overall impression that CMC addition at dosage stage does not result in major modification of the foamability of the wine used, especially when analysed in real serving conditions. This also suggests that CMC can be used at varying levels without negative effects on wine composition and foamability, an information that will be welcomed by sparkling winemakers as they will benefit from using CMC at dosage to prevent gushing issue, a potentially costly fault.
Given that adding the dosage solution is the final opportunity that sparkling winemakers have to modify their wines, more research is needed to shed light on the possible impacts that this operation has on wine quality attributes, with a few studies starting to investigate this aspect more systematically [
19
,
22
]. To the best of our knowledge, this is the first study on the effect of CMC on wine foam attributes. However, considering that data presented here were obtained on one sparkling wine only, it will be important to conduct further investigation considering different CMC treatments. This may include analysing the wines over a longer period of time, studying different wine styles from different countries to further validate the major findings of this study, as well as conducting analysis on wine tartrate stability after CMC addition at dosage. Additionally, of interest is the measurement of the actual CMC contents in the wines before and after addition to allow for the comparison between additions made with different commercial CMC products.
Acknowledgments
Plumpton Estate Wine is thanked for donating the wine. Tony Milanowski at Plumpton College is thanked for helpful discussion about this work.
Author Contributions
M.C., A.A. and M.M. conceived and designed the experiments; M.C. performed the experiments; M.C., A.A. and M.M. analyzed the data; M.M. wrote the paper.
Conflicts of Interest
The authors declare no conflict of interest.
Figure 1.
(
A
) Effect of CMC addition on mean foam height (HM, white), foam stability (HS, grey bars) and time stability (TS, black bars). Error bars represent SD (
n
= 3 per treatment). Different letters represent statistically significant differences between treatments (post-hoc Tukey test); and (
B
) the effects of CMC addition on the change in mean foam height over time (
n
= 3 per treatment).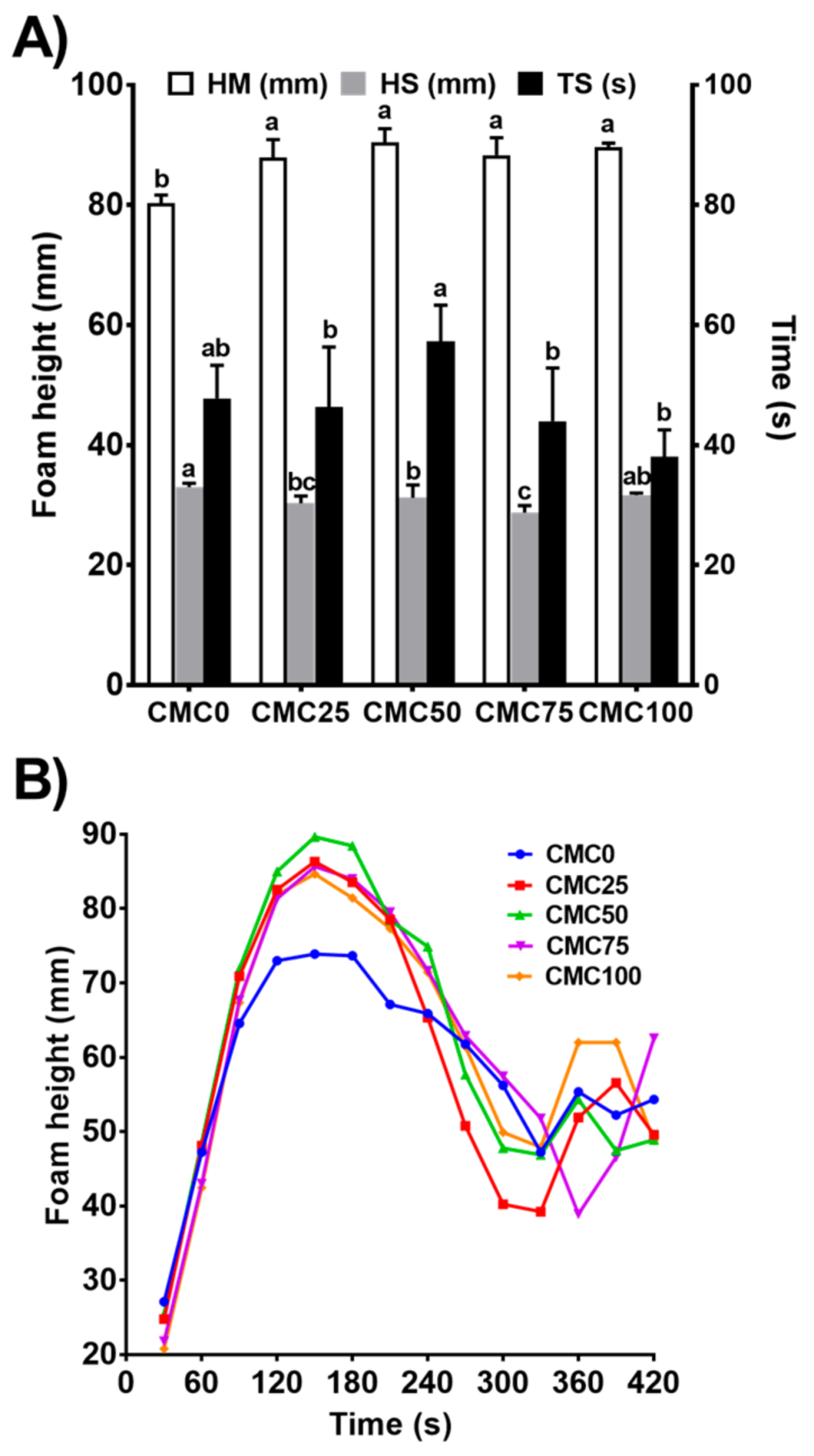 Figure 2.
(
A
) Foam measurements by the free pour method. Effect of CMC addition on maximum foam height (pour height), and time until foam collapsed after pouring (collapse time). (
n
= 3 per treatment); (
B
) effect of CMC addition on the change in mean collar width over time (
n
= 3 per treatment); and (
C
) third-order polynomial (cubic) curve describing the relationship between CMC addition and mean wine viscosity (cP).


Table 1. Key characteristics of wines prepared with different rates of CMC added at the dosage stage.
Code
Alcohol (% vol/vol)
Glucose + Fructose (g L−1)
Free SO2 (mg L−1)
Total SO2 (mg L−1)
pH
TitratableAcidity (g L−1)
VolatileAcidity (mg L−1)
Malic Acid (g L−1)
Turbidity (NTU)
Bottle Pressure at 20 °C (atm)
Viscosity at 20 °C (cP)
CMC0
11.68 a
9.50 a
7.77 a
103 a
3.18 a
9.90 a
0.39 a
5.97 a
1.16 a
3.82 a
1.79 a
CMC25
11.65 a
9.73 b
7.67 a
107 a,b
3.18 a
9.83 a,b
0.39 a
5.97 a
0.50 a
4.44 a
1.71 b
CMC50
11.64 a
9.05 a
7.67 a
108 b
3.18 a
9.80 b
0.38 a
6.00 a
0.54 a
3.97 a
1.70 b
CMC75
11.64 a
8.89 a
7.70 a
107 a,b
3.18 a
9.80 b
0.38 a
5.93 a
0.56 a
3.87 a
1.71 b
CMC100
11.59 b
9.11 a
7.90 a
109 b
3.17 a
9.87 a,b
0.38 a
5.93 a
0.53 a
3.36 a
1.73 b
F(4, 10)
13.76
138.90
1.32
5.81
1.00
4.25
1.83
3.50
0.89
1.01
11.18

p

value
0.0004
<0.0001
0.3281
0.0111
0.0100
0.4516
0.1991
0.0492
0.5041
0.4461
0.0010
Legend: CMC0 = 0 mg/L CMC added; CMC25 = 25 mg/L CMC added; CMC50 = 50 mg/L CMC added; CMC75 = 75 mg/L CMC added; CMC100 = 100 mg/L CMC added. Values represent the mean averages (

n

= 3). Within each column means followed by a different letter are significantly different (

p

≤ 0.05) according to the post-hoc Tukey test.

© 2018 by the authors. Licensee MDPI, Basel, Switzerland. This article is an open access article distributed under the terms and conditions of the Creative Commons Attribution (CC BY) license (http://creativecommons.org/licenses/by/4.0/).