Reversal of Multidrug Resistance in Human Colon Cancer and Human Leukemia Cells by Three Plant Extracts and Their Major Secondary Metabolites
Institute of Pharmacy and Molecular Biotechnology, Heidelberg University, Im Neuenheimer Feld 364, 69120 Heidelberg, Germany
*
Author to whom correspondence should be addressed.
Received: 15 October 2018 / Revised: 7 November 2018 / Accepted: 11 November 2018 / Published: 13 November 2018
Abstract
Background:
We studied the effect of three plant extracts (
Glycyrrhiza glabra
,
Paeonia lactiflora
,
Eriobotrya japonica
) and six of their major secondary metabolites (glycyrrhizic acid, 18β glycyrrhetinic acid, liquiritigenin, isoliquiritigenin, paeoniflorin, ursolic acid) on the multidrug resistant human colon cancer cell line Caco-2 and human leukemia cell line CEM/ADR 5000 as compared to the corresponding sensitive cell line CCRF-CEM, and human colon cancer cells HCT-116, which do not over-express ATP-binding cassette (ABC) transporters.
Methods:
The cytotoxicity of single substances in sensitive and resistant cells was investigated by MTT assay. We also applied combinations of extracts or single compounds with the chemotherapeutic agent doxorubicin or doxorubicin plus the saponin digitonin. The intracellular retention of the ABC transporter substrates rhodamine 123 and calcein was examined by flow cytometry to explore the effect of the substances on the activity of ABC transporters P-glycoprotein and MRP1. Real-time PCR was applied to analyse the gene expression changes of ABCB1, ABCC1, caspase 3, caspase 8, AhR, CYP1A1, and GSTP1 in resistant cells under the treatment of the substances.
Results:
All the substances moderately inhibited cell growth in sensitive and resistant cells to some degree. Whereas ursolic acid showed IC
50
of 14 and 22 µM in CEM/ADR 5000 and Caco-2 cells, respectively, glycyrrhizic acid and paeoniflorin were inactive with IC
50
values above 400 μM. Except for liquiritigenin and isoliquiritigenin, all the other substances reversed MDR in CEM/ADR 5000 and Caco-2 cells to doxorubicin. Ue, ga, 18ga, and urs were powerful reversal agents. In CEM/ADR 5000 cells, high concentrations of all the substances, except
Paeonia lactiflora
extract, increased calcein or rhodamine 123 retention in a dose-dependent manner. In Caco-2 cells, all the substances, except liquiritigenin, retained rhodamine 123 in a dose-dependent manner. We also examined the effect of the plant secondary metabolite (PSM) panel on the expression of ABCB1, ABCC1, caspase 3, caspase 8, AhR, CYP1A1, and GSTP1 genes in MDR cells.
Conclusions:
The extracts and individual PSM could reverse MDR in CEM/ADR 5000 and Caco-2 cells, which overexpress ABC transporters, in two- and three-drug combinations. Most of the PSM also inhibited the activity of ABC transporters to some degree, albeit at high concentrations. Ue, ga, 18ga, and urs were identified as potential multidrug resistance (MDR) modulator candidates, which need to be characterized and validated in further studies.
View Full-Text
►

▼

Figures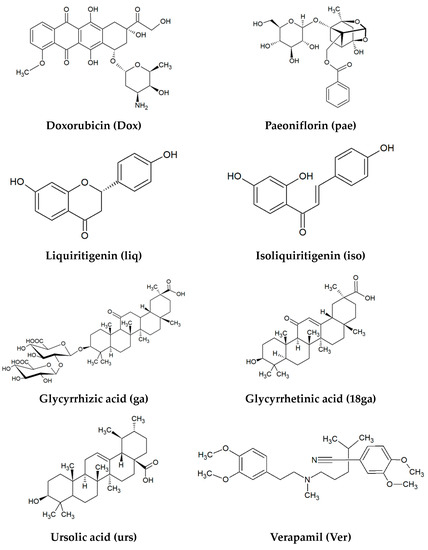 Figure 1
This is an open access article distributed under the
Creative Commons Attribution License
which permits unrestricted use, distribution, and reproduction in any medium, provided the original work is properly cited (CC BY 4.0).

Share & Cite This Article
MDPI and ACS Style
Zhou, J.-X.; Wink, M. Reversal of Multidrug Resistance in Human Colon Cancer and Human Leukemia Cells by Three Plant Extracts and Their Major Secondary Metabolites. Medicines 2018, 5, 123.
Note that from the first issue of 2016, MDPI journals use article numbers instead of page numbers. See further details here.
Related Articles
Comments
[Return to top]