Open Access This article is
freely available
re-usable
Review
Pediatric Epilepsy Mechanisms: Expanding the Paradigm of Excitation/Inhibition Imbalance
Division of Pediatric Neurology, Johns Hopkins University School of Medicine, Baltimore, MD 21287, USA
*
Author to whom correspondence should be addressed.
Received: 10 January 2019 / Accepted: 31 January 2019 / Published: 5 February 2019
Abstract
:
Mechanisms underlying seizures and epilepsy have traditionally been considered to involve abnormalities of ion channels or synaptic function. Those considerations gave rise to the excitation/inhibition (E/I) imbalance theory, whereby increased excitation, decreased inhibition, or both favor a hyperexcitable state and an increased propensity for seizure generation and epileptogenesis. Several recent findings warrant reconsideration and expansion of the E/I hypothesis: novel genetic mutations have been identified that do not overtly affect E/I balance; neurotransmitters may exert paradoxical effects, especially during development; anti-seizure medications do not necessarily work by decreasing excitation or increasing inhibition; and metabolic factors participate in the regulation of neuronal and network excitability. These novel conceptual and experimental advances mandate expansion of the E/I paradigm, with the expectation that new and exciting therapies will emerge from this broadened understanding of how seizures and epilepsy arise and progress.
Keywords:
seizures; epilepsy; excitation; inhibition; synaptic function; genetic mutations;
STXBP1
; antiseizure drugs; levetiracetam; metabolism; ketogenic diet
1. Seizure Generation: Hyperexcitability and Hypersynchrony
2. Expanding the E/I Imbalance Paradigm
2.1. Newly Discovered Gene Mutations Responsible for Epilepsy Defy Traditional E/I Mechanisms
For several epilepsy syndromes of childhood, mutations are being discovered in genes that bear no obvious relationship to excitability mechanisms as traditionally envisioned [
27
]. A relevant example is
syntaxin-binding protein 1
(
STXBP1),
a gene that regulates syntaxin binding protein 1, which is essential for presynaptic vesicle docking and fusion, necessary steps for neurotransmitter release (
Figure 2
A) [
28
,
29
]. Syntaxin is a component of the soluble N-ethylmaleimide attachment receptor (SNARE) protein complex. Mutation of
STXBP1
causes a severe neurodevelopmental disorder and epilepsy with multiple seizure phenotypes including Ohtahara syndrome and other developmental epileptic encephalopathies. Mutation of
STXBP1
would be predicted to reduce the release of
both
excitatory and inhibitory neurotransmitters, throwing into question why seizures are invariably present in affected children. Recent findings in mice suggest that
STXBP1
mutations might affect inhibitory synapses preferentially, such that the reduction in GABA confers disinhibition and seizures [
30
,
31
]. At the same time,
STXBP1
-associated reduction in excitatory transmitter release might be thought to be a seizure-protective mechanism, so the end result of E/I balance in this disorder remains unexplained. The STXBP1 story illustrates how E/I imbalance mechanisms may become more apparent in certain mutations as a field advances.
Numerous other genes similarly affect aspects of synaptic development, neurotransmitter release, subcellular signaling, and other aspects of neuronal function outside the familiar E/I construct. Another example is mutation of the gene for the transcription factor Aristaless-related homeobox protein (ARX), leading to impaired inhibitory interneuron migration from the forebrain ganglionic eminences to the neocortex, resulting in hyperexcitability and propensity to seizures such as infantile spasms [
32
]. In this case, the E/I balance is upended by diminished inhibitory neuron intercalation into the neocortical circuit. See
Table 1
for other selected examples.
2.2. Neurotransmitters May Cause Paradoxical Physiological Actions
2.3. Antiseizure Drugs May Not Act via the Expected E/I Spectrum
The concept of E/I balance is useful for understanding both pathophysiology and treatment. Indeed, most currently available ASDs work or are designed to address these E/I mechanisms. For example, carbamazepine and phenytoin block sodium channels and reduce repetitive firing, topiramate reduces glutamatergic neurotransmission by blocking AMPA receptors, BZDs and PHB enhance inhibition by increasing chloride (Cl
−
) current flow into cells leading to hyperpolarization, etc. (
Table 2
). However, not all ASDs work via these classic E/I mechanisms. Levetiracetam (and its analogue, brivaracetam) is a commonly prescribed, broad spectrum ASD with clinical efficacy against both focal and generalized seizures, but does not appear to alter the function of any neurotransmitter receptor or ion channel. Rather, levetiracetam binds to a presynaptic vesicle membrane protein called SV2A, altering the ability of synaptic vesicles to fuse with the presynaptic membrane and release neurotransmitter by exocytosis [
42
]. Levetiracetam also inhibits presynaptic voltage-gated Ca
2+
channels and prevents release of Ca
2+
from intracellular stores, both of which will decrease excitability and reduce transmitter release [
43
]. While a complete understanding of the mechanisms of levetiracetam action is not yet available, it is clear that this agent acts differently than most ASDs (
Figure 2
C), paralleling the drug's unique profile of preclinical seizure suppression—it prevents seizures in chronic epilepsy models induced by kindling or chemoconvulsants such as kainic acid and pilocarpine, but is not effective against acute generalized seizures such as those induced by maximum electroshock or pentylenetetrazole [
44
,
45
].
Another example of seizure prevention from an unexpected source is the story of fenfluramine in Dravet syndrome. Clinical series have shown a remarkable efficacy of fenfluramine [
46
], a serotonin agonist, in this sodium channel disorder in which the primary pathophysiology is thought to be disinhibition by mutations reducing GABA release from interneurons onto excitatory pyramidal cells [
19
]. The ability of fenfluramine to enhance the activity of only select serotonin receptor subtypes (as well as sigma-1 receptors) opens this new avenue of treatment but still leaves the mechanism by which serotonin reduces excitability unexplained (e.g., possibly by enhancing GABA action) [
47
].
2.4. Metabolic Regulation of Excitability and Epilepsy Requires Expansion of E/I Considerations
3. Conclusions
This is an exciting era in medicine, with an explosion of new mechanisms (and therefore targets) informing the clinical care of children with epilepsy. While the concept of E/I balance has served well for many decades, the expansion of this paradigm beyond simple excitation and inhibition now opens new avenues for therapy.
Author Contributions
L.-R.S., C.W.H. and C.E.S. participated equally in the conceptualization, writing, and final approval of this review.
Funding
This manuscript involved no external funding.
Acknowledgments
Research in the laboratory of Shao and Stafstrom is supported by the Mathias Koch Memorial Fund, the Sandra and Malcolm Berman Foundation, and the Payne Foundation. Habela's research is funded by the NINDS Child Neurology Career Development Program (K12).
Conflicts of Interest
The authors declare no conflict of interest.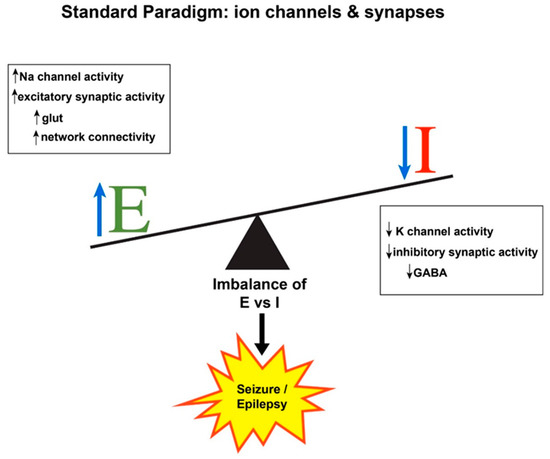 Figure 1. Schematic showing standard paradigm for understanding the balance between excitation (E) and inhibition (I) in the production of seizures and epilepsy. Any physiological change that increases E or decreases I (or both) will tip the balance toward excitation and possible seizure occurrence. GABA, gamma-aminobutyric acid; glut, glutamate; Na, sodium; K, potassium.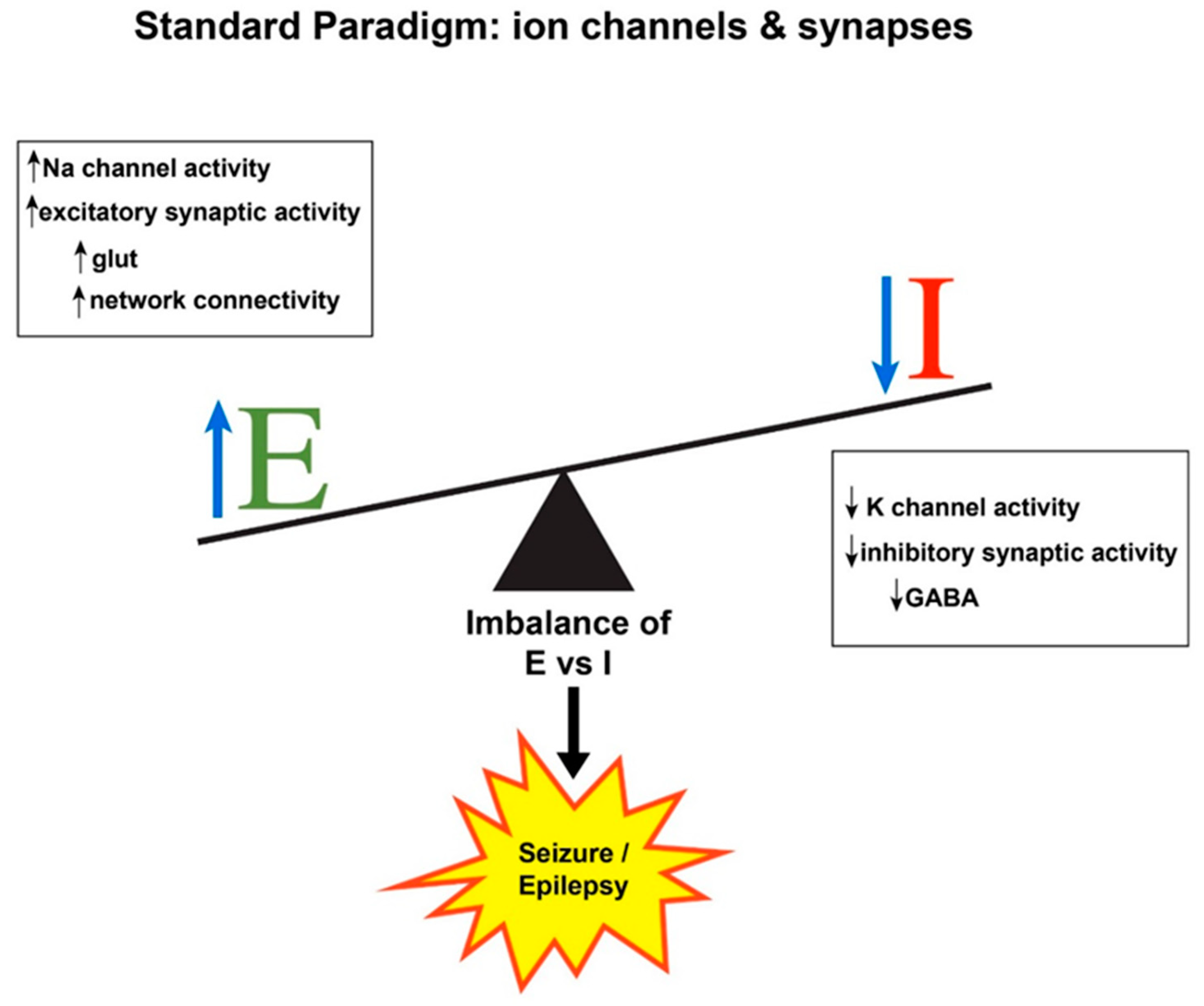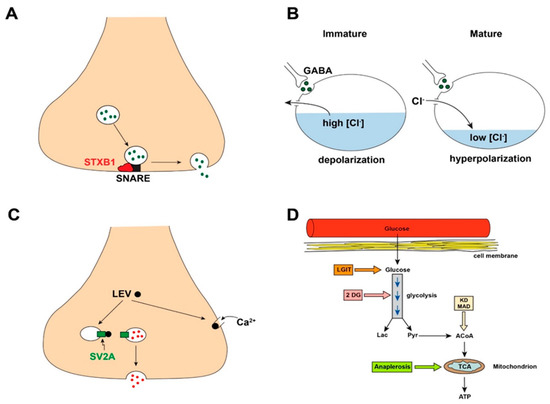 Figure 2.
Selected examples of epilepsy mechanisms in which the E/I balance concept may not be immediately applicable. (
A
) STXBP1 is a protein essential for neurotransmitter vesicle docking and fusion to enable subsequent release of neurotransmitter. This protein binds to the soluble N-ethylmaleimide attachment receptor (SNARE) complex (see text) to allow neurotransmitter release. Mutation of the gene that encodes STXBP1 (
STXBP1
) impairs neurotransmitter release (both excitatory and inhibitory neurotransmitters) and leads to a syndrome of neurodevelopmental disorder and severe epilepsy. (
B
) Early in development, GABA is excitatory rather than inhibitory, related in part to age-specific intracellular chloride concentrations. (
C
) The antiseizure drug levetiracetam (LEV) binds to a synaptic vesicle protein called SV2A, leading to reduced vesicle docking and neurotransmitter release. LEV also inhibits presynaptic N-type calcium channels and release of calcium from intracellular stores. (
D
) Overview of glucose (Gluc) metabolism. Glucose enters the cell from the bloodstream and then undergoes glycolysis for the eventual production of ATP. Metabolic control points for potential epilepsy therapy are indicated in the boxes. STXBP1, syntaxin-binding protein 1; LGIT, low glycemic index treatment; 2DG, 2-deoxyglucose; KD, ketogenic diet; MAD, modified Atkins diet; ATP, adenosine triphosphate; TCA, tricarboxylic acid cycle; ACoA, acetyl-co-enzyme A; Lac, lactate; Pyr, pyruvate.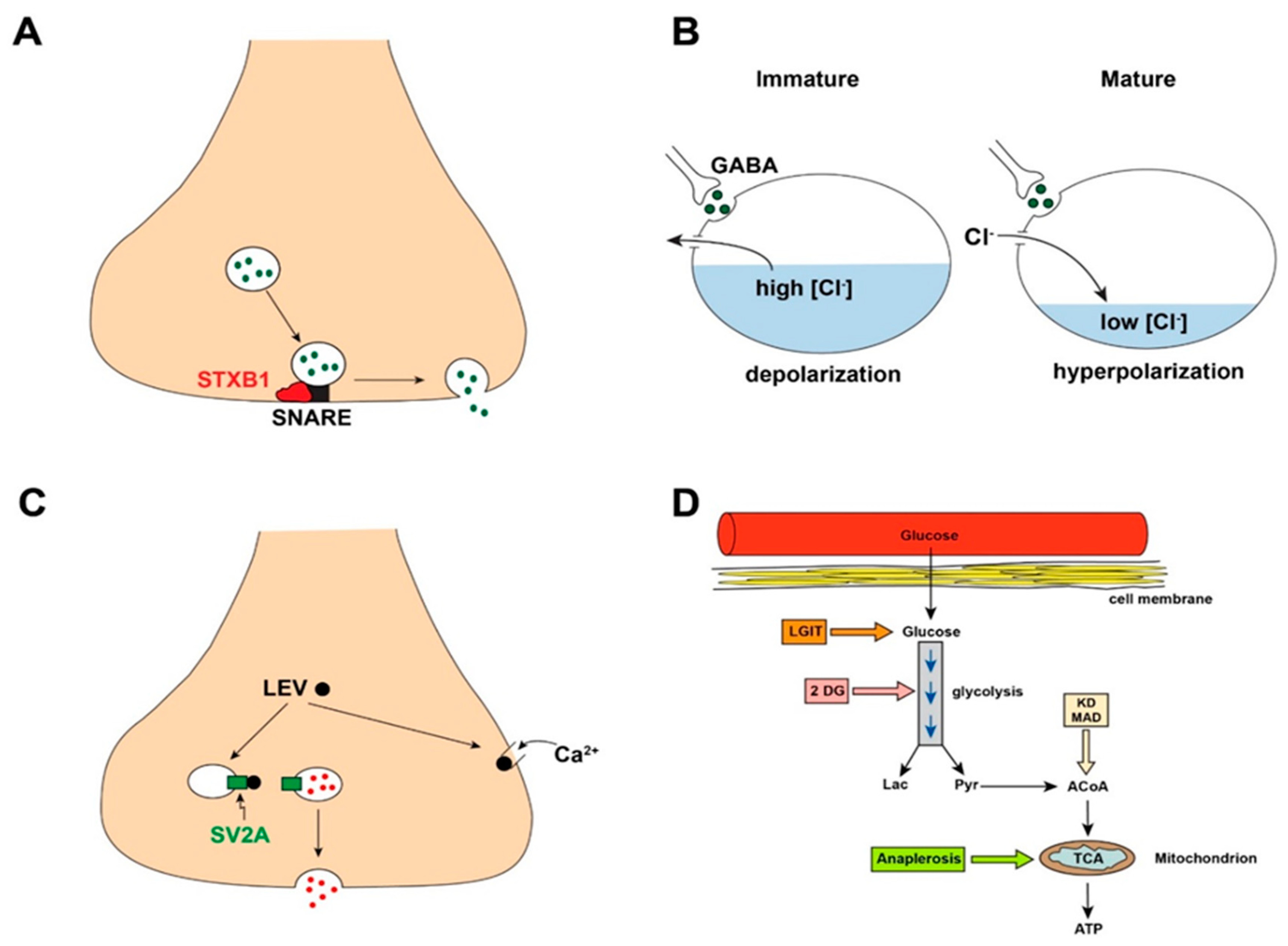 Table 1. Examples of genes in neurodevelopmental disorders with epilepsy that do not have simple or direct E/I imbalance as a mechanism of action.
GENE
GENE PRODUCT
ROLE
EPILEPSY SYNDROME

STXBP1

Syntaxin binding protein 1
Vesicle fusion with presynaptic membrane allowing neurotransmitter release
Ohtahara syndrome

ARX

Aristaless-related homeobox protein
Tangential migration of interneurons into the cortical plate
Multiple seizure types, infantile spasms

CDKL5

Cyclin-dependent kinase-like 5
Actin cytoskeleton, dendritic arborization,

MeCP2

phosphorylation
Multiple seizure types, infantile spasms

PCDH19

Protocadherin 19
Neuron adhesion during migration
Female-restricted epilepsy +/− ID, multiple seizure types, infantile spasms

UBE3A

Ubiquitin protein ligase E3A
Targets proteins for intracellular degradation
Angelman syndrome

PTEN

Phosphatase and tensin homolog
Tumor and cell growth/migration suppression
Cowden syndrome, focal seizures
MeCP2

, methyl-CpG-binding protein 2; ID, intellectual disability.
| ASD | Mechanism | E/I Alteration |
| --- | --- | --- |
| Phenobarbital | Enhances GABAA receptor function by increasing chloride channel open time | ↑ I |
| Phenytoin | Blocks Na channels | ↓ E |
| Carbamazepine, Oxcarbazepine | Blocks Na channels | ↓ E |
| Valproate | Multiple—enhances GABA action, blocks Na and Ca channels | ↓ E, ↑ I |
| Ethosuximide | Blocks T-type Ca channels | ↓ E |
| Benzodiazepines | Enhance GABAA receptor function by increasing frequency of chloride channel openings | ↑ I |
| Levetiracetam, Brivaracetam | Modulate synaptic vesicle protein SV2A | Unclear |
| Topiramate | Multiple—enhances GABA action, blocks AMPA receptors and Na channels | ↓ E, ↑ I |
| Vigabatrin | Inhibits GABA transaminase | ↑ I |
| Zonisamide | Multiple—blocks Na and Ca channels, alters neurotransmitter transport | ↓ E |
| Perampanel | Blocks AMPA receptors | ↓ E |
AMPA, α-amino-3-hydroxy-5-methyl-4-isoxazoleproprionic acid; Ca, calcium; Na, sodium; GABA, gamma-aminobutyric acid; SV, synaptic vesicle; E, excitation; I, inhibition.

© 2019 by the authors. Licensee MDPI, Basel, Switzerland. This article is an open access article distributed under the terms and conditions of the Creative Commons Attribution (CC BY) license (http://creativecommons.org/licenses/by/4.0/).