Epilepsy in Children with Autistic Spectrum Disorder
1
Department of Pediatrics and Medical Genetics, Medical University, 4000 Plovdiv, Bulgaria
2
Department of Pediatrics, University Hospital "St. George", 4000 Plovdiv, Bulgaria
*
Author to whom correspondence should be addressed.
Received: 31 December 2018 / Revised: 22 January 2019 / Accepted: 22 January 2019 / Published: 25 January 2019
Abstract
The comorbidity of autistic spectrum disorder (ASD) and epilepsy has been widely discussed but many questions still remain unanswered. The aim of this study was to establish the occurrence of epilepsy among children with ASD to define the type of epileptic seizures and syndromes, the age of onset of epilepsy, EEG abnormalities, the used antiepileptic drugs and the therapeutic responses for seizures and autistic behavior, as well as to find some correlations between epilepsy and gender, etiology and intellectual disability (ID). A retrospective study of medical files of 59 patients (aged 1–18 years) with ASD during a 5-year period was performed. ASD diagnosis was based on the DSM-5 diagnostic criteria. The patients were examined with a detailed medical history, physical and neurological examination, as well as some additional functional, imaging, laboratory and genetic investigations ASD etiology was syndromic in 9, probable syndromic in 9, and idiopathic in 41 children. ID was established in 90% of ASD children, and epilepsy in 44.4%. The onset of epilepsy prevailed before 7 years of age. The most common seizure types were focal with or without secondary generalization (53.4%). Focal epileptiform EEG abnormalities prevailed. Therapeutic response to seizures was good: 58% were seizure-free, while 27% had >50% seizure reduction but no improvement in autistic behavior. There was no correlation between epilepsy and either occurrence or degree of ID. There was a correlation between the frequency of epileptic seizures and the degree of ID. There was no significant difference among epilepsy rates in different etiologic, gender, and ID groups, probably because of the high percentage of ID and because this was a hospital-based study. Our study showed a significant percentage of epilepsy in ASD population and more than 1/4 were of symptomatic etiology. Those could be managed with specific treatments based on the pathophysiology of the gene defect.
View Full-Text
►

▼

Figures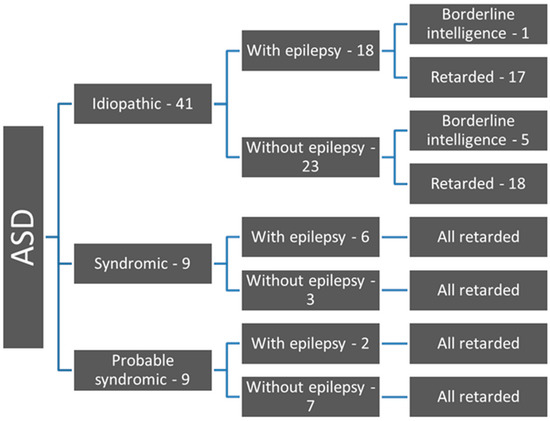 Figure 1
This is an open access article distributed under the
Creative Commons Attribution License
which permits unrestricted use, distribution, and reproduction in any medium, provided the original work is properly cited (CC BY 4.0).

Share & Cite This Article
MDPI and ACS Style
Pacheva, I.; Ivanov, I.; Yordanova, R.; Gaberova, K.; Galabova, F.; Panova, M.; Petkova, A.; Timova, E.; Sotkova, I. Epilepsy in Children with Autistic Spectrum Disorder. Children 2019, 6, 15.
Note that from the first issue of 2016, MDPI journals use article numbers instead of page numbers. See further details here.
Related Articles
Comments
[Return to top]