Open Access This article is
freely available
re-usable
Article
Using Fluorescence Intensity of Enhanced Green Fluorescent Protein to Quantify
Pseudomonas aeruginosa
1
Department of Chemistry, Westminster College, New Wilmington, PA 16172, USA
2
Departments of Chemistry, Doane University, Crete, NE 68333, USA
*
Authors to whom correspondence should be addressed.
Received: 30 March 2018 / Accepted: 27 April 2018 / Published: 3 May 2018
Abstract
:
A variety of direct and indirect methods have been used to quantify planktonic and biofilm bacterial cells. Direct counting methods to determine the total number of cells include plate counts, microscopic cell counts, Coulter cell counting, flow cytometry, and fluorescence microscopy. However, indirect methods are often used to supplement direct cell counting, as they are often more convenient, less time-consuming, and require less material, while providing a number that can be related to the direct cell count. Herein, an indirect method is presented that uses fluorescence emission intensity as a proxy marker for studying bacterial accumulation. A clinical strain of
Pseudomonas aeruginosa
was genetically modified to express a green fluorescent protein (PA14/EGFP). The fluorescence intensity of EGFP in live cells was used as an indirect measure of live cell density, and was compared with the traditional cell counting methods of optical density (OD
600
) and plate counting (colony-forming units (CFUs)). While both OD
600
and CFUs are well-established methods, the use of fluorescence spectroscopy to quantify bacteria is less common. This study demonstrates that EGFP intensity is a convenient reporter for bacterial quantification. In addition, we demonstrate the potential for fluorescence spectroscopy to be used to measure the quantity of PA14/EGFP biofilms, which have important human health implications due to their antimicrobial resistance. Therefore, fluorescence spectroscopy could serve as an alternative or complementary quick assay to quantify bacteria in planktonic cultures and biofilms.
Keywords:
Pseudomonas aeruginosa
; enhanced green fluorescent protein; fluorescence spectroscopy; bacterial quantification; biofilms; fluorescent probe
Author Contributions
A.E.H., M.O., E.W. conceived and designed the experiments; M.O., D.S., J.S., E.W., N.K., D.M., J.R.F. performed the experiments; C.W., M.J.K., A.E.H., E.W., A.L.S. analyzed the data; M.O., C.W., M.J.K., E.W., A.L.S. and A.E.H. wrote the paper.
Funding
This research was funded by the National Institute for General Medical Science (NIGMS) (5P20GM103427), a component of the National Institutes of Health (NIH) and its contents are the sole responsibility of the authors and do not necessarily represent the official views of NIGMS or NIH. Additionally, funded was provided by the National Science Foundation, LSAMP, Grant No. HRD-1619654, 2016-2021; HRD-1102461, 2011-2017. Any opinions, findings, and conclusions or recommendations expressed in this material are those of the authors and do not necessarily reflect the views of the National Science Foundation.
Acknowledgments
Thank you to the Susanne Häussler Lab at the Helmholtz Institute for Infectious Disease Research for preparing the PA14/EGFP and Barbara Clement for assistance with microbiology technics with this bacterial strain.
Conflicts of Interest
The authors declare no conflict of interest.
Figure 1. Flow chart for the preparation of the PA14/EGFP culture. From the slant, a swipe of the culture was introduced into 25 mL of tryptic soy broth (TSB) media and incubated at 37 °C on a shaker for 12 h. Then, 25 μL of the culture was added to a side-arm flask with 25 mL of fastidious anaerobe broth (FAB) media and incubated for another 2 h or until an OD600 of 0.03 was obtained. Absorbance readings were taken, and samples were prepared for assaying.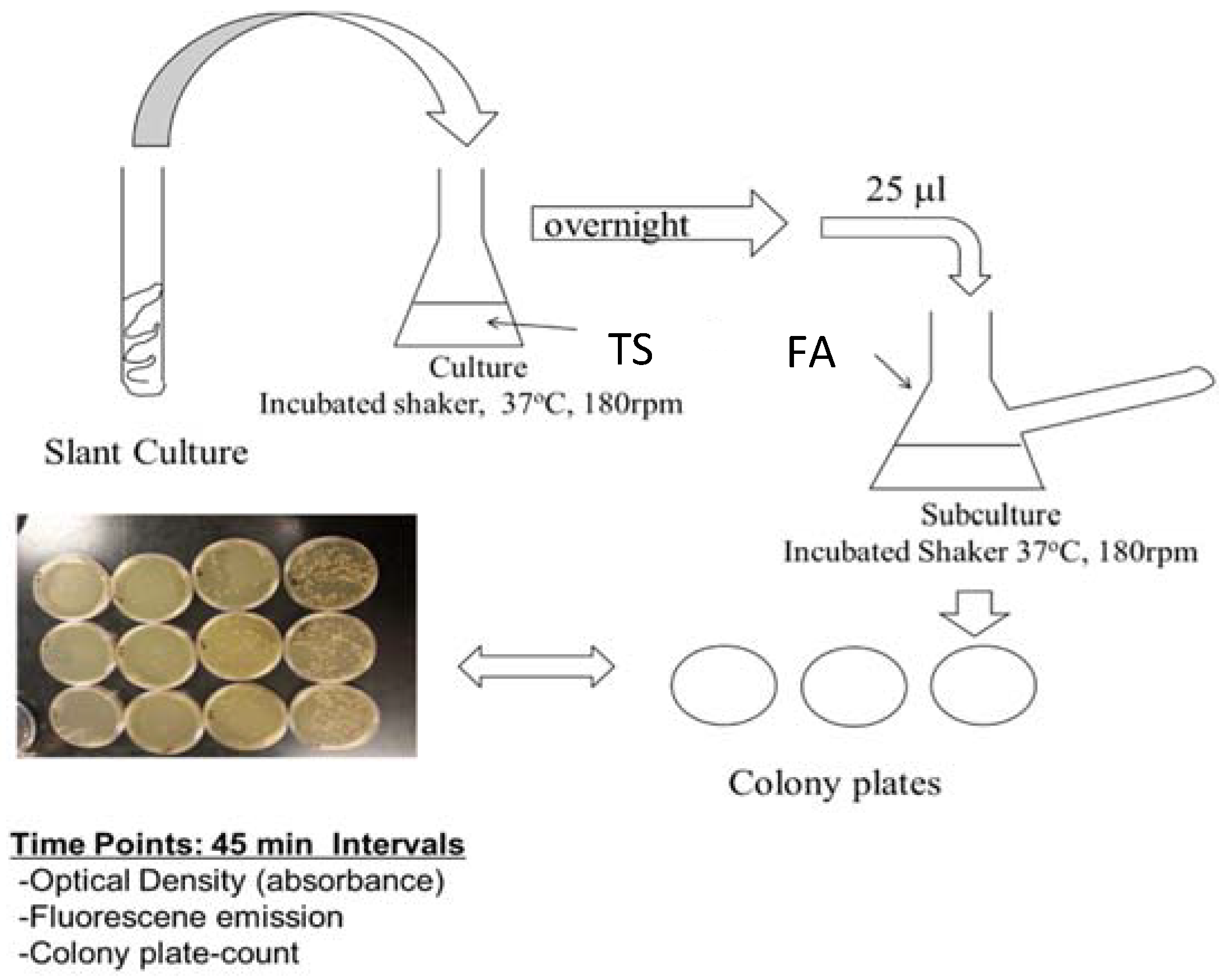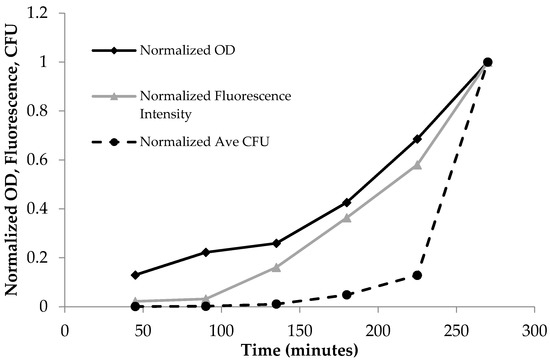 Figure 2. Normalized time dependent optical density (OD600), fluorescence emission at λex = 475 nm, and the average plate count of colony-forming units (CFU). The normalized units increased as a function of time due to the increase in bacterial population for OD600, fluorescence, and CFUs.
Figure 3. Fluorescence emission and absorbance of PA14/EGFP shows a linear relationship with R2 = 0.9873. The fluorescence increases from 0 a.u. to 931 a.u. with an increasing OD600 ranging from 0.07 to 0.5.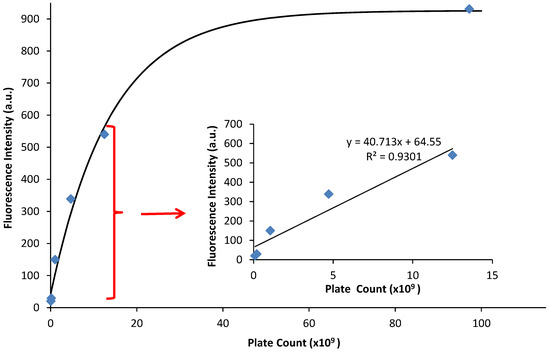 Figure 4. Fluorescence emission vs. plate count. The plate count (CFU) and the fluorescence of PA14/EFGP are related using an exponential fit calculated in Igor software: y = 926 − 884 exp(−x/14). The inset demonstrates a linear relationship between fluorescence emission and plate count at lower plate counts.
Figure 5. Fluorescence intensity at 514 nm vs. plate count (CFU) at two different ranges of CFU. (a) Linear range of fluorescence intensity vs. plate count relationship. The linear equation is y = 1.12 × 10−7x + 5.72. The R2 is 0.9992. (b) Full range of fluorescence intensity vs. plate count. The plate count (CFU) and the fluorescence of PA14/EFGP are related using an exponential fit: y = 5725 − 884exp(7.3 × 10−11x). These experiments were performed in triplicate, but due to small sizes, error bars are only shown in the focused linear range.
Figure 6. Fluorescence emission spectra recorded from live cells (solid line) and heat-killed cells (dashed line) at λEx = 475 nm. The live PA14/EGFP cells were placed in a 60 °C water bath for 30 min, resulting in a heat-killed culture.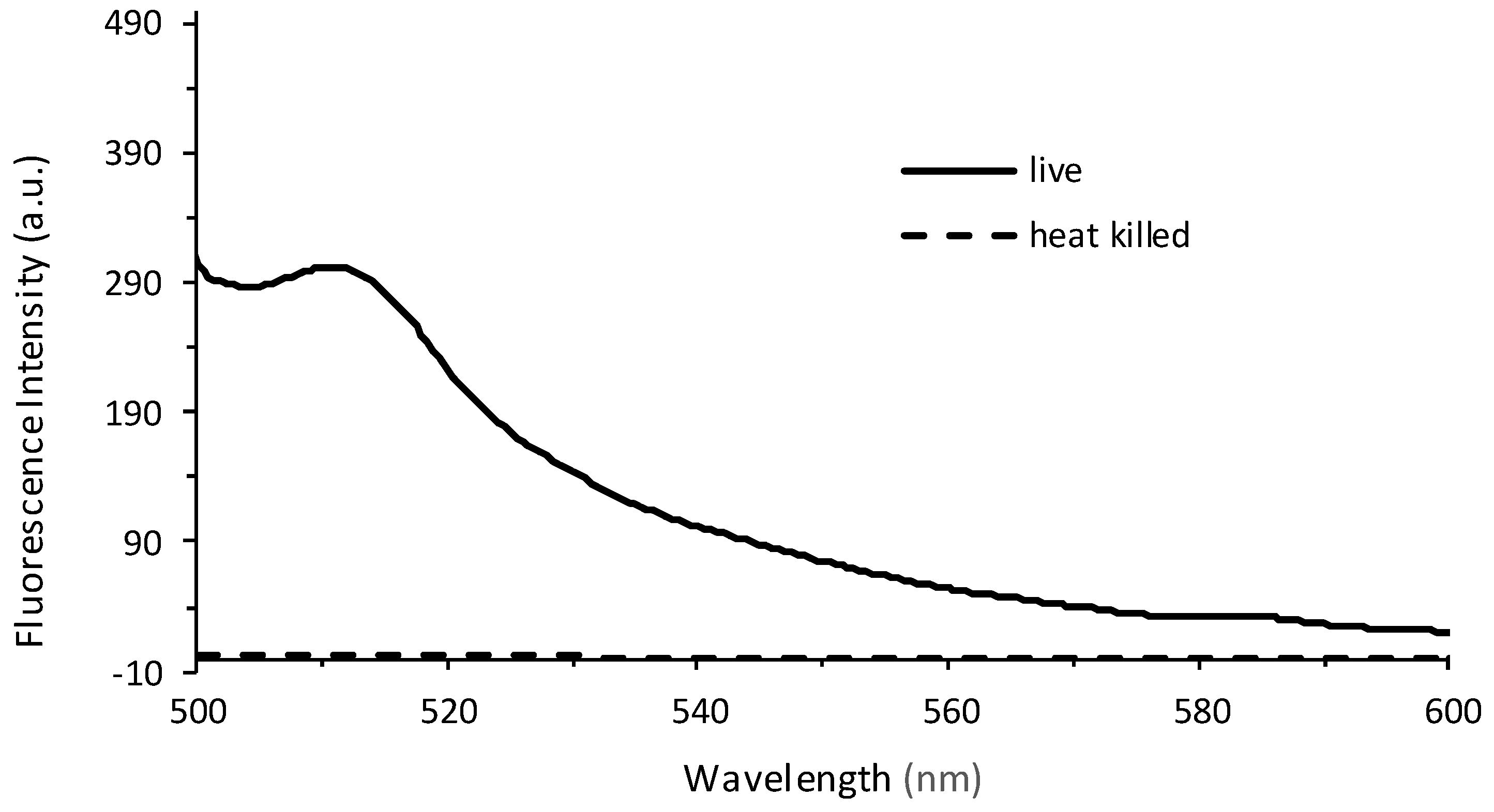 Figure 7. (a) Fluorescence emission spectra showing the fluorescence maxima at 514 nm, when excited at 475 nm for PA14/EGFP on three separate biofilms (A, B, C) grown in a drip-flow reactor. (b) Fluorescence emission spectra showing PA14/EGFP fluorescence maxima at 514 nm over three measurements (Trial 1, 2, and 3) on a single sample. No fluorescence quenching occurs during the replication of experiments within one sample.

Table 1. Absorbance (OD readings), fluorescence emission at λex 475 nm, and average plate count (CFU) from three plates.
| Time (min) | Absorbance | Fluorescence | Ave Plate Count (CFU) |
| --- | --- | --- | --- |
| 45 | 0.07 | 20.24 | 8.99 × 107 |
| 90 | 0.12 | 29.48 | 1.96 × 108 |
| 135 | 0.14 | 149.87 | 1.05 × 109 |
| 180 | 0.23 | 338.66 | 4.72 × 109 |
| 225 | 0.37 | 539.96 | 1.25 × 1010 |
| 270 | 0.54 | 931.05 | 9.72 × 1010 |

© 2018 by the authors. Licensee MDPI, Basel, Switzerland. This article is an open access article distributed under the terms and conditions of the Creative Commons Attribution (CC BY) license (http://creativecommons.org/licenses/by/4.0/).